Music Production and Audio for Media Degree
When you are accepted into the Associate of Applied Science Degree Program in Music Production and Audio for Media, you will be fully immersed in a nonstop music atmosphere where both your musical and technical skills will constantly be challenged and developed.
Musically gifted students will extend their talents and abilities beyond the stage.
AIMM provides all of its students with the skills necessary to advance their aptitude and knowledge in the field of music production and engineering.
We realize that music is shifting toward home-recording and Do-It-Yourself methods, so this information is invaluable to the current digital musician.
You will gain this knowledge and information in state-of-the-art recording studios, classroom presentations, computer labs, and live clinics featuring today's most well-known innovative engineers, producers, and industry professionals.
Music and Technology Associate Degrees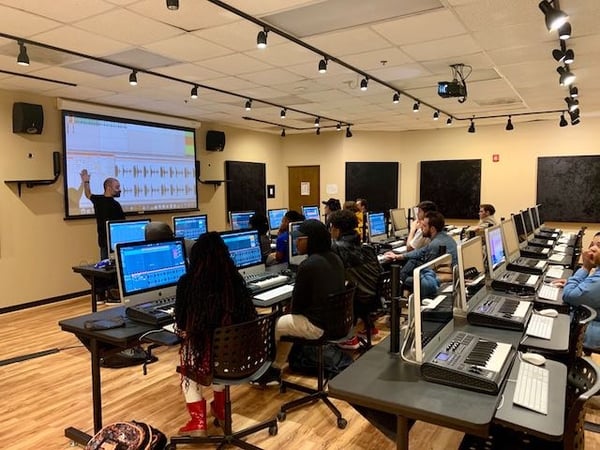 Atlanta Institute of Music and Media provides Music and Technology program students with the instructional environment necessary to develop both their technical and musical talents.
Students acquire the skills to advance their musical aptitude and gain knowledge in the field of recording and engineering.
Our Music and Technology Associate of Applied Science Degree has an instrument of focus (Guitar, Drums, Bass, Keyboard, or Voice), with courses specific to that instrument, as well as recording and engineering courses.