Online Interactive Workshop Series
The AIMMLife Sessions are an interactive workshop series for musicians and producers that are based entirely on commonly asked music questions.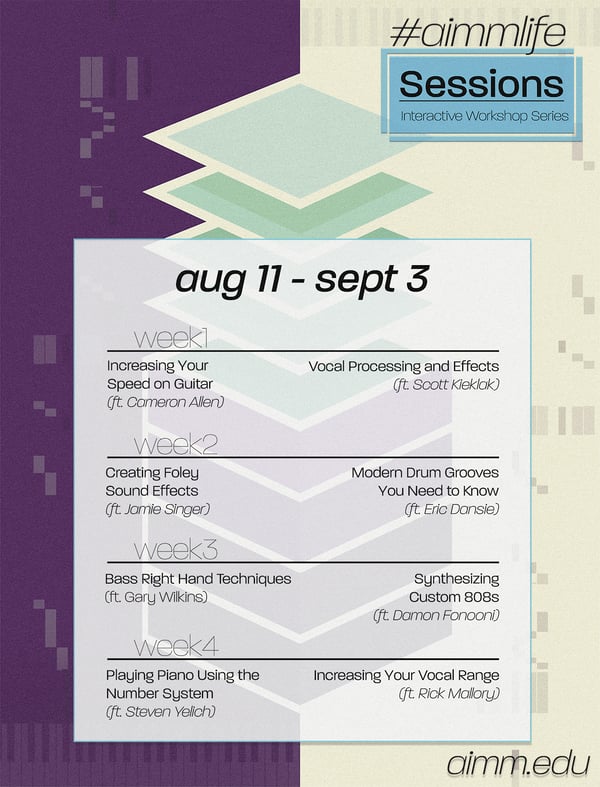 Beef Up Your Skills & Learn Industry Secrets
During the interactive workshop series, you'll have the opportunity to ask questions and learn hands-on techniques that your favorite professional musicians and producers utilize.
Check out the videos below!
How to Increase Your Speed on Guitar
If you want to master the guitar and land a successful career in the music industry, checking out AIMM's Guitar Programs is a great first start! We offer both on-campus and online programs.
Vocal Processing Effects & Tips
Learn more about AIMM's Music Production programs.
How to Create Foley Sound Effects
Want a career in music production or sound design for film, TV, and video games? The Music Production and Audio for Media Degree is designed for YOU.
The Top Bass Guitar Right-Hand Techniques
Check out our Bass Guitar Programs for more tips and techniques.
Synthesizing Custom 808s
Want to learn more about producing music? Check out our Music Production Certificate.
If these videos speak to you, your potential, and your desire to succeed in the music industry, we think AIMM would be a perfect fit for you.