AIMM Spotlight: Andrew Tanguay
Meet Andrew Tanguay
Have you been to any Atlanta Braves home games in the last couple of years?
If so, that awesome audio you heard pouring through the stadium's speakers is produced by none other than the Atlanta Institute of Music and Media's own Andrew Tanguay.
Check out this fantastic story about Andrew recognizing a local talented singer and asking her to sing 'God Bless America' during a Braves game in 2018.
You can view that article here.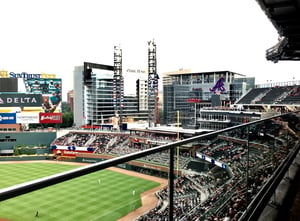 Now Andrew finds himself as an audio tech at Mercedes-Benz Stadium, representing the Atlanta Falcons.
Want the opportunity to turn your passion into a career?
If you need music in your life and desire to make audio engineering your livelihood, you need to enroll in the Atlanta Institute of Music and Media.
Learn more about AIMM's Music Production and Audio for Media Associate Degree by clicking the link below today.