Atlanta Bass Guitar Programs and Certifications
Where Classic Funk Meets Cutting Edge Style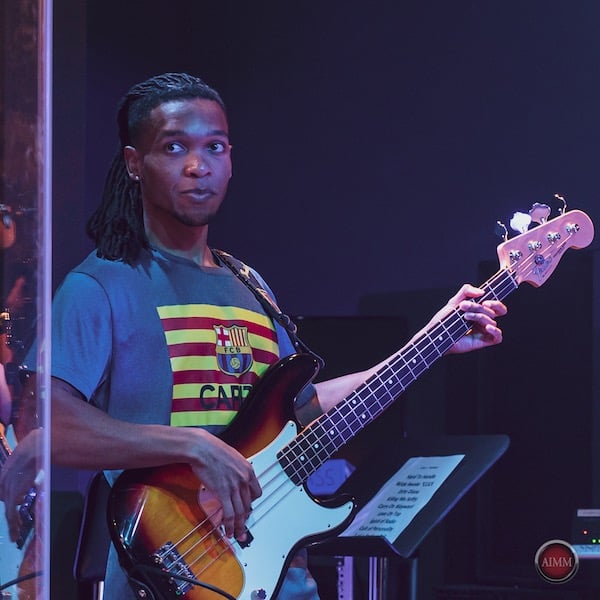 The Atlanta Institute of Music and Media offers savvy bass players an atmosphere to learn from professionals, hone their strumming skills, and let their creativity flourish.
If you are looking for an Atlanta Bass Music School, AIMM is the perfect location for you.
Much of the music and media you hear today is in some way related to or a result of the many talented and creative musicians that have attended and graduated from our world renowned music college.
Bass guitar students at AIMM are taught by some of the leading instructors in their field. Attending a music school to focus on your passion will give you the necessary experience to become a successful professional bass player and allow you to revolutionize the music industry of tomorrow.
Keep reading to learn more about the best Atlanta Bass Music School.
Music and Technology Degree & Certification Program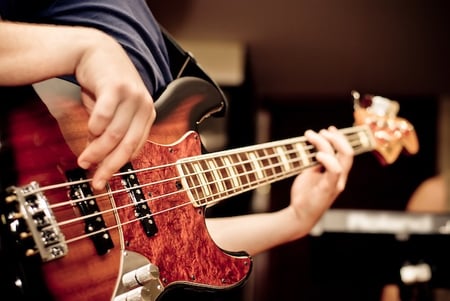 Receiving your Music Technology Degree with a Focus in Bass from the Atlanta Institute of Music and Media will provide you with the skills and opportunities needed to "make it" in the music industry. Our curriculum combines recording and engineering courses with your passion for bass.
Our state of the art facilities and equipment help to develop student's technical talents in addition to their musical ones, and our teachers provide students with the necessary instruction and trade secrets to allow them to graduate feeling prepared and full of potential and opportunity.
We also have exciting news.
AIMM has just recently launched an Online Certificate in Music and Technology with a Focus in Bass.
That's right, you can now enroll at AIMM and attend courses from the comfort of your own home.
With AIMM's Bass Certificate Program, you'll have flexibility with your scheduling, yet still receive amazing hands-on coursework from industry-leading instructors.
Our Graduates Are Successful Musicians
Just two of our many very successful alumni are Myron Carroll and Todd Smallie.
They both are grateful for their opportunity to attend AIMM and believe it was very advantageous to their successful careers. Myron Carroll is one of the few people to graduate twice from AIMM.
Completing the Bass and the Engineering Programs both really attributed to his success. He has performed with;
Jagged Edge
Maysa
Bobby Brown
Lil' Jon Roberts
Yolanda Adams
Byron Cage
Daryl Coley
Chris Coleman
Todd Smallie has also toured and even recorded with many successful artists, such as;
Derek Trucks Band
Allman Brothers
Tom Petty
Mike Stern
John Scofield
Carlos Santana
Eric Clapton
Another graduate of AIMM that has experienced significant success is Turbo the Great. His music production skills have been making a major splash in the music industry.
Many of our graduates went on to have extremely successful careers in the music industry. If it is your dream to work in music production, the film industry, television, or radio then our Atlanta music school could be for you!
AIMM's Location
Address: 2875 Breckinridge Blvd #700, Duluth, GA 30096
Phone number: (770) 242-7717
Our Appeal
The music industry is continually changing and the demand for creative musicians is greater than ever.
Our music and technology degree and online bass certification program can prepare you for a career that takes you anywhere you want to go.
Did you know that AIMM is the only music college that combines instrumentation with technical recording components? This way, we ensure that our students leave AIMM well-rounded and completely prepared to make an impact in the music industry.
The Atlanta Institute of Music and Media is changing the way the world experiences music, so if you're an artist with the passion to fulfill a career in bass guitarist then our Atlanta music school has everything you're looking for.
Click on the Link Below to Learn How to Become Part of the Creative Process Today at the Atlanta Institute of Music and Media!