Atlanta Drum Program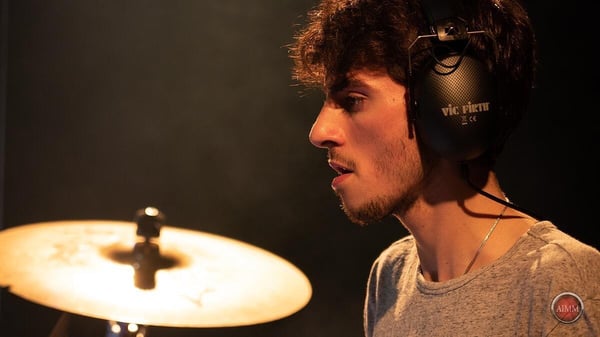 The beats you listen to every day are what we teach our Drum Students at the Atlanta Institute of Music every day.
Our focus is to give students the necessary education to further their percussion capabilities and help them gain a more profound knowledge of their chosen instrument.
The music industry is ever-changing and with that knowledge, we have designed our Drum Program to provide the best opportunities for our future Drum Performance Graduates.
We Push Drum and Recording Skills To Their Limits
Atlanta Institute of Music and Media provides drum students with the instructional environment necessary to develop their vocal, technological & musical proficiency, and acquire the skills necessary to become one of today's elite drum recording artists.
The curriculum is intense, combining classroom experiences and performance opportunities at every level.
Within each specifically designed program, we challenge our students to become enlightened artists, who are capable of making their own artistic and professional decisions while still working as a member of a larger team.
The Atlanta Institute of Music and Media Accomplishes this through:
Instrument Specific Technical Courses
Recording and Engineering Courses
Interdisciplinary Technical Courses
General Education Courses
AIMM's Drum Programs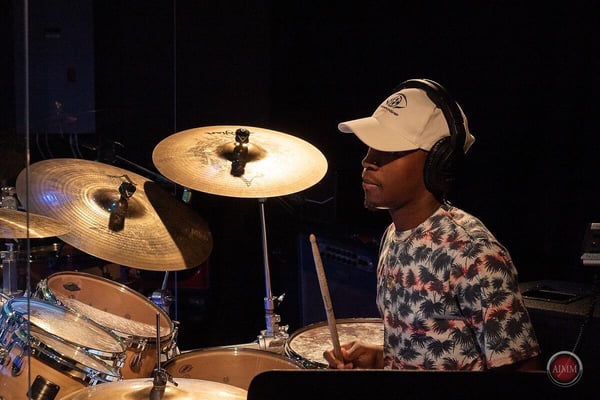 AIMM has two different programs designed for drummers.
Music and Technology Associate Degree with a Focus in Drums
This Degree caters to the modern musician who, in order to thrive in today's competitive music business, wants to develop both their technical skill on an instrument, and acquire an in-depth understanding of the writing, recording, mixing, and mastering process.
Your experience and diverse portfolio of skills will make you a prime candidate for not only record labels, but also video games, movies, television, radio, multimedia production studios, and more.
As an AVID Pro Tools training partner, our Drum Degree will teach you how to master the drums along with the best insider recording, mixing, and mastering techniques.
Performance Certificate in Drums
If you aren't interested in the technology side of music and you want to focus on:
Elevating your drumming skill
Increasing your speed
Learning the best drum techniques
Meeting countless industry connections
Then you need to check out AIMM's Drum Performance Certificate.

Courses Taught By Drum Recording Professionals
The Atlanta Institute of Music and Media's Drum Program is taught by instructors with over 40 years of professional experience and who are some of the top performers in their fields.
The music professionals maintain working relationships with prominent musicians both locally in the
Atlanta Area, Nationally and Abroad.
Their work experience, certification and degrees give each of the instructors a unique background to teach the demanding, yet rewarding drum recording curriculum.
AIMM's Location
Address: 2875 Breckinridge Blvd #700, Duluth, GA 30096
Phone Number: (770) 242-7717
Our Drum Recording Program In Atlanta Will Help You Master:
Site Reading Music
Variety of Musical Styles
Successfully Perform Several Different Genres
Navigate Recording Sessions
Construct Award Winning Drum Solos
Music Theory
Music Business
Music Etiquette
Frequently Asked Questions
Question 1: Does AIMM offer on-campus housing?
AIMM does not have on-campus dorms, however, once a student is accepted into their academic program, they have the option of being placed on our "Housing & Roommate List."
Our Career Services department can then reach out to the student to help find nearby, affordable housing. If the student requires a roommate, Career Services will help find a roommate of similar age and program of interest.
Question 2: Does AIMM accept financial aid?
AIMM currently administers the following Title IV Federal Aid Programs:
Federal Pell Grant

Federal Direct Loans

Federal Direct PLUS Loans.

Once a student has been accepted for admission to AIMM, and has applied for Federal Financial Aid, their Financial Aid File will be processed.
All Federal Aid Applications and required supporting financial documents must be submitted at least 30 days prior to the student's first day of class.
Question 3: Is AIMM scheduling in-person tours during the COVID-19 pandemic?
Out of an abundance of caution, AIMM is currently suspending on-campus tours due to COVID-19. However, you can book a one-on-one virtual tour with an admission advisor here.
Question 4: Does AIMM offer the necessary equipment for students to complete their coursework?
Yes, AIMM's studios and computer labs are outfitted with all the hardware and software required to complete students' coursework.
AIMM also offers the purchase of an additional "Tech Kit". The "Tech Kit" is not included in the cost of tuition, it is an optional expense if a student would like to outfit their home workspace with our suggested hardware and software.
The purchasing of the Tech Kit is handled through a third party website called Vintage King.
Question 5: How can I send my transcript if my school is closed?
AIMM accepts transcripts submitted electronically. School officials can send transcripts as an attachment from an official school email address or have an official transcript sent via the transcript service that your school uses.
Simply contact your school and request that they send us your official transcript. Transcripts sent electronically from a student email address will not be accepted.
Our Offer To You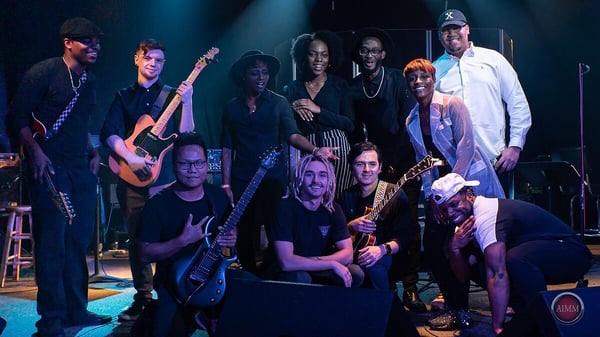 The demand for creative, dynamic and passionate Drum and Music Recording Professionals is greater than ever, and thanks to advances in music technology, we can prepare you for a career that can take you anywhere you want to go.
We are changing the way the world experiences music.
If you're an aspiring solo drum artist, dreamed of being in a band, or hoping to become an instructor yourself, then the Atlanta Institute of Music and Media School has the ability to help you become anything you want.
The world is shifting to a DIY approach where any drummer can record and upload to YouTube and Instagram. If you want to separate from the crowd and elevate your skillset and appeal, attending an accredited Atlanta Drum School can significantly help you.
Turn your percussion passion into a profitable career at AIMM. Click the button below to learn more today.