Atlanta Guitar School | Guitar Degree and Certificates
Are you a guitarist looking for the perfect opportunity to capitalize on your guitar skills and land a successful music career?
Maybe you're not sure where to begin. And, we all know the music industry has become completed saturated, especially when you consider how easy it is to upload content on the drop of a dime to platforms like Instagram, YouTube, and TikTok.
So, what do you do?
Do you pay for an expensive private lesson? Random YouTube videos and guitar classes?
Or would you rather put yourself in an immersive, nonstop music atmosphere with professional and experienced teachers, intense courses guaranteed to help your skills blossom, and a wide variety of like-minded musicians willing to network and collaborate?
If so, you need to check out the Atlanta Institute of Music and Media.
AIMM offers multiple guitar programs that will push your existing skill to new heights and teach you the best techniques. AIMM even offers an online guitar certificate for guitarists not around the Atlanta area.
If you want to make a splash in the music industry, pursue your passion, and put yourself in the best position to succeed, click the button below to learn more about AIMM.
The music you listen to every day is what we teach our Guitar Students at the Atlanta Institute of Music and Media.
AIMM is a leader in guitar education. We provide students with the instructional environment necessary to help them develop their technical and musical talents, in order to acquire the skills necessary to advance their Guitar abilities and gain knowledge in this field of study.
In the ever-changing music industry, our Guitar Program is focused on providing opportunities for future graduates of our Guitar program.
At AIMM We Push Guitar Skills To Their Limits
Atlanta Institute of Music and Media provides guitar students with the instructional environment necessary to develop their technological & musical proficiency and acquire the skills necessary to become one of today's elite guitar artists.
If you want music to be your career and don't want to settle for the "9 to 5" life, you're in the right place.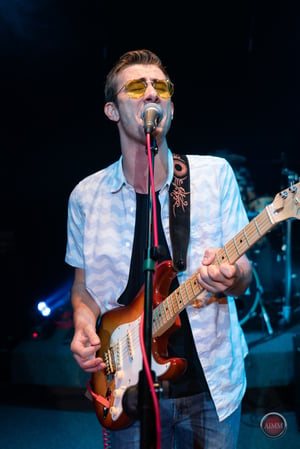 The curriculum is intense, combining classroom experiences and performance opportunities at every level. Within each specifically designed program, we challenge our students to become enlightened artists, who are capable of making their own artistic and professional decisions while still working as a member of a larger team.
The Atlanta Institute of Music and Media accomplishes this through:
Instrument Specific Technical Courses

Recording and Engineering Courses

Interdisciplinary Technical Courses

General Education Courses
Instruction By Professional Guitar Artists
The Atlanta Institute of Music and Media's Guitar Program is led by award-winning published composer, David Mitchell, along with other expert Guitar Instructors.
Our Guitar professionals maintain working relationships with prominent musicians both locally in the Atlanta Area, Nationally, as well as, Abroad.
The work experience, certification, and degrees give each of our instructors a unique background to be the best teachers of the demanding, yet rewarding curriculum. Our instructors have the guitar tricks, tips, and techniques to help you reach your full potential.
What Programs AIMM Offers
Did you know that AIMM is the only Music College that combines organic instrumentation along with technical recording components in their programs?
That means you not only will receive extraordinary coursework regarding the guitar, we also instruct guitarists on key recording and music production details.
This way, you leave AIMM a well-rounded musician that is prepared to make a splash in the music industry.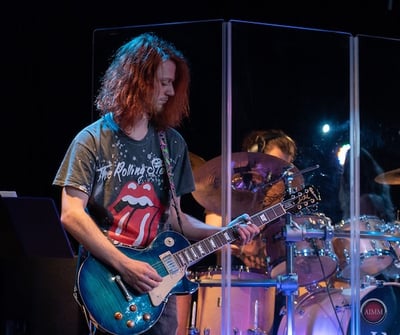 AIMM's Guitar Programs include:
That's right, AIMM has launched an Online Certificate Program. That means you can receive excellent and immersive instruction from the comfort of your own home.
Learn more about our Online Guitar Program today.
Want to focus solely on your guitar skills and performance? If you're not interested in the tech side of music, check out AIMM's Guitar Performance Certificate.
AIMM also offers programs that concentrate on bass guitar, drums, vocals, keyboard, and purely music production.
Our Guitar Program Curriculum Will Provide You With The Ability To:
Site Read Music

Learn A Variety of Musical Styles

Navigate Through Recording Sessions

Learn Multiple Different Genres of Music

Create Award Winning Guitar Solos

Elevate your Guitar Playing Abilities

Obtain Music Theory Knowledge and Etiquette

What We Offer Our Future Students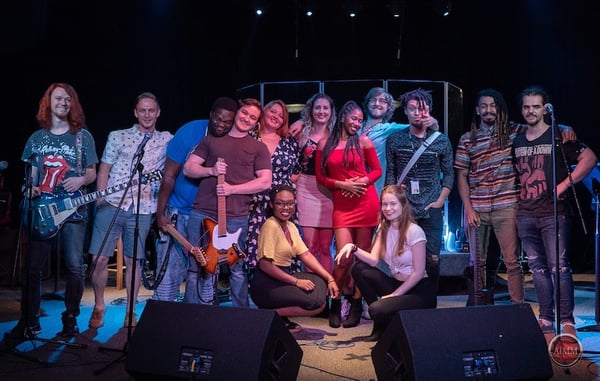 The demand for creative, dynamic, and passionate Guitar Professionals is becoming greater than ever, and thanks to advances in music technology, we have the ability to prepare you for a career that can take you anywhere you want to go.
At AIMM, we are changing the way the world experiences music.
Want to be one of the guitar greats? If you're an aspiring guitarist, have dreams of starting a band, or hoping to become an instructor yourself, then the Atlanta Institute of Music and Media School has the ability to help you become exactly what you aspire to be.
There is no other Guitar Music School that will help you jump-start your career as a guitarist quite like AIMM. If you want to turn your passion into a profitable career, click the link below to discover how AIMM can assist you today!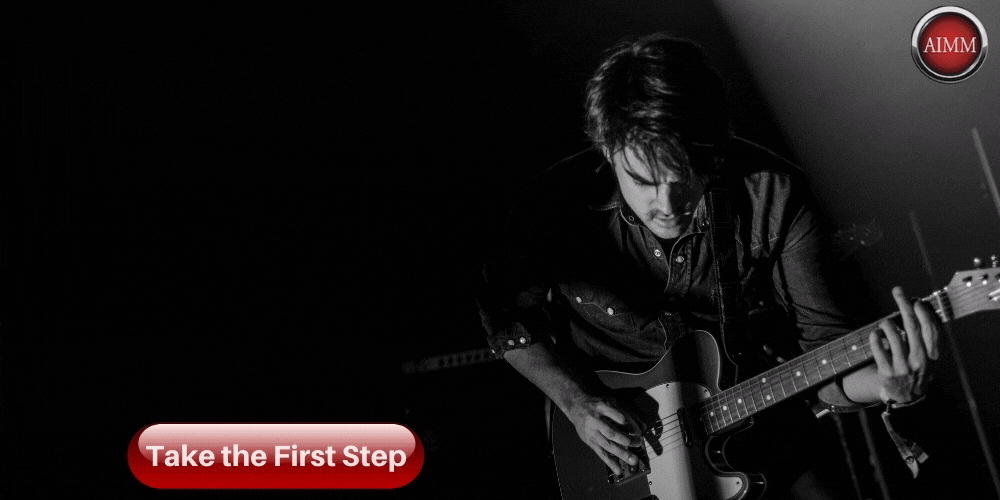 Frequently Asked Questions
If your application is accepted, you'll be required to complete an entrance exam and submit a video submission.
AIMM currently administers the following Title IV Federal Aid Programs:
Federal Pell Grant

Federal Direct Loans

Federal Direct PLUS Loans

Once a student has been accepted for admission to AIMM, and has applied for Federal Financial Aid, their Financial Aid File will be processed
All Federal Aid Applications and required supporting financial documents must be submitted at least 30 days prior to the student's first day of class.
Below is AIMM's location. Keep in mind, we DO offer an Online Guitar Certificate that is completed 100% online for guitarists not located near Atlanta, Georgia.
Address: 2875 Breckinridge Blvd #700, Duluth, GA 30096
Phone Number: (770) 242-7717
The program can be completed in 12 months (4 quarters) of ¾ time enrollment.
The Music and Technology Associate Degree: Guitar Concentration can be completed in 18 months of accelerated studies, 24 months of full-time enrollment, or 30 months of ¾ time enrollment.
AIMM is unique for guitar lovers in that we offer a program that combines organic instrumentation with music production techniques.
No other music college combines guitar classes and guitar lessons with advanced music production techniques - including recording, mixing, and mastering.
Our ultimate goal is to raise skill levels, allow talent to blossom, and help guide students to become real musicians that thrive in the industry with legitimate compensation.
Whether you enjoy playing acoustic guitar, electric guitar, or teaching guitar, when you graduate from AIMM, career opportunities are endless.
The main career options associated with AIMM's guitar degree programs include:
Professional Guitarist
Classical Guitarist
Performance artist
Clinical Artist
Session Guitarist
Director of Visual Events
Music Producer
Private Guitar Lessons
Sound Engineer
Audio and Lighting Technician
Audio Engineer
Advanced Performance Training
Contemporary Music Performance Training
Music Center Owner and Entrepreneur
Audio Visual Specialist
Professional touring singer
Music Performers
Music Ensembles
Professional musician
Accompanist
Artist Director
Music Instructor/Teacher
Band director