Atlanta Keyboard Degree Programs and Certifications
Where Classical Tradition Meets Digital Electricity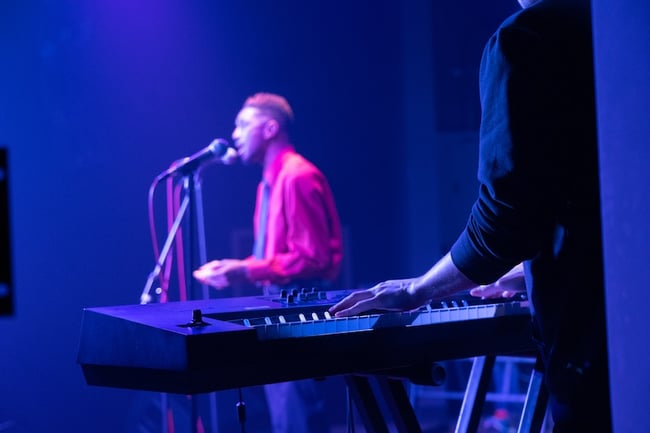 The Atlanta Institute of Music and Media offers our gifted keyboardists a conducive environment to improve their musical abilities and performing skills.
In AIMM's Keyboard Programs, students will get the opportunity to study under some of the most celebrated faculty.
Our Atlanta keyboard students will receive an education with an innovative approach. We understand the musical world is constantly changing and deeply evolving; we keep our curriculum fresh and implemented with cutting-edge technology.
Our mission is to prepare our students to shine in the demands of college life as well as assemble them for their professional music careers well into the future.
*Alumni Spotlight*
When you graduate from AIMM, you're ready for the big stage. AIMM alumnus Stephen Freeman is currently touring with Kendrick Lamar on keys.
What could you accomplish after attending AIMM?
Keyboard Programs at AIMM
We offer a Music and Technology Associate Degree with a Focus in Keyboard and a Performance Certificate in Keyboard.
Both programs assist keyboardists in elevating their skillset, teaching music theory, and making life-long music industry connections. This is much more than simply signing up for private lessons or piano lessons.
Keyboard Degree Program
Did you know that AIMM is the only Music College that combines organic keyboard instrumentation with technical recording components?
That's right - that means you'll learn the very best music production techniques so you can record, mix, and master like your favorite professional producers.
You even have the opportunity to become AVID Pro Tools Certified. Talk about a valuable music degree!
This way, all students leave AIMM as well-rounded musicians and ready to make a splash in the music industry.
Keyboard Performance Certificate
Not really interested in the music production side of the industry? No worries - that is where the Keyboard Performance Certificate comes into play.
You'll be immersed in a non-stop music atmosphere where your keyboard skills will be elevated and your performance talents will reach maximum levels. The performance opportunities at AIMM are endless.
We Develop Each Keyboardists Unique Style and Empower Them to Succeed
Receiving your music technology degree with a focus on keyboards from the Atlanta Institute of Music and Media will provide you with the musical talent and skills to thrive in the musical world.
Our unique syllabus merges traditional keyboard performance with cutting-edge digital keyboard-base technology.
As a musician, you will develop your keyboard skills while exploring a range of contemporary styles including
Blues

R&B

Rock

Jazz

Classic Rock

Fusion
While under the instruction of Atlanta's best musical professionals.

AIMM's Professional Keyboardists and Talented Facility
The Atlanta Institute of Music and Media Keyboard Education Program employs some of the most well-known and musically accredited staff. Our Keyboard Faculty is industry-leading with countless years of experience in the music business.
The philosophy of AIMM's keyboard department is one of strong dependence on the mentoring process, by which the students' private teachers guide them musically, and advise them in all aspects of their overall education and development.
Financial aid is available to those that qualify.
Our Atlanta Keyboardist Professionals have worked with:
Jazz Saxophonist George Howard

Drummer Sonny Emory

Spyro Gyra Guitarists Chet Catallo

Gospel Artists and many others
Studying Keyboard at AIMM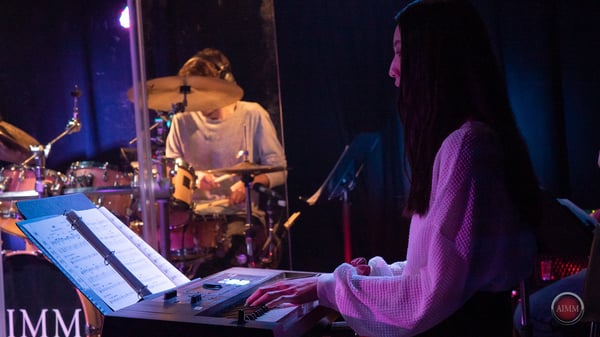 Our program is designed with technical courses geared towards education that gives students the ability to flourish and excel in their music careers.
In addition to elevating your instrument and technical skill, our keyboard music courses also teach valuable information regarding music history, music theory, and the music business.
For the intermediate instrumentalist AIMM builds your music education with both tools of recording and engineering, to guarantee your musical talent will prosper far into the future.
Our students will learn the vast capabilities of the keyboard:
All students in keyboard studies receive education through class and practical application instruction, lab instruction, and live clinics, highlighting today's most well-known and creative engineers, producers, and music industry producers.
Note-reading on the keyboard
N

ote Recognition

Intervals

Chord Shapes

Rhythmic Figures
Basic scales and Chord Forms used in Contemporary Musical Performance
Major Scales

Minor Scales

Triads

Basic Voicing
All introductory courses advance each keyboardist to advanced levels in each area of practice developing their musical abilities to professional ones.
The philosophy of AIMM's keyboard department is one of strong dependence on the mentoring process, by which the current students' private teachers guide them musically, and advise them in all aspects of their overall education and development.
Our Invite to You
The demand for creative, technologically savvy composers and keyboard professionals is greater than ever, and thanks to advances in recording and engineering technology, we can prepare you for a career that can take you anywhere you want to go.
At AIMM we are changing the way the world experiences music.
The music scene is becoming over-populated with DIY Keyboardists uploading their music to YouTube and Instagram. Music accessibility is better than ever, but it is easy to be lost in the crowd.
If you want to stand out from the pack, earn a degree or certificate from an accredited Atlanta Keyboard Music School.
If you're an aspiring keyboardist, then the Atlanta Institute of Music and Media School has everything you are looking for.