Atlanta Recording and Music Production School
Where Cutting Edge is Just the Beginning
Record | Compose | Create | Produce
What you hear around you every day is what we teach our Atlanta Music Production and Engineering students.
At the Atlanta Institute of Music and Media, the professional instructors give our Music Production and Engineering students the necessary instruction and vision today, to innovate and create the ideas that will revolutionize the music experience tomorrow.
A Music Production School that Pushes Music and Technology to The Limits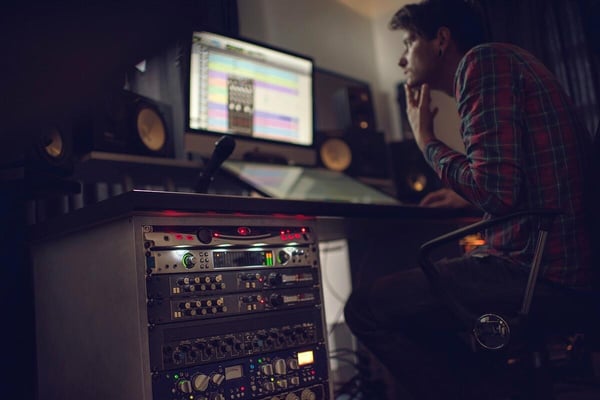 AIMM provides recording arts students with the instructional environment necessary to develop both their technical & musical talents and acquire the skills to become one of today's professional producer/engineers.
The Atlanta Institute of Music and Media's Modern Recording, Engineering, and Production curriculum accomplish this through:
class and practical application instruction

audio and video computer lab instruction

Professional Recording Studio

live clinics featuring today's most well-known and innovative engineers, producers, and music industry professionals
From Music and Technology to Music Business and Music Theory, we cover all of the bases so that our talented students are ready to make a splash in the industry.
Learn more by checking out our Music Production FAQ.
AVID Pro Tools Training Partner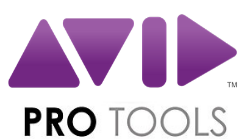 AIMM is an AVID Pro Tools Training Partner.
That means while you're learning the best recording, mixing, and mastering techniques, you'll be utilizing the best Pro Tools software that your favorite producers use.
You even have the opportunity to become Pro Tools Certified.
Taught by Professional Music Producers
The Atlanta Institute of Music and Media's Modern Recording, Engineering and Production Program is taught by professionals who are at the forefront of research and performance in their fields.

These professionals maintain working relationships with prominent musicians both locally in the Atlanta Area and abroad.
Their work experience, certification, and degrees give each instructor the background to teach the demanding, yet rewarding engineering and production curriculum.
At AIMM, we have the music production program you're looking for. AIMM offers two program options:
Both programs are excellent opportunities to learn from industry-leading instructors in exclusive studios with top-of-the-line equipment. Education in music production will give you a massive edge over the competition.
Get the hands-on experience you need to separate from the DIY and YouTube tutorial crowd.
Follow in the Footsteps of Successful AIMM Alumni
Kesha Lee - Engineer
Kesha Lee is an engineer who earned a Grammy for her work on Childish Gambino's song, This is America.
Turbo the Great - Producer
Turbo gained notoriety for his work with Young Thug and Lil Uzi Vert. His most popular song that he was worked on is arguable Drip Too Hard, with Lil Baby and Gunna.
KEYZBABY - Producer
Jay Foye, aka KEYZBABY, is an AIMM alumni that co-produced the current #1 song in America, WAP.

AIMM's Location
Address: 2875 Breckinridge Blvd #700, Duluth, GA 30096
Phone Number: (770) 242-7717
Our Atlanta Music Recording Professionals have worked with:
Pharell Williams
Steve Vai
George Lynch
Snoop Dogg
Tosin Abasi

Beyonce

Monica

Brandy

Ludacris

Rick Ross

Ciara

Kandi

Paul Gilbert

Cartoon Network

Aflac

Comcast

Nickelodeon

Honeywell

and more
Interested in a Career in Music? AIMM alumni work in:
music production

movies

television

radio

record labels

multi-media production studios

live recording for bands and churches
If this is the case, no other Atlanta Music School gives music producers the ability to jump-start their music industry careers like AIMM.
Just look at the success of Turbo the Great and Kesha Lee, two of AIMM's most successful alumni.
Frequently Asked Questions
Question 1: Does AIMM offer on-campus housing?
AIMM does not have on-campus dorms, however, once a student is accepted into their academic program, they have the option of being placed on our "Housing & Roommate List."
Our Career Services department can then reach out to the student to help find nearby, affordable housing. If the student requires a roommate, Career Services will help find a roommate of similar age and program of interest.
Question 2: Does AIMM accept financial aid?
AIMM currently administers the following Title IV Federal Aid Programs:
Federal Pell Grant

Federal Direct Loans

Federal Direct PLUS Loans.

Once a student has been accepted for admission to AIMM, and has applied for Federal Financial Aid, their Financial Aid File will be processed.
All Federal Aid Applications and required supporting financial documents must be submitted at least 30 days prior to the student's first day of class.
Question 3: Is AIMM scheduling in-person tours during the COVID-19 pandemic?
Out of an abundance of caution, AIMM is currently suspending on-campus tours due to COVID-19. However, you can book a one-on-one virtual tour with an admission advisor here.
Question 4: Does AIMM offer the necessary equipment for students to complete their coursework?
Yes, AIMM's studios and computer labs are outfitted with all the hardware and software required to complete students' coursework.
AIMM also offers the purchase of an additional "Tech Kit". The "Tech Kit" is not included in the cost of tuition, it is an optional expense if a student would like to outfit their home workspace with our suggested hardware and software.
The purchasing of the Tech Kit is handled through a third party website called Vintage King.
Question 5: How can I send my transcript if my school is closed?
AIMM accepts transcripts submitted electronically. School officials can send transcripts as an attachment from an official school email address or have an official transcript sent via the transcript service that your school uses.
Simply contact your school and request that they send us your official transcript. Transcripts sent electronically from a student email address will not be accepted.
Our Invite to You
The demand for creative, technologically savvy composers and recording professionals is greater than ever, and thanks to advances in recording and engineering technology, we can prepare you for a career that can take you anywhere you want to go.
Our Music Production School is changing the way the world experiences music.
If you're an aspiring music producer, sound designer, or audio engineer and love learning in an immersive, hands-on learning atmosphere, then the Atlanta Institute of Music and Media school has everything you're looking for.
Don't get lost in the crowd of DIY Music Producers. Put your technical skills to the test. Turn your recording and music engineer passion into a profitable career.
Your first step to becoming a successful music producer and fast-track your success is enrolling at AIMM. Now is the time. Successful careers in music are entirely possible, and AIMM helps you achieve that goal.
Click the link to learn more about how the Atlanta Institute of Music and Media can get you where you want to be today.