How Can a Music Production Degree Help Get You a Film and TV Career?
At The Atlanta Institute of Music you will learn specific techniques and skills to obtain a career in Film and TV with your Music Production and Audio for Media Degree. You will gain knowledge in the field of recording and engineering, as well as, both the technical and musical aspect of the program.
What is Music Production?
Music Production is the technical application of: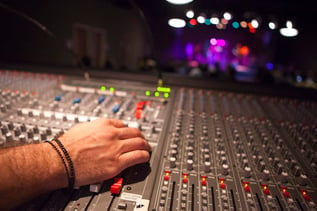 Music
Dialogue
Sound Design
Location Audio
The program consists of courses that are designed to provide students with the necessary education to further their recording and engineering abilities in the Film and TV industry.
The Beginning
Music Production was born into the filmmaking industry when the creators realized there was a way to control and enhance the sound of their movies.
The need for music production increased as television evolved into pre-filmed or videotaped programming. Now, it would be almost impossible to find any feature film or television show that has not been through music production, which is why there is a growing need for thoroughly educated individuals in the process and application of music production for film and television.
What is Involved?
The audio portion of Film and TV is typically recorded separately from the actual video. Most of the audio such as, background noise and music, is added in music production. Music Production is where all of the assembly, editing, and finalizing takes place.
There are several process that are involved in music production for film and TV:
Production Dialogue Editing: Audio that is recorded on set or on location will need to be properly mixed to ensure the audio production recording is synced properly, has clean dialogue, and all irrelevant noise is taken out.
Automated Dialogue Replacement: This takes place in a specialized recording studio where the actor will record their lines and they will later be perfectly in sync with the film.
Sound Effects Editing and Design: The use of digital and analogue technology are used to create sound effects, such as, traffic, birds, doors slamming, or gunshots in films and television.
Foley: Foley effects are sounds that are created by recording movement, such as, footsteps or rustling clothes. The concept is to sync the sound with the film or television show.
Music Editing: This where the final synchronization of all the musical elements occurs after the underscore is recorded and the source music is gathered.
Mixing: This involves balancing all of the various elements mentioned above. On large film sets with tight deadlines, there may be several teams working together in order to complete the mix by the release date.
Why You Should Choose The Atlanta Institute of Music and Media for Music Production
Our Music Production degree program consist of courses that are specifically designed to provide students with technical application of music, dialogue, sound design, and location audio for film, television, gaming, and all new forms of media expression.
Our course will provide you with the necessary education to pursue your Film and TV career in Music Production.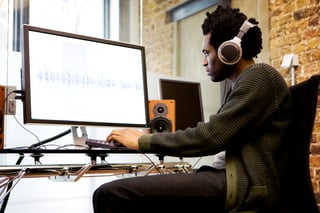 When you attend our school, you will be in an instructional environment that will encourage and help you develop both technical and practical talents. It is our goal to help you acquire the skills needed to advance in your musical knowledge in the field of music production.
Our program also includes applied general education courses and gives you the ability to obtain Pro Tools Certifications in music production and audio for film music production.
Once you have completed our Music Production courses, it is our objective to have supplied you with the knowledge and assistance to produce a recorded portfolio that will help you obtain a career with Film and Television.
What our Atlanta School Offers
At The Atlanta Institute of Music and Media we are changing the way the world experiences music.
The demand for creative, technologically savvy composers and music production professionals is greater than ever, and thanks to advances in recording and engineering technology, we can prepare you for a career that can take you anywhere you want to go.
If you are aspiring to become a Music Production for Film and Television professional, then The Atlanta Institute of Music and Media school has exactly what you are looking for.
Call Today or Click On The Link Below!