Marietta, Georgia Music Production and Audio Engineering School
Our Music Production School in Marietta teaches aspiring producers the practice of editing, mixing, and creating sounds for application in film.
Sound effects, dialogue, and music must all be customized to perfectly sync with the desired media, for example, television and movies. The lengthy and complicated process of creating different sounds for the use in films includes,
Production Dialogue Editing
Automated Dialogue Replacement (ADR)
Sound Effects Editing and Design
Music Composition
Music Editing
Mixing
The Institute of Music and Media near Marietta is world renowned and offers ambitious students access to an abundance of degree programs and the opportunity to learn from prominent professionals that are experts in their field.
Music Production and Audio for Media students will enhance their talents, preparing them for a very successful and promising career in the music industry.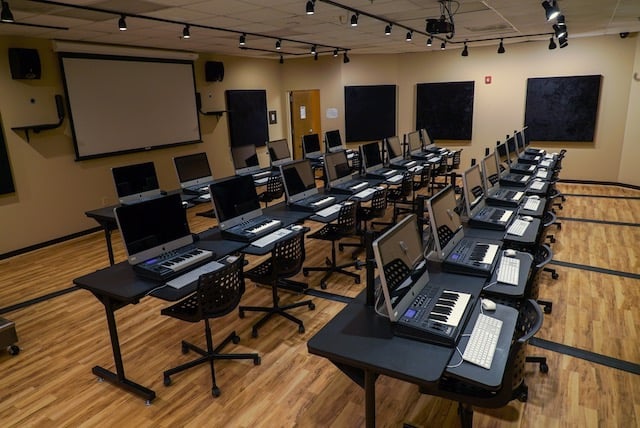 Music Production and Audio for Media
Degree in Marietta
Graduates finish their Music Production and Audio for Media degree with an in-depth understanding of:
Recording
Mixing
Mastering
Our accredited instructors are professionals within the music industry who utilize their own audio recording, production and engineering degrees, as well as audio work related experiences, to teach in the classroom. The various instruction techniques utilized by our Marietta music and media school and its invaluable professors include,
lab instruction
live clinics hosted by industry professionals
practical application instruction
A variety in teaching techniques allows our Marietta, Georgia music college to appeal to all types of learning styles. Traditional classroom learning combined with hands-on experience produces graduates that are equipped with knowledge and real world experience from current industry leaders.
Our Georgia music school provides its students with the latest and greatest technologies and the best state of the art equipment. Our students learn on the same equipment professionals use everyday. Therefore, your education will not only enhance your musical talents but also improve your technical ones!
Students applying for, or studying in, the MPAM program will be fully prepared upon graduation. Our main goal is to provide students with the expected knowledge, trade secrets, skills, and opportunities for them to obtain and succeed in an music production career.
Certificate in Music Production
For producers that want to earn a certificate rather than an associate degree, AIMM offers a Certificate in Music Production.
AIMM's Music Production Certification Program is designed to assist Marietta music producers establish the skills necessary to become a successful and professional sound engineer.
This certificate program teaches students the recording processes of tracking, editing, mixing, and mastering for analog and digital music production.
Learn more about AIMM's Music Production Cert here.
Professional Audio Engineers & Accredited Producers
Some of the world's best music instructors are employed at Atlanta's Institute of Music and Media. Only the best instructors are capable of teaching the demanding curriculum.
These knowledgeable individuals are industry professionals that have learned to combine their "real world" experience and capabilities to create the greatest combination of courses and programs a Marietta, Georgia music college can offer.
AIMM Graduates have worked with the following:
Adult Swim
CNN Sports
Verizon Wireless
Honeywell
Steve Vai
George Lynch
Paul Gilbert
The Dave Weckl Band
Tosin Abasi
Victor Wooten
Steve Bailey
Leslie Brathwaite is an Oscar-nominated and multiple Grammy-winning mix engineer! He has worked with famous artists, including
Pharell Williams
Beyonce
Monica, Brandy
Snoop Dogg
Ludacris
Rick Ross
Ciara
Kandi
Our Marietta Graduates Are Successful Producers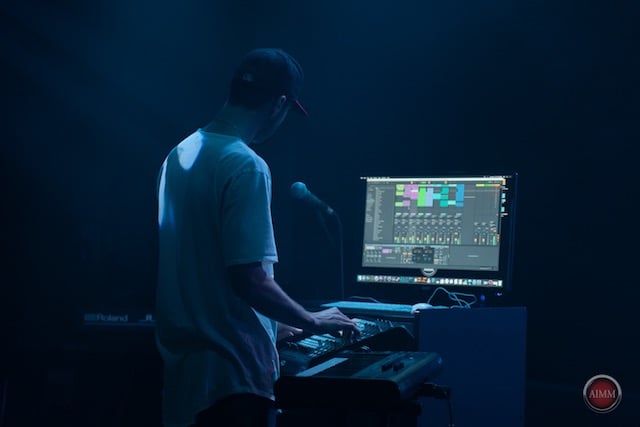 Our alumni go on to have extremely successful careers within the music and media industry. One specific graduate, Matt Aston, stands out. He credits AIMM for preparing him for his very successful career and his abundance of opportunities.
During his schooling he interned at Tree Sound Studios, which led to him eventually becoming an engineer there! He began specializing in location audio and worked on a variety of reality TV shows in Atlanta, like Real Housewives of Atlanta, Big Rich Atlanta, Kandi Factory, and The Family Hustle!
Another successful Music Production Alumni from AIMM is Kesha Lee. In fact, Kesha Lee earned a Grammy for Record of the Year for This is America with Childish Gambino. Turbo the Great, another AIMM alumni, has been diving head first into music industry success with Drip Harder in collaboration with Gunna.
You could be AIMM's next success story!
If it is also your dream to work in the music production industry and in music production and audio engineering, then our Atlanta music school could be right for you!
We are proud and excited to help Marietta, GA musicians and producers elevate their talents and break into the music industry.
Call us today, or click on the link below for more information on our degree and certificate programs!