10 Best Super Bowl Halftime Performances
It's that time of year again.
The NFL playoffs had the drama, grit, and competition that eventually led to Patrick Mahomes and the Kansas City Chiefs facing off against Jimmy G and the San Francisco 49ers in the Super Bowl.
We're getting close to the time to gather with your friends to enjoy each other's company, eat too much food, and enjoy the epic football game.
And, with every Super Bowl, comes the Super Bowl halftime show.
In the early days, the NFL just invited marching bands to perform during its halftime.
Since then, it has morphed into an all-out musical spectacle. Believe it or not, for many people, the halftime performance (and commercials) are more anticipated than the actual football game itself.
This year's headliners are the pop sensations Jennifer Lopez and Shakira.
Over the years, there have been some amazing halftime shows, along with some that left you wanting a little more.
In anticipation of this year's Super Bowl and its halftime show, we will count the ten best, and most memorable, Super Bowl halftime shows.
Table Of Contents
10. Aerosmith and N'Sync with special guests, Super Bowl XXXV, 2001
2001 was the first year that the fans were allowed on the field surrounding the stage, making it feel like a traditional concert.
It was also the year Justin Timberlake shot fireworks out of his hands like he was some kind of mad scientist.
The fan interaction, which has become an integral part of the shows since, brought an entire new energy to the performance.
The show started with N'SYNC singing Bye Bye Bye and Aerosmith crooning; I Don't Want to Miss a Thing.
When surprise guests Britney Spears, Mary J. Blige, and Nelly came out for the Walk This Way finale, it created something every generation watching would be able to enjoy and connect with.
9. Lady Gaga, Super Bowl LI, 2017
This is the show that literally started on the roof and just got better from there.
Lady Gaga delivered a performance that featured her smash hits, along with a little societal depth.
Her performance was in the wake of the infamous Muslim ban, so she sang Woody Guthrie's, This Land Is Your Land.
She also performed her hit Born This Way, which marked the first time "transgender" had been referenced during a Super Bowl show.
8. Justin Timberlake and Janet Jackson, Super Bowl XXXVIII, 2004
Who can forget this show?
This is the halftime show that coined the phrase, "wardrobe malfunction."
Even though the show became marred in controversy because of that incident, it was still an amazing performance.
In addition to Janet Jackson, we were all able to witness P. Diddy riding a platform through a sea of smoke and Nelly driving out in a giant red car.
And who could possibly forget seeing Kid Rock cycle through four different outfits, including a poncho made from an American flag?
7. Bruno Mars, Super Bowl XLVIII, 2014
Bruno Mars' performance in 2014 has aged like a fine wine.
People questioned the selection of Bruno at the time, but he certainly proved himself worthy.
Since then, Mars has become one of the most accomplished artists of his generation. Good luck trying to listen to any national pop radio station for an hour without any of his hits coming on.
The Super Bowl served as his coming out party; it's when we all realized he wasn't just a cookie-cutter pop artist, but a multi-talented musician.
6. Katy Perry, Super Bowl XLIX, 2015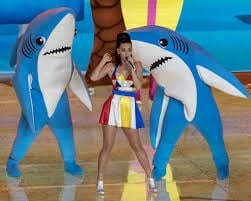 This is the show that made "Left Shark" famous.
During Katy's performance, a shirtless Lenny Kravitz counted as one of the more conservative parts of the show.
Dancing beach balls and palm trees, an enormous robot tiger, and an infinite amount of pyrotechnics were all highlights of her performance. All of this being overshadowed by a frantic, unsynchronized dancing shark.
Missy Elliott also managed to make an appearance, amongst everything else going on.
If you were looking to be entertained, this was the show for you.
5. Bruce Springsteen and the E Street Band, Super Bowl XLIII, 2009
For this performance, Springsteen promised the righteous and mighty power of the E Street Band for 12 minutes.
He wanted to be sure America "stepped away from the guacamole" to catch their performance. If you did, you caught a great show. Springsteen embraced the large stage at the halftime show, and let loose.
Even though his shows are typically pretty long, he was content to deliver a small set that followed through with his promise.
4. Michael Jackson, Super Bowl XXVII, 1993
By today's standards, the King of Pop put on a seemingly low key show. However, his performance still delivered in all aspects.
He packed stunning choreography and hit after hit into a 12-minute performance that drew 90 million viewers and changed the halftime show forever.
Before Michael Jackson, the halftime show was given to Elvis impersonators, marching bands, and the Disney Mouseketeers.
Because of MJ, it's become center stage for pops biggest stars that gets edgier and more "viral" every year.
3. U2, Super Bowl XXXVI, 2002.
This was the first performance since the 9/11 terrorist attacks, and U2 delivered precisely what we needed. The Super Bowl halftime performance acted as a national moment where everyone could come together and unite.
At one point, they had the names of the victims projected on a vast, unfurling screen as they performed Where the Streets Have No Name.
U2 has a heart-on-the-sleeve sincerity, and when you mix that with their cathartic choruses, they delivered a performance that many still consider one of the absolute best.
2. Beyonce, Super Bowl XLVII, 2013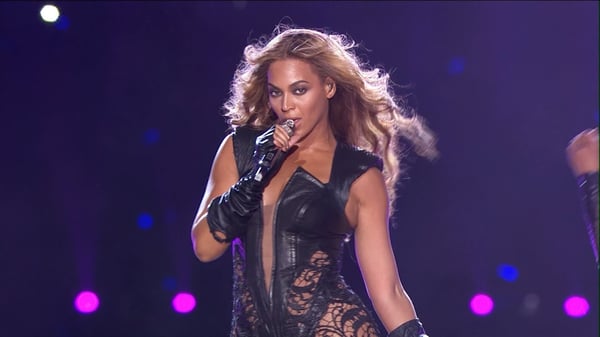 Beyonce's performance at the Super Bowl XLVII halftime show served as a masterclass for the modern halftime show.
She sang live, she danced, and she brought out surprise guests Destiny's Child. Some people may have thought that even the Super Bowl wasn't a big enough stage for Beyonce.
If you can believe it, she's only become bigger and better in the years since her performance.
In 2013, the halftime show might have been talked about more than the actual game.
1. Prince, Super Bowl XLI, 2007
If you ever read a top 10 list of Super Bowl halftime shows, and this isn't #1, they probably haven't seen it yet. When Prince performed at halftime of Super Bowl XLI, he was pretty far removed from the mainstream.
His electrifying set served as a vivid reminder of his greatness as a performer and musician.
This was mostly due to his outstanding guitar solo of Purple Rain that took place in actual rain. This show served as his return to prominence and a testimonial to how good he is at putting on a live show.
The only way this could've been better is if his home team, the Minnesota Vikings, had won the game.
Unfortunately, they didn't even make it to the Super Bowl.
Future Super Bowl Performer?
There you have it, our list of the 10 most memorable Super Bowl halftime performances.
It may be hard to believe now, but all of these musicians started out with nothing more than the drive to learn and become the best musicians they could possibly be.
If you are a musician or music producer and want to reach your maximum potential, one of the best paths you can take is attending an accredited music college.
The Atlanta Institute of Music and Media offers the following programs for driven and intermediate students:
If you'd like to learn more about how AIMM can jumpstart your music industry career, click the link below.