The Best Songwriting Tips
Have you ever sat down to write a song and instead of music you hear crickets?
We've all been there. Maybe you're new and just aren't sure where to start.
Maybe you have a serious case of writer's block, and you need something to help shake the cobwebs (check out our 7 Tips to Crush Writer's Block).
Either way, sometimes all we need is a push in the right direction to get us started.
Below is a list of ten ideas and tips to help you write your next masterpiece.
Table Of Contents
1. Know Where to Start Writing
Knowing where to start is often the hardest part of the entire process.
Most writers consider developing your song's main melody or central chorus as the best place to start writing your next song.
Once you've developed your hook or key chord progression, you're able to build the rest of your song around it.
If you can't find the perfect melody right away, don't worry.
There's not a one size fits all approach, and this method doesn't work for everyone.
Some songwriters prefer to start at the beginning of their song by writing an amazing intro, which will lead them naturally into the rest of the song.
Some writers get the lyrics down first and then worry about the tune afterward.
There are no hard rules when it comes to songwriting.
It comes down to each songwriter to determine their starting point.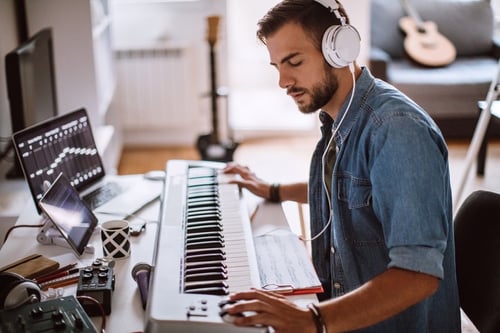 2. Study the Greats
Some of the best songwriters are also huge music history nerds. They will listen to hit songs on repeat to figure out what made them great.
Was it a catchy melody? Relatable lyrics? An infectious beat?
There are so many things that will impact whether or not a song will be considered great.
Studying the singer songwriters who have come before you is an important step for every songwriter. Also, don't be afraid to look to your heroes and inspirations.
Look to what made you attach your ear to their songwriting.
3. Lose Your Ego
This is an important tip on various levels. All the other tips in this article will only work if you conquer this step first.
Losing your ego isn't as easy as it sounds.
You have to be willing to mess up and write a few awful songs while being able to keep coming back. The best things in life do not typically come easy.
As soon as the ego is out of the way, everything else will be much easier.
4. The Lyrics Matter
Unless all you do is write instrumentals, the lyrics are arguably the most important part of any song.
While music can elicit emotion and tone, the lyrics are commonly what listeners attach to. Lyrics are what people shout back at you when you're performing live.
The lyrics are what people write on their social media and tattoo on their body.
Writing lyrics can also be the most frustrating and difficult part of the entire songwriting process.
Knowing what you want to write about is a good start.
Jot down a few notes about what you'd like to talk about in your song, and then play around with the rhythm and cadence of your words to fit them to the melody.
A solid lyrical hook is important, while the verses and bridge can be built around your central message.
5. Experiment
Play around and have some fun.
There are so many different things you can do when writing songs. It's important to try mixing things up to find what works for you.
You need to find your style. Some writers only write the vocal parts of a song. Other writers will come up with amazing chords but don't touch the beat.
There are so many roles you can play across so many genres.
You need to take the time to experiment and see where your passion lies.
6. Join a Group for Songwriters
There's only so much your family and friends can do for you, especially if they aren't songwriters.
There's an old saying that says you are the sum of the five people you spend the most time with.
So, it's in your best interest to not only hang around with songwriters but to hang around with songwriters that are better than you.
Sharing your work with other songwriters will help you see where you're at in terms of:
Structure
Ideas
Development
Most groups are very welcoming, so don't be intimidated.
7. Record Whenever You Feel Inspired
One of the worst things that can happen as a songwriter is to come up with amazing lyrics or a riff and then completely forget about it an hour later.
Forgetting ideas can be frustrating, so it's important to take a note of it while it's still fresh in your mind.
Use your smartphone, people!
Everyone has a smartphone in their pocket with a note-taking app, so pull it out whenever inspiration strikes.
The note app is fantastic for jotting down quick lyrical inspirations and the voice recording app is great for a quick snippet of melody.
Even if you just record a 10-second chord progression or riff, it could prove to be all the trigger your memory needs down the road.
When you're ready to record later, you'll be thankful you took the note.
8. Collaborate
If you pay attention, most hit songs these days have multiple songwriters.
Collaboration is key to the writing process.
Sometimes all you need is someone else in the room you can bounce ideas off of. Because of the internet, finding a collaborator is easier than it's ever been before.
A great place to look is Facebook groups.
Seek out songwriters, DIY Music, or genre-specific groups in your neck of the woods on the social media platform.
You don't even have to be in the same room; you can collaborate remotely over a video chat.
Tip: If you're looking for other musicians to join you in your songwriting journey and want to become a band or musical group, check out How to Find Your Next Bandmate in 5 Steps.
9. Study
Just like learning any other new skill, you need to study.
Read as many books about songwriting as you can; there are plenty available.
You'll also want to read books about the music industry as a whole, so you get a good idea of how everything works. You just don't need to read about songwriting, either.
If you enjoy reading, read as many books as you can about whatever you want.
The more information you take in, the more you'll have to write about.
10. Write from Experience
Think of Eminem or Taylor Swift. They wrote about what they've been through and the things they knew.
It seems obvious, but some of history's greatest songs are about personal experiences. Great songwriters draw inspiration from real life events and traumas to spark their creativity.
Whether you've been through hard times or great times, you can use your life experiences to great effect.
Put your feelings into a song you can be proud of. That doesn't mean you can't write a narrative/story-type song or project your thoughts on a situation you haven't experienced yourself.
You just have to consider your songwriting well isn't quite as deep as topics you have experienced and lived through personally.
Start Writing Songs Today
There you go. Now you should have enough ideas to get you started. No one becomes a great songwriter without writing their first song.
So, grab a pen and paper, your computer, or an instrument and get to work.
Think you might want to write songs for a living?
Contact The Atlanta Institute For Music And Media. AIMM is an accredited Music School with the following:
Exclusive Studios
Industry-Leading Instructors
Certificate and Degree Programs
The opportunity to become Pro Tools Certified
AIMM will get you started down the right path.
Click the button below to learn more about AIMM today!