Busting the Starving Artist Myth
We've all heard the "starving artist" cliche.
When you hear about the starving artist, you probably picture a painter that lives in his parent's basement or the guitar player that plays at your local coffee shop.
Everyone knows there's no money in the arts, and you should go to school and get a stuffy office job that confines you to a cubical.
Right?
Admittedly, it can be very difficult to make a living in the music industry. But, that's only if you don't know about the various fields and job opportunities available.
A stable career in the music industry depends entirely on the industry you're a part of.
There are more opportunities in the music industry besides being the one headlining the tours.
It takes hundreds of people to launch tours, record music, and develop talent.
If music is your passion, and you want a stable and lucrative career, you have options.
Below we will talk about 6 of the best jobs in the music industry that will leave you fulfilled as well as provide a pretty decent salary.
Table Of Contents
6 of the Highest Paying Jobs in the Music Industry
1. Orchestral Musician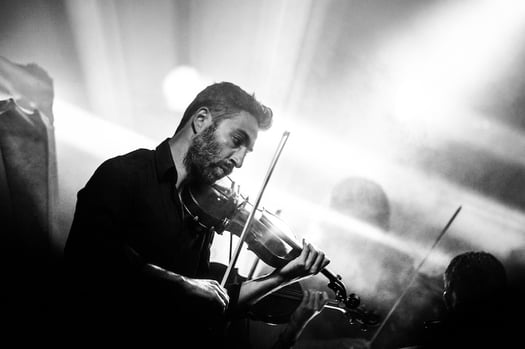 Being an orchestral musician isn't easy, but it can yield a great salary if done right.
The biggest determinant of your success as an orchestral musician will be the orchestra you play for.
For example, if you're with a full-time orchestra, playing about 40 weeks a year, as a member of the Alabama Symphony you'll earn around $37,000. However, if you land with the major symphony, like the Boston Symphony, you'll between $100,00 and $150,000.
A variety of factors influence your salary, including the cost of living and where your orchestra is located.
The job market for orchestral musicians is extremely competitive.
Most orchestral musicians hold their job titles for many years and are the best classically trained musicians in the world.
2. Music Therapist
This is for the people interested in the sciences as much as they are in music.
Music therapists work in healthcare and education and can set up shop in the following:
Hospitals
Community Mental Health Agencies
Rehab Clinics
Prisons
Disability Centers
Music therapy is a great thing! Most music therapists start out at around $30,000 a year.
While that isn't much, if you stick to it, you can end up earning about $72,000 a year.
Not bad for the opportunity to work in music and positively impact people's lives.
3. Video Game Sound Designer
A marriage between video games and music; what could be better?
Video game industry is a large and growing industry to get involved with.
Video game sound designers provide detailed plans for how the performances sound will occur, and they often create voice and sound effects that integrate into the game.
Video Game Sound Designers can also be the director of audio or audio tool developers.
Anyone with any of those titles can earn well over $100,000 a year.
Other lucrative music careers inside the video game industry are recording and mix engineers and score composers.
4. Road Managers
If you like a fast-paced adventurous life, then this is the one for you.
Road managers go on tour with headlining acts and make sure everything goes according to plan.
Keep in mind; this is no easy feat. There are hundreds if not thousands of things that have to be accounted for during a concert.
Another challenging part is the fact that organizing and scheduling musicians is often comparable to "herding cats." Best of luck!
As a road manager, you'll be working with:
Travel plans
Tour budgets
Merchandise sales
Fan interactions
Press requests
In addition, the road manager will involve themselves with sound systems and lighting setups at the venue.
All salaries for road managers are individually negotiated, but the average tour manager makes about $51,000.
If you move on to the big leagues, you'll be making upwards of $125,000 every year.
5. Music Attorney
Bet you didn't think of this one!
This job will please your parents and fulfill your love for music.
Being a Music Attorney is the furthest removed from any actual musicality, but it is definitely one of the most lucrative careers on this list.
Just like with any other attorney, you'll need to go to college and then law school and receive proper certification to practice law.
There are many musical undergraduate degrees you can pursue before heading off to law school.
Once you're officially licensed, you can expect to bring in $70,000 a year starting out, and then the sky is the limit.
In 2015, the average salary for a Music Lawyer was $136,260.
If you have a passion for music, as well as evaluating legal issues, like copyrights, trademarks, and contract negotiation, a career as a music attorney is perfect for you.
6. Audio Engineer
Arguably the most important person that touches and edits music aside from the composer and musician is the audio engineer.
Finding the perfect levels, fixing the tone, utilizing software, and mastering the track are just a few of their duties. You can learn more about the role of an audio engineer by clicking here.
Take on as many projects as you can when starting out! You'll earn some extra money, and in the process, receive a ton of valuable experience.
Once you have established yourself as a successful audio engineer, you can crack the $80,000 barrier.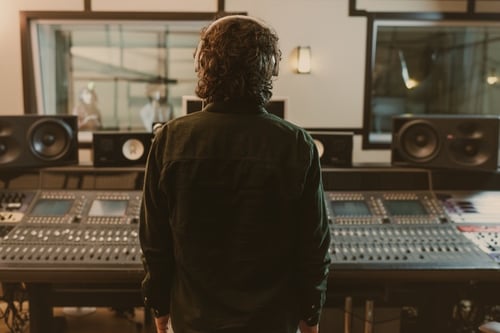 Take the Necessary Steps for Your Music Industry Career
Don't fall for the "starving artist" line. If you love music, by all means, pursue a career in music.
Just remember that there are far more options available to you than becoming the next Justin Bieber or Adam Levine.
If it weren't for the people doing the jobs listed above, our favorite musicians wouldn't be able to do what they do for a living.
If you do have a passion for music, an excellent place to start is the Atlanta Institute Of Music And Media. Like most career avenues in life, better jobs are typically accompanied by degrees.
Music is no exception.
The DIY approach in music is gaining momentum, but there are still many jobs and careers in the music industry that you would be better served separating from the competition by earning a degree or certificate.
You can even become Pro Tools Certified (we're looking at you, audio engineer enthusiasts).
Learn more about what AIMM can offer you by clicking the link below.