Get the Most Out of Your Soundcheck
There's nothing better than putting on a perfect show with your band.
Knowing that everything has gone according to plan and the crowd is loving every minute of it is a feeling that can't be described with words.
Apart from the dedication to your craft, it is often the behind-the-scenes preparation before showtime the separates the good from the great. There's a lot you can do at home and in the rehearsal room to prepare yourself for the show.
But on the day of the show, it's the soundcheck that can be the deciding factor.
In the article below, we will go over some tips on how to perfect the soundcheck process and use it to your advantage to help you play a better live show.
Table Of Contents
1. Research
Soundchecks come in many shapes, lengths, and sizes. It is highly recommended that you do your homework so you know what to expect before you get to the venue.
The more you prepare yourself at home and during rehearsals, the less you'll have to figure out during soundcheck and on stage later on.
If you can, a great thing to do is get your band's stage plot to the venue/sound engineer a few days before the show.
Wondering what a stage plot is?
A stage plot is a diagram of how your band's gear will be set up on stage, including lists of the gear inputs you'll need, how many mics you'll need, etc.
If the venue is prepared for your arrival before you get there, you will save a great deal of time and effort when you show up.
-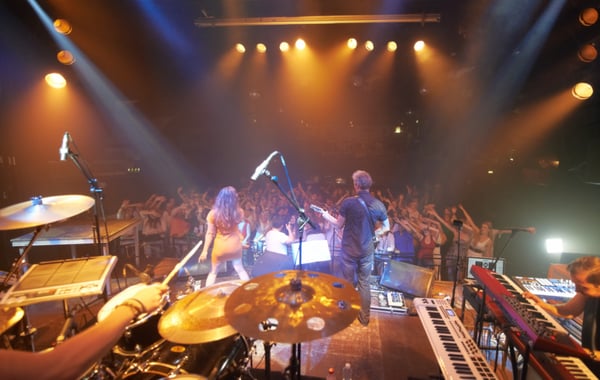 2. Arrive Early
Always get to the arena as early as you can. There's no need to camp out outside the venue the night before, but you get the idea.
Planning to be early can at least deter some catastrophes that pop up suddenly, such as traffic and construction.
You'll typically know the time of your soundcheck ahead of time, so take note and work around it.
If you get to the venue late, chances are you're holding everyone else up or you just won't get a soundcheck at all.
That's not the best way to get things started.
3. Leave Your Ego at Home
Do yourself and everyone around you a favor by leaving your rockstar ego at home.
Hopefully you don't have that "rockstar ego," but there are certainly musicians within the industry that need to read this.
Bring your ego out for showtime, but until then, being polite and mannerly will endear you to the venue crew and FOH engineers.
Remember: These are the people whose job it is to make you sound good. People polite and respectful can go a long way.
Learn the names of the venue crew and listen to what they say because it will help you out when it's showtime.
Take their advice to heart, and you'll be okay.
This doesn't mean you should be afraid to tell them if you need more vocals in your monitor, just remember that if you treat them with disrespect, there's a chance they'll do the same to you during your performance.
4. Be Fit For the Stage
You know what you're going to play at the show, so set up your rig as much as possible in advance.
This can include:
the number of guitars you'll need
your amp
FX pedal settings
pedalboard
cable and power supplies
Make sure all the appropriate settings are already dialed in on your amp.
You'll be able to tweak them during the soundcheck as needed, but don't come in completely unprepared.
The same goes for your pedals, set them the way you want them, and make sure they have fresh batteries if they do not have cables.
5. Be Willing to Make Changes
The sound engineer might need you to change things up slightly - don't let this offend you.
If you get asked to alter your tone, just remember it's to make you sound your best, and they're in the best position to judge.
One of the most common requests you're likely to receive is to lower the volume. If they ask you to do it, it's in your best interest to go ahead and do it.
You might have to change your sound for the venue as well, and the soundcheck will be the best place for you to make these adjustments. Depending on acoustics or echos, a specific venue may need adjustments that you aren't typically used to.
More often than not, bands add mids to their tone during the soundcheck.
The mids might not sound good to you when you're playing at home, but when you're playing in a live venue, you'll need them so you don't get drowned out by the bass and drums.
It's all about finding frequencies that will cut through the mix the best.
Work with the sound engineer to be sure this is spot on. Remember, everything is done to make you sound better!
6. Play With Passion
Once you get plugged in and ready to go with your monitors sorted, it's time to crack out some full band sounds.
There's no real need to play full songs, so snippets of two or three should be enough.
Choose your loudest and quietest songs so it gives the engineer a good taste of what to expect. Also, soundcheck tracks that feature all of your instruments and mics being used, simultaneously if possible.
Another handy piece of advice is to play the first song of your set the entire way through at the end of your soundcheck.
This will allow you to be sure the PA is set as well as possible for your all-important opening song to get the show off on the right foot.
And play it like the arena is already filled with as much intensity as you can muster.
If you don't go all out during soundcheck, you can almost guarantee your levels will be out of whack when showtime comes around and your adrenaline is through the roof.
Just be sure not to wear yourself out before showtime.
7. The Sound Engineer Knows Best
This has been mentioned a few times already, but it really can't be stressed enough.
Throughout the entire soundcheck process, you might think your bass sounds awful, the mix in your monitors makes the band sound flat, or that there's no way the crowd is going to get into it at all.
Just trust that the FOH engineer knows best because they usually do.
What they're hearing out front is likely a far more pleasant mix than what you can hear on stage.
So just trust them and enjoy the show.
It's Showtime
There you have it. Those are your basics to have a successful soundcheck.
Always trust the sound engineer, prepare yourself in advance, and leave your ego at the door.
Do all of those things and you'll be ready to put on an amazing show.
Want to Make Music Performance Your Career?
One of the best ways to separate from the crowd and elevate your chances of breaking into the saturated music industry is by earning a music degree or certificate.
The Atlanta Institute of Music and Media offers musicians the opportunity to earn any of the following:
Music Production and Audio for Media Associate Degree
Music and Technology Associate Degree with a focus in Guitar, Bass, Drums, Keyboard, or Voice
Certificate in Music Production
Online Certificate in Music and Technology with a focus in Guitar, Bass, Drums, Keyboard, or Voice
If you think the musician lifestyle is for you, you need to learn more about AIMM.
Click the link below to get more information about AIMM and discover what doors our accredited music college can open for you.
If you enjoyed this article, you should give these a read: