How to Become a Better Guitar Player
Every guitar player has that defining moment where they tell themselves, "I am going to become a guitarist."
Maybe that moment was a really long time ago, and it's hard to remember. Alternatively, this could have been a recent decision.
So what do you do with this epiphany?
Well, first things first, you have to find yourself a guitar, whether it be electric or acoustic.
What then? Lots and lots of practice. But there has to be more than just practice. Sure, natural talent, rhythm, and a good ear comes into play, but is all practice created equal? Can you practice away from your instrument?
With these 8 habits, you can become a better guitarist. Let's dive right in.
Table Of Contents
1. Be Receptive
If you physically shut yourself in a room for the next 5 years, you would definitely reach a point where the music you create would seem quite stale.
Don't shut yourself away mentally, either.
It's natural for musicians to find their niche and not break away, but there are fresh and endless opportunities new just a touch away (because we know you're on your smartphone right now).
This can be broken down into areas:
Expand within your own favorite genre
Expand to other genres
I'm not saying that you need to spend an entire month only listening to country music if you love post-hardcore, but there is value to be found everywhere.
You could hate the song, but what about that little lick? What about that chord progression? Suddenly, you find yourself playing and utilizing a new technique or idea.
Keep an open mind and always be looking for inspiration. The world has an endless supply of content for you.
As a subsection under being receptive, I will include covering songs. Some guitarists spend more time covering while others write music themselves, which is completely okay. However, learning other techniques, chords, and rhythms from some of your favorite artists and songs is so valuable to growth as a musician.
2. Practice in your Mind
What the heck does this mean? Is this some Jedi mind trick stuff?
Not exactly. However, if thinking about it that way helps you, I say go for it!
How often do you find yourself stuck in traffic or construction? Or waiting in line to check out at a store? What about a Dentist waiting room?
Instead of mindless scrolling through social media or reading the ancient magazines, visualize your playing.
Is there a particular riff or section of a song you've been working on that has been tripping up your hand or your rhythm?
Take the time to truly imagine your hand, the guitar, and the strings. Visualize your hand gliding over the strings, how you need to contort your fingers, the strumming pattern, the rhythm with which it needs to be done.
Before that jump shot is made or that homerun is hit, the best athletes envision that process before it happens.
The very same can be done with the guitar. Developing a relationship between transcribing what you hear and what you imagine to where your hands would need to be on the fretboard is very useful.
Obviously, nothing beats actual practice with the guitar, so if its around go grab it. But for those times you don't have access, make your down and wasted time a little more productive.
3. Warm-Up
If you can only budget a 10-minute practice session, you can probably forgo the warm-ups.
However, if scheduled a half hour (or longer) rehearsal with your band our instructor or before an actual performance, warming up your hands and wrists is vital. You don't see professional marathon runners sprinting before stretching their legs. That is the type of care you need to take.
It may not be fun, but it is incredibly beneficial, and your body will thank you for it.
Warming up your hands/wrists can help with:
Stiffness
Aching
Flexibility (Help that pinkie finger stretch across a couple of frets)
On a much larger scale, proper guitar playing technique and warming up of the hand can be preventative measures for carpal tunnel syndrome and tendonitis.
For warm-up techniques and strategies, check out GuitarPlayer's Warm-Up Exercises.
4. Play With Other Musicians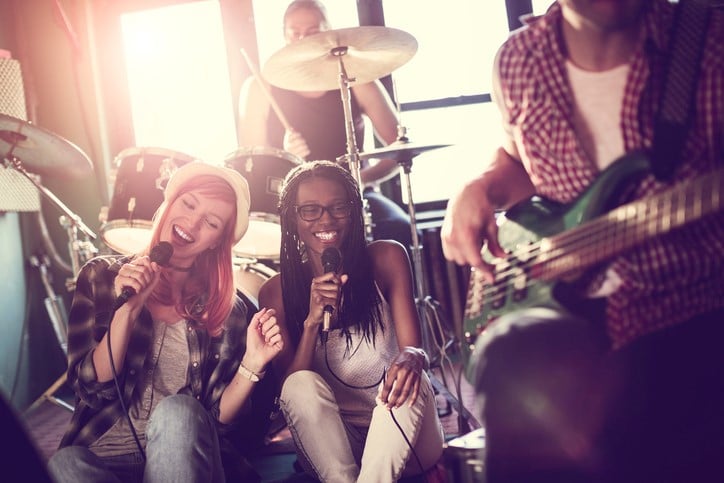 Along the same idea as being receptive, playing with other guitarists can be incredibly beneficial.
This can translate to pretty much every aspect of life, but practicing with other guitarists can help you open your mind to new music and techniques, offer constructive criticism, and inspire.
Consider this: practicing with other guitarists can also be beneficial if you see a guitarist doing something you would never do. Everyone has their own style and guitar heroes, as much as you can pull from other musicians while practicing and emulate, you can also recognize a difference and respectfully disagree.

That only helps you build your self-awareness regarding your style.
Playing with others can help build timing, consistency, and improvisational skills. All of which are valuable assets to collect.
5. Focus During Practice
Is it possible for Guitarist A to practice for 30 minutes, Guitarist B to practice for an hour, and Guitarist A end up having a more productive practice?
Absolutely.
Not all practices are created equal. It is all about quality over quantity. When you pick up your guitar, do you have a goal for what you want to accomplish? Are you considering the sections of songs that give you the hardest time? Are you writing new material?
Having a game-plan regarding what it is you want to accomplish during practice already puts you way ahead of just aimless jamming. Even if you don't reach your goal or end-point within the practice, the progress made is still effective and worthwhile.
Important note: Just like you need downtime from your job and relaxing time, just playing the guitar for fun and messing around is not a bad thing. Playing guitar, in general, is exciting, healthy, and a stress reliever. We aren't trying to take that from you.
If you are someone who prefers just jamming over structured, technical practicing, then make it a reward system. Say, "If I put in 20 minutes of technical practice than I can have 5-10 minutes of playing around."
Even if you only have 15-20 minutes a day to practice, pick out the skills and technical aspects you want to work on and stay consistent. Give those finger calluses a run for their money.
Before you know it, the rhythms and fingerings that used to feel difficult and foreign will become seamless.
For advice on creating a guitar practice schedule, click here.
6. Record Your Practice
Let me give you a scenario. You cover one of your favorite songs and practice it endlessly. You play it consistently for a month and feel great about it.
You show a friend, and they say, "That was great, but you know you rush that bridge a little bit."
You think to yourself that there's no way. You've been playing it for a month and have never noticed poor tempo. You go home, pull up a recording app on your phone, record it, then play it back for yourself.
They were right. You do rush that bridge.
There are moments while playing when you know you nailed a part, and sometimes you know you've had better days.
But what about the less obvious mistakes? What about the tendencies you never knew you had? Do you sing and play, too? How are the pitches coming out and the guitar to vocals volume ratio?
All of these and more can be answered by recording yourself. Recording sections of your practice let you the first audience. You are the first to enjoy the sound and the first to critique.
More than anything, you will become self-aware. You can critically and effectively pinpoint strengths and areas that require a little extra work. Therefore, the next time you practice you know exactly what you should be working on.
Just recording audio is better than nothing, but if you can use your smartphone or laptop to video record, you'll be able to see your physical technique and areas that need improvement will pop off the screen.
7. Track Your Progress Made
You may think you are spending your practice time effectively. You may wonder if you can improve your practice time. How can you accurately respond to either of these statements?
Track your progress.
That sounds like statistics, right? That's not fun.
But the good thing for you is that you're a guitar player. That means your creative, so have fun with it.
There are multiple ways to track your progress and test your discipline effectively.
Record either at the beginning of a practice session or the beginning of the week, then again at the end and compare. Do the same for months. Even years.
Write out each day what songs, scales, riffs, and fretwork you worked on in a journal
Create an extensive log of information that thoroughly details your entire practice.
An example of this type of log is below and created by Guitar World.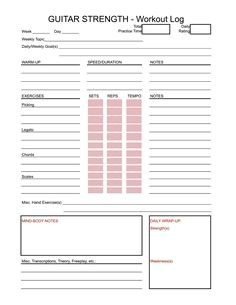 8. Attend a Music College
Experience is not something to be taken lightly, and there are many experienced guitarists to learn from.
It is important to open yourself up to learning from others. Not all advice is something you always have to take to heart, but having a mentor or someone to take lessons from is beneficial.
A step above that is attending a Music College.
Enrolling in a music college is a fantastic way to develop your craft, learn from proven and successful musicians, and also to earn a degree in the process. Having a music degree can open doors that you didn't even know existed within the music business world.
Let AIMM Be Your Path to Success
The Atlanta Institute of Music and Media is a fantastic school that has state-of-the-art recording studios, industry-leading instructors, and extensive courses to help every musician reach their potential.
Don't live near Atlanta? No problem.
Enroll in AIMM's online program. No matter your location, you will have access to all the benefits of attending AIMM with greater flexibility. Attend AIMM and become the guitar player you envisioned you would be on the day you chose to become a guitarist.
AIMM offers a Guitar Focused Music and Technology Associate Degree and an Online Certificate in Music and Technology: Guitar Certificate. This certificate is 100% online, so you can advance your skill from the comfort of your home.
To discover how AIMM can benefit your guitar career, click below!