Summer is right around the corner and it's time to enjoy the weather.
After a long, cold, and dark winter, we deserve to spend some quality time outside.
Whether it's a walk in the park, some relaxation on your back deck, or playing catch with your kids, we can finally start to enjoy our time outside again.
And we all know that with warm weather comes incredible music festivals!
No matter what your favorite genre of music is, there's a festival in America for you.
Punk rock fans can spend a weekend in Chicago, jazz aficionados can make their way to New Orleans, and if you're a fan of pop music and large, sweaty crowds, we have a few festivals for you, too.
As the number of music festivals continues to expand, it can be hard to keep track of all of them.
To make things a little easier for you, we've compiled a list of the eight music festivals across the country that every fan of music has to attend, in no particular order.

1. Coachella
Coachella is one of the most renowned music festivals that continues to sell out fast year after year.
The Indio desert becomes a fashionable hive of the hippest bands and musicians, watched by all the trendy people and A-list celebrities.
If you're a fan of music festivals, Coachella is definitely at the top of your bucket list.
The lineup at Coachella is heavily anticipated every year and a hotbed for musical discussion. In fact, the festival tends to sell out before the lineup is even announced!
2. SXSW
The South By Southwest music festival has been going strong since 1987.
Since then, it has grown in both attendance and influence.
It's estimated that 300,000 people will attend the festival this year, and SXSW is Austin's biggest revenue-producing event and one of the most important gatherings on the nations entertainment calendar.
And this event has something for everyone. It's broken down into SXSW Music which features over 2,000 acts spread across the city, and SXSW Film which screens some highly anticipated films.
SXSW continues to increase in popularity and features speakers, panels, and the pitch competition, SXSW Accelerator.
3. Lollapalooza
This is another popular festival that just about everyone has heard of.
Lollapalooza is a wonderful gathering of music, dance, comedy, and craft booths, making it a multi-genre delight that also provides a platform for political and non-profit artists and groups.
The festival has created many historical moments in many musicians careers and has firmly cemented itself in the global hall of fame for festivals.
4. Big Ears
The Big Ears festival is named after the open-minded approach the festival expects it's attendees to have (in regards the listening).
It regularly hosts marquee contemporary classical music performances along with adventurous indie-rock, jazz, metal, and electronic music.
The festival doesn't recognize any distinctions in its bookings, so listing the genres present at the festival is almost antithetical to its spirit.
For four days, Big Ears transforms Knoxville into a paradise of a variety of music, taking over regal music halls, intimate clubs and hustled churches, all of which are centrally located and within walking distance of one another.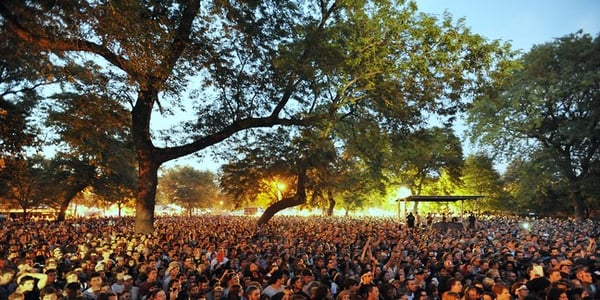 5.Pitchfork Music Festival
Independently focused music source Pitchfork Media organizes pitchfork Music Festival.
The three-day event is a genre melting pot of rock, hip-hop, electronic, jazz, punk, and many other sub-genres worth celebrating.
With a record fair, food, art, and beverages from local and national vendors, this is truly a cultural feast.
6. Levitation
Levitation, formerly known as Austin Psych Fest, has become one of the key components of the Austin festival scene, celebrating the psychedelic sounds of the '60s and the evolution of experimental rock.
The weekend-long festival is all about boundary-pushing and musical expression.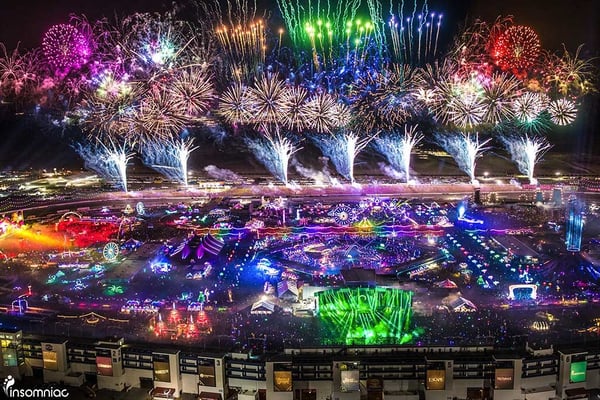 7. Electric Daisy Carnival Las Vegas
In addition to its two popular US events, this fairytale carnival experience has also visited Puerto Rico, Mexico, and the UK.
The event invites its attendees into an EDM wonderland of neon decorations and walkabout performers, and every year it pulls in a record attendance with fans desperate to escape their realities through electronic music.
8. New Orleans Jazz And Heritage Festival
The New Orleans Jazz And Heritage Festival is one of our nations longest-running music festivals, being held annually since 1970.
It's also one of the biggest.
Almost half a million people show up year after year to take in the jazz, blues, rock, and roots music.
Most festivals are content to book the same handful of reunited alt-rock bands making the rounds, but Jazz Fest always boasts the hall of fame caliber headliners.
Past headliners have included Stevie Wonder, Neil Young, Van Morrison, Steely Dan, and the Red Hot Chili Peppers.

Make Sure You Attend A Festival This Year!
With so many great festivals to choose from, it would almost be a sin as a music fan to not attend at least one of them.
These are just eight of the very best festivals you have to choose from; there are many, many more that happen across the country every year.
So, get your friends together, decide which festival, or even better, festivals, you want to check out this year, and start making arrangements!
If you enjoyed this article, you should give these a read: