Which Music School is Right For Me?
Thinking about diving into the world of music education but not sure where to start?

Choosing the right music college is a big deal, and let's be honest, it can feel a bit overwhelming.

It's not just about finding a place to study; it's about choosing a launchpad for your future career in the music industry.

The music college you choose is going to play a massive role in your life – it's where you'll hone your skills, meet fellow music enthusiasts, and lay the groundwork for your dream career, whether that's in music performance, music production, or the business side of things.

Sure, it's exciting to check out all the options, but remember, this decision is serious.

Let's face it: making your mark in the music world can be challenging. The education choices you make now will be critical to your success later on.

So, to help you navigate this big decision, we've put together 7 top factors to consider.

These tips are designed to make your decision-making process a bit easier, ensuring you choose a music school that's just right for you and your unique goals in the music industry.
Table Of Contents
7 Tips for Choosing a Music School | Pick the Best Music College For You
1. Location of School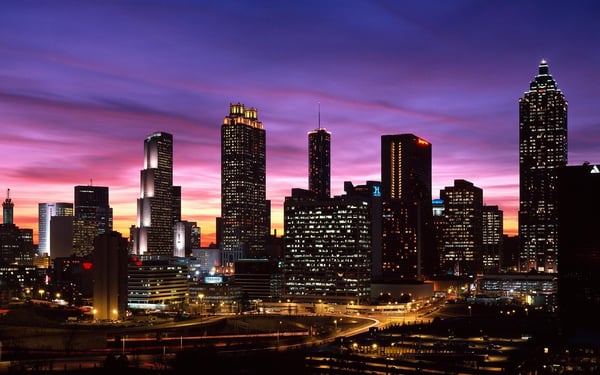 Selecting the right location for your music school is a crucial decision that goes beyond your years of study; it significantly impacts your future career in music.
When considering a music college, think about the long-term implications of its location on your music industry connections and opportunities.
The city where your school of music is situated can play a pivotal role in shaping your professional network.
While your instructors and fellow music students might have connections that span across various regions, the local music scene where your college is located often becomes the foundation of your initial industry network.
Remember, as a music major, you'll be immersing yourself in the academic program and the city's cultural and musical landscape.
This isn't just about finding a prestigious music conservatory; it's about choosing a place where you can thrive during and after your music education.
Whether it's opportunities for performance majors, music business insights, or exposure to different aspects of music production, the location can be a defining factor in your music career.
Check out our list of best music cities.
2. What Programs are Offered?
When embarking on your journey in music education, it's crucial to align your choice of music school with your specific aspirations and talents.

If your passion lies in music production, selecting a music college renowned for its comprehensive music production courses is critical, rather than one focused primarily on performance majors or traditional instrument-based programs.

Similarly, if your dream is to master the piano or keyboard, ensure that the school of music you're considering excels not just in the technical aspects of music but also offers robust courses in musical performance and music theory.

It's essential not to compromise your aspirations or force a fit with a music program or college that doesn't align with your goals in the music industry.

Additionally, consider the type of academic program you're aiming for.

Are you looking for a short-term certificate to kickstart your career in music, or are you aiming for a more in-depth college degree in music?

Whether it's an associate's degree for a foundational understanding or a bachelor's degree for a more comprehensive education in music, understanding these choices will help you gauge the duration and depth of commitment required in your music college journey.

By knowing these aspects, you can better navigate the wide range of music degrees and music majors available, ensuring you choose a music college that aligns perfectly with your career path in the dynamic world of music.
Questions to Ask Music Schools
You will typically tour the campus or have some type of open house before you commit to enrollment. Here is a list of great questions to keep in the back of your mind:
Which classes/courses are required for graduation?
What programs are offered?
What information/documents do you need to apply?
What is the audition process?
Can you test out of any classes/courses?
What skill level is necessary to attend the music school?
Are there financial aid opportunities?
Is there housing on campus?
What opportunities does your facility specifically provide?
What are the average class sizes?
3. Audition Preparation
The audition for your desired music school is a pivotal moment in your journey toward a career in music.

It's the cornerstone of your acceptance into the music program of your dreams.

To ensure you're fully prepared, starting your audition preparation at least six months before the submission deadline is recommended.

No matter which prestigious music conservatory or competitive music department you aim for, you must excel in this audition.

This is your opportunity to showcase your musical talent and dedication to a future in music.

In the lead-up to your audition, an ideal strategy is to arrange a practice session in front of a faculty member from a music college or school of music.

Their insights can be invaluable in fine-tuning your performance. If such an opportunity isn't available, don't hesitate to perform in front of friends or family.
While they may not possess the trained ear of a professional musician or music instructor, their feedback can still offer fresh perspectives and encouragement.

Remember, every piece of advice is a step towards enhancing your musical performance and securing your place in the music industry.

Your audition isn't just about the notes you play; it's about demonstrating your potential as a future music major, ready to embrace the diverse and exciting career paths in music.

4. Exceptional Faculty
The caliber of faculty at a music school is a fundamental element in shaping your future as a musician, music producer, or any professional within the music industry.

Choosing a music college renowned for its exceptional faculty in your area of study – music performance, music production, or music business – is a critical step toward your career success.

Faculty members are more than just educators; they are often experienced professionals and active contributors to the music industry.

These instructors will be central to your music education, imparting essential knowledge in everything from music theory to advances in music technology, and they will also be instrumental in expanding your professional network.

Most music colleges proudly showcase their faculty on their websites, detailing their academic and professional achievements.

You should spend some time researching their backgrounds and understanding their contributions to music history or contemporary music projects. This insight can be invaluable in assessing the quality of education and mentorship you will receive.

An important tip: Look beyond just the name recognition.

The absence of a widely-known name does not diminish the value of an instructor's experience and expertise.

These professionals can bring a wealth of practical knowledge and industry insights crucial for budding musicians and music majors to build a successful career in music.
5. Successful Alumni
The caliber of a music college is often reflected in the accomplishments of its alumni and students.

While a music college may tout an exceptional program, the true measure of its success lies in how its graduates fare in the music industry.

This doesn't necessarily mean producing global superstars; it's about the tangible impact and career paths alumni have carved out in various facets of the music realm, from performance majors to business professionals.

When deciding between music schools, examining their alumni pages is critical.

A well-maintained alumni page not only showcases the school's pride in its graduates but also serves as a testament to the effectiveness of its music education.

Consider it a significant warning sign if a music college lacks this feature.

Focus less on the fame of the names listed and more on their actual achievements.

Investigate the areas they've excelled in, the diversity of their music careers, and how they've applied their degree in music, whether in music production, music therapy, or other branches of the industry.

This insight can be invaluable in understanding the potential pathways and opportunities a music school can open up for its students.
6. Performance Opportunities
When choosing a music college, aspiring performance majors, singers, or students focused on mastering a specific instrument should consider the availability of performance opportunities.h

It's essential to meticulously research and identify music schools that offer a rich array of platforms for you to flourish as a musician and potentially as an engineer or music producer.

When conducting your research, aim for a music school that aligns with your career aspirations in music, whether in music performance, music production, or the broader music industry.

The Atlanta Institute of Music and Media stands out in this regard, catering to students across all proficiency levels.

At AIMM, we pride ourselves on providing an array of live clinics and workshops.

These events are led by some of today's most renowned and groundbreaking performers, music producers, and music industry professionals.

Such opportunities are not just about showcasing your musical talent; they are pivotal in enhancing your understanding of music theory, music composition, and the latest technological advances.

These experiences are invaluable for those looking to have a significant impact on the competitive world of music.
7. On-Site vs. Online
Deciding between on-site and online music education is a crucial step in shaping your journey in the music industry.
Do you thrive in a hands-on environment, engaging directly with instructors and fellow music students?
Or do you require the flexibility that online music programs offer, allowing you to balance your music studies with other commitments?
If you're not sure if online or on-site is best for you, here are some key factors to weigh in this decision include:
Overall Cost: Online music education often presents a more budget-friendly option, eliminating expenses related to commuting or room and board.

Program Variety: On-site music colleges typically offer a wider range of music degrees and specialized programs, everything from music performance to music production.

Personal Organization and Flexibility: If you possess strong time management skills and seek a flexible learning schedule, an online music degree could be an ideal fit.

Learning Format: Online music schools typically provide recorded video lessons, offering the advantage of learning at your own pace, with the ability to pause and revisit complex lessons in music theory or music composition.

Campus Experience: For those who value immersive experiences, such as participating in live performance opportunities, student music organizations, and accessing on-site facilities like recording studios, an on-site music school offers these enriching benefits.
Remember, there's no one-size-fits-all answer. If an online music program aligns with your goals, focus your search on music colleges renowned for their digital music education offerings.
Interested in exploring the world of online music education further? Delve into our detailed article highlighting the benefits of attending an online music school here.
Conversely, if an on-site music school experience resonates more with your aspirations, investigate what each campus offers.
From practice spaces to state-of-the-art recording studios, ensure the facilities meet your expectations for a nurturing and productive music education environment.
After all, this will be your musical haven as you develop your talents and prepare for a dynamic career in music.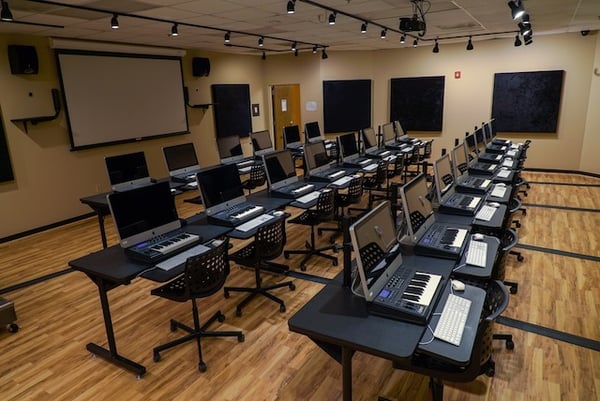 Choose The Atlanta Institute of Music and Media
The demand for creative, dynamic and passionate musicians is greater than ever, and thanks to advances in music technology, we can prepare you for a career that can take you anywhere you want to go.
From being a musician to a music producer, the Atlanta Institute of Music and Media is equipped to help you transition into your music career and separate from the crowd.
Did you know that AIMM is the only music school that combines instrumentation and technical recording components in their program?
When you graduate from AIMM, like Turbo the Great or Kesha Lee, we want you to be well-rounded and possess the highest potential of making a splash in the music industry.
If you'd like to learn more about AIMM and want help choosing the best music school to be an easy choice, click the button below today!