The Ultimate 18 Holiday Gifts For Musicians and Music Lovers
It's that time of year again!
People are scrambling to find the perfect gifts for their friends, family, and loved ones before the jolly old man rides his sleigh across the world December 25th. We understand that it can be difficult buying for someone whose passion or hobby doesn't quite match your own.
That's okay! We get it.
If you're not a sports enthusiast, it can be difficult buying the perfect gift for someone glued to the television screen every Monday, Thursday, and Sunday for football.
The same can be said about musicians.
Wait...guitars use pedals?
Why do drumsticks have letters?
What is the difference between a fretless and fretted bass? (We actually answer this here, in case you're curious).
The point is unless you ask outright what they want (but where is the fun in that?), it can be difficult sifting through a crowd of stuff to find a great gift.
But fear no longer! We are here to assist you today! And not only assist you, but we are also listing this guide instrument by instrument.
We will include one higher price item, one cost-efficient item, and even a stocking stuffer.
Let's get started!
Table Of Contents
Top Holiday Musician Gifts By Instrument
Guitar
High-End
1. PRS SE Custom 24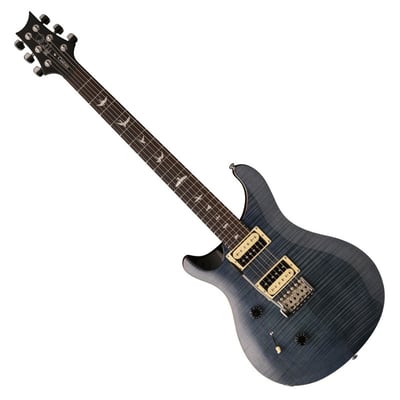 Image from gear4music
Everyone knows Fender, and everyone knows Gibson, but what about PRS?
Believe it or not, Paul Reed Smith guitars have been taking the guitar world by storm by putting out fantastic and top-notch instruments.
We aren't even going to discuss the beautiful bird inlays along the neck (except we just did:)).
The PRS SE Custom 24 has a fantastic range of tones and is incredibly well-built. It looks great, plays well, and definitely won't leave you disappointed.
You can find this guitar on Amazon for $779.
Cost-Efficient
2. Ibanez Tube Screamer Mini
Once you have your guitar and want to start playing around with your own unique sound, look no further than this popular pedal right here (image from Musicians Friend).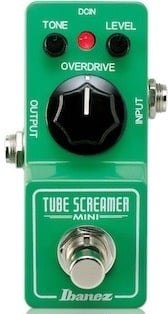 The Ibanez Tube Screamer Mini is exactly what you love about the original Tube Screamer, just shrunken down and a little more cost-effective. You can control overdrive, tone, and level and it will give your sound the boost you need. This beast is an excellent pedal to add to any guitar player's arsenal.
You can find the Ibanez Tube Screamer Mini at Sweetwater for $79 or used on Reverb for $50 (keep an eye out for the shipping price though).
Important tip: If you're looking at other guitar pedals and wonder what purpose they serve, check out our Ultimate Guitar Pedal Guide.
Stocking Stuffer
3. Snark Super Snark 2 Clip-On Tuner
No matter how great you play the guitar, it doesn't matter if it isn't tuned.
Fix that simple problem with this easy to use tuner. The Super Snark easily clips on to the headstock of any guitar and will provide accurate results.
You can find the Snark Super Snark 2 at Guitar Center for $29.
Bass Guitar
High-End
1. Fender Deluxe P-Bass Special
Image from Guitar Center
Trust us; this bass isn't just special because it's in the name!
This versatile bass guitar takes everything that a vintage Fender bass has and expands on it. While the Fender Deluxe P-Bass Special is great for any musician, jazz musicians will especially fall in love with this instrument. The vintage noiseless Jazz Bass bridge pick-up separates it from the rest!
You can purchase this bass directly from Fender for $799, and it comes in 3-color sunburst, Olympic white, or surf pearl.
Cost-Efficient
2. Orange Crush Bass 25
If you've got your spine, you definitely need your Orange Crush Bass 25 (Image from Steve's Music).
At 25 Watts with 8-inch speakers, you have a dependable, yet portable, bass combo amp that can rock with the best. It provides 3 band EQ, parametric mid control, chromatic tuner, aux in, and a cabsim headphone output. Take direct control of your sound and opt-in for an Orange Crush amp.
The price isn't exactly cheap, as you can find it at Sweetwater for $199, but the quality is certainly worth it.
Stocking Stuffer
3. Ernie Ball Slinky Bass Guitar Strings
Listen, you can't go wrong with Ernie Ball strings, and there isn't much else to say.
Do yourself (or your bassist friend) a favor and pick up some Ernie Ball Slinky Roundwood Bass Strings.
You can find these strings at Guitar Center for $19.
Drums
High-End
1. Roland V-Compact TD-11K Electronic Drum Set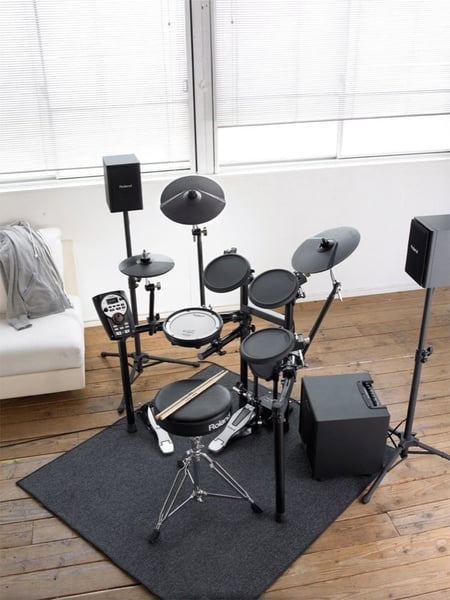 Image from zZounds
Parents -- we are talking to you!
What is better than a traditional drum set? How about an electronic, quieter drum set.
Do we have your attention?
The Roland V-Compact TD-11K Drum Set is effective for practicing, performing, and even recording! It feels and plays like a true drum set, has a large LCD interface for easy operation, and a USB function for computer application and MP3 playback.
You can find the Roland V-Compact TD-11K Drum Set at Adorama for $699.
Cost-Efficient
2. Pyle PCJD18 Cajon
Image from Electronic.Woot
Whether you are a street performer, like jamming with your friends, or often perform at coffee shop open mics, cajons are incredibly useful. Cajons are fun, simple to use, and easily comparable to drum sets, given the right forum.
With the full-size and lightweight PCJD18 by Pyle, you get a hand-crafted masterpiece that provides beautiful acoustic tones and internal strings for rhythmic production.
Purchase the Pyle PCJD18 Cajon at Amazon for $79.
Want to learn more about cajons? Check out our blog discussing cajon basics.
Stocking Stuffer
3. Personalized Drumsticks
Drumsticks are cool, but what about personalized drumsticks.
Every time your favorite drummer is beating their snare and smashing their cymbals have them think of you with a funny, cute, or meaningful personal message. Or maybe just their name if they tend to lose things.
You can create your own personal drumsticks for $19.
Electronic Keyboard
High-End
1. Yamaha DGX-660 88-Keys Digital Grand Piano
Image from Ebay
When it comes to electronic keyboards, Yamaha is always a safe bet.
The Yamaha DGX-660 is absolutely elite. It offers full 88 graded hammer keys, a full LCD display, pitch bend, lyrics, and score display, plus much more. In addition to a world-class piano sound, there are over 200 preset styles and 100 preset songs at your fingertips.
While the MSRP is $1,299, you can find the DGX-660 electronic keyboard on Amazon for $799!
Cost-Efficient
2. Casio CTK-2550

Image from Amazon
Aimed a little more for beginners, the Casio CTK-2550 is still a great instrument and brand.
There is a dance music mode, 66 keys, and an AC adapter included. It also can utilize batteries, which makes it super portable!
The CTK-2550 even provides 400 Tones and 150 Rhythms. For musicians that are eager to learn, you can connect your Android or IOS device directly to the electronic keyboard and utilize the display so you can master your favorite songs.
It may not be as fancy as other models, but the Casio CTK-2550 electronic keyboard still packs quite a punch, and you can find it at Walmart for $99.
If you're looking for a more in-depth article, check out our Top Electronic Keyboard Brands blog.
Stocking Stuffer
3. Padded Piano Bench
It may not fit in your stocking, but unless you expect your electronic keyboardist to stand the whole time, a padded bench is quite useful.
Keep in mind; most benches only fit one person, so unless the product says it can also accompany an accompanist, assume it is a solo bench.
You can pick up a stable, padded piano bench at Guitar Center for $29.
Vocals
High-end
1. Shure SM58S
Image from The DJ Hookup
Specifically for dynamic microphones, you do not need to spend oodles and oodles of dollars on fancy microphones.
There is one exceptional microphone that has withstood the test of time: the Shure SM58S (The "S" at the end indicates that this product comes with an 'on' and 'off' switch).
The SM58 is a legendary microphone that has a frequency response tailored to vocals, a built-in pop-filter, and fantastic durability. You can grab the Shure SM58 (without the "on" and "off" switch) at Pro Audio Star for $89, or you can have the switch included at Sweetwater for $94.
Want a little more info? Check out our Top 5 Dynamic Microphone Brands.
Cost-Efficient
2.

DR Pro

Tripod Mic Stand with Telescoping Boom
Some vocalists have the luxury of only singing. However, many musicians tend to sing and play an instrument. In this case, you need a microphone stand.
But not just any microphone stand, consider the DR Pro Tripod Stand with Telescoping Boom (Image from Amazon).
What separates the DR Pro Tripod Mic Stand from others? Ask anyone who has used a cheap a microphone stand. They tend to wobble, the tighteners loosen over time causing the boom to slide, and much more.
Play it safe and grab this sturdy and high-quality microphone stand at Guitar Center for $74.
Stocking Stuffer
3. Throat Coat Tea
This may seem unrelated, and perhaps you (or the vocalist your shopping for) does not enjoy tea, but this is a vocalist staple.
While it is not intended to prevent or treat diseases, when you're looking to soothe your throat with a wonderful tea that tastes good, look no further than Throat Coat.
You can buy Throat Coat tea from your local (or online) Target for $4.99.
Recording/Sound Engineering
High-End
1. Avid Pro Tools | Ultimate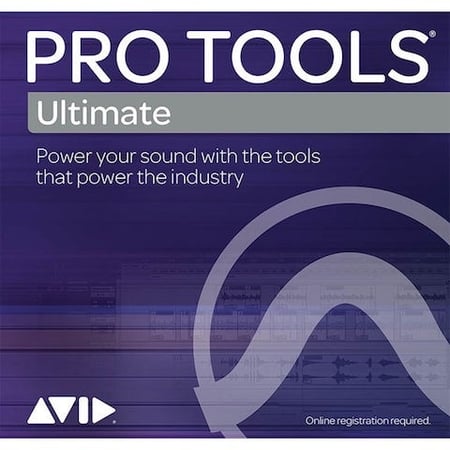 Image from BH Photo Video
If you are looking for the professional industry-standard for DAW, you need Pro Tools.
In addition to all the wonderful benefits of Pro Tools, with Ultimate you get 256 audio tracks, Ambisonics support, Atmos, and access to exclusive plug-ins.
Navigation is simple, which allows for less time learning the program and more time recording and mixing.
You can purchase Pro Tools | Ultimate at Sweetwater for $999.
Cost-Efficient
2. Focusrite Scarlett 2i2 Audio Interface
Image from Performance Audio
The Focusrite Scarlett 2i2 is a fantastic audio interface if you're looking to do some DIY recording or have a small project studio.
With this interface, you get two instrument inputs, two mic preamps, and one headphone output with gain control.
You can take it anywhere, it connects and powers by USB, and simply plug your microphone and instruments in to begin recording. Snatch the Focusrite Scarlett 2i2 at Crutchfield for $149.
Stocking Stuffer
3.

Tascam

TH-200X Studio Headphones
Anyone who is recording and mixing is going to need a solid pair of headphones.
There are many expensive headphones and brands you could take a gander at, but you don't need to break the bank. That is why we recommend the Tascam TH-200X Studio Headphones.
You can find these headphones at Guitar Center currently for $29 (Normal retail price is $99).
Build a Foundation Beyond Instruments, Gadgets, and Accessories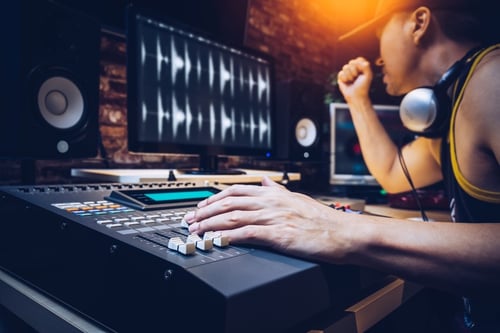 Whether you are a musician or are shopping for a musician, a new guitar or drum set can be thrilling.
However, instruments and their accessories are tools. They help you create the art, music, and songs, they do not construct music themselves.
That is why we strongly recommend serious artists and musicians to attend a Music College. At the Atlanta Institute of Music and Media, we work closely with intermediate musicians and help them reach their full potential.
AIMM offers a Music Production and Audio for Media Degree, a Music and Technology Associate Degree with a Focus in Guitar, Bass, Drums, or Keyboard, and even Online Certificate programs.
AIMM even offers students the opportunity to become Pro Tools Certified!
If you'd like to learn more about AIMM and what it can offer, click the link below.
So what was your favorite gift as a musician? Or what was your favorite gift you gave to a musician friend or loved one?
Let us know in the comments below!