5 Tips to Launch Your Music Career
Establishing a career in the music industry can be tough to accomplish.
The industry is unbelievably competitive and even if you are full of talent, it does not necessarily mean you will have success.
If you are struggling to make it as a musician, there are a few methods that you may want to look into that could help fast-track your career. Some of the methods we suggest include making contacts, getting a day job or internship, attending a music school, giving away your music, and promoting yourself.
Make Contacts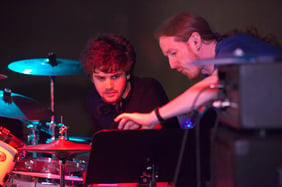 The best way to establish your self in the music industry is by making contact with professionals. This may mean that you get out of your comfort zone and reach out to people who you have never met before.
If you are not sure who to reach out to, you may need to do some research. Go on social media and follow or send friend requests to local musicians. Find out what the local radio stations are and give them a call or swing by in person.
Also, try using your existing network of friends and family to see if they know anyone in the industry. Even if it is just getting a name or an email address, everything helps.
You will be surprised at the doors you can open by simply introducing your self.
Get a Day Job in the Industry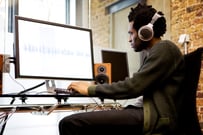 If you want to fast track your career, finding a job or even volunteering at a local studio or radio station is a great way to do so.
Many studios and radio stations offer internships to young people trying to make it in the industry. Even though the job may not be everything you imagined, you will be building relationships with industry professionals who have a bigger network.
By showing up on a daily basis and paying your dues, the professionals you are working with will become familiar with you and may be willing to help you expand your career. Who knows? This could mean getting some free recording time at a studio or getting recommended to a record label. You will never know unless you try.
Attend a Music School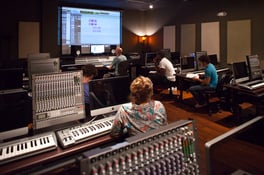 Attending a music school is a great way to jump-start your career in the music industry. Music schools provide you with a creative atmosphere to grow your musical talent and collaborate with other aspiring musicians.
They also offer instruction from industry professionals so that you can improve your skills and learn about different career opportunities.
Furthermore, the staff at music schools will have tons of connections in the industry and can help get your music into the hands of the right people. They will also assist you in creating a professional portfolio of your work that can open more doors for you.
Finally, when it comes time for you to get a job in the music industry, you will be more qualified than a lot of other candidates. Putting on your resume that you have a degree, as well as providing a portfolio of your work shows that you are dedicated and can move your application to the top of the pile.
Give Away your Music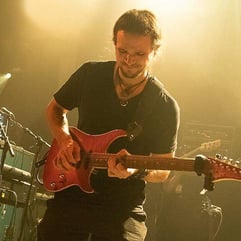 In order to give away your music, you first have to make some. Writing original music and lyrics is perfect to show off your skills and define your self as an artist.
Once you have put together a mix-tape of some of your work, you need to get people to listen to it. Even if it is just your friends and family at first, the more people that hear your music the better.
Creating word of mouth and a following of listeners is the best way to get noticed by record labels and other industry professionals. When you charge for your music, you are eliminating a lot of possible fans right from the start.
Besides giving away recording's of your music, you could also try and play at local venues. Many bars have open mic nights, or you could offer to play at family or friends events.
Playing and giving away your music for free may be hard to accept at first because you have put so much time and energy into your music, but if you really are talented and work hard enough, eventually the money will come.
Promote Yourself
Branding yourself is important to becoming relatable to your fan base and increasing your network. Be true to yourself, and be consistent.
Many opportunities are available to young musicians who want to brand themselves and expand their network. Creating social media pages in one way that can really help your career take off.
When you make these pages, use them to promote your music and make connections with people in the industry.
Following record companies, famous musicians and even the local music scene is a great way to get your name out there.
You may take it s step further by creating your website or upload your music on sites like youtube. The bigger you can grow your online network, the better the chances you have of being found.
Breaking into the music industry is very challenging and can take many years, but it is possible. A little hard work combined with some of the methods above may help you to fast track your career. Keep your eyes and ears open and always be looking for different ways to make connections, get a job, attend a music school, give away your music, and promote your self.
Hopefully, by following these steps your career in music will begin to take off.