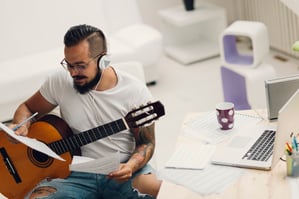 Whether we like to admit it or not, many parents struggle coming to terms with their child attending a music institute.

It's one thing to hear your child say they want to be a singer or rock star when they are young, but it's an entirely different story to hear your high school senior declare they are going to college for music.

But why are so many of us concerned when "music" pops out of their mouths instead of engineering, business, or medicine? Because, the arts have a particular stigma associated with them, and that is why I am writing to assure you, that as a parent, you should have nothing to worry about when it comes to your child attending a premier music and media institute.

Every parent wants to raise an independent and successful child, so it is completely natural to be concerned about their school and potential career choices, especially since society has taught us to believe that their music school choice will not lead them in the direction of success.


Media reports have barraged society with reports of budget cuts replacing the arts classes and teachers in schools, and how computer-generated music has started to replace the studio musician. Additionally, the internet and free music sharing and listening websites have resulted in fewer people buying albums and paying for the music they listen to.
So How Can Parents Lessen Their Anxiety?
For starters, be supportive. Understand that your child knows that majoring in music is what they want to do and what they are meant to do!


Most importantly, a music school education trains students in skills that will apply to most other fields of study. There have been many students who graduate and obtain jobs in other fields of study. Even if your graduate eventually decides to pursue a career in a different field, their music school experience will have provided them with the knowledge, skills, and experience to be successful in almost anything they decide to pursue.
For example, career options for music school graduates are broad and abundant because of the music technology, recording, engineering and performance areas of study they have mastered during their schooling. Students have learned to work as a team, think outside the box, be confident, and persevere through a variety of challenging courses. Many of these courses taught students business skills and how to promote themselves by marketing their music. These are both essential skills required for almost any career.
So, congratulate yourself. You have helped get your child this far, and no matter what happens, they will be fine. It may be hard to imagine, but they are choosing an excellent and fulfilling career path. Now it is time for you to sit back, relax, and support your child as they test the waters of what lies ahead.
Click on the Link Below for More Information Regarding AIMM's Music School Degree Programs.