Music streaming has grown substantially within the last several years and it is now among one of the best ways to listen to music.
Many streaming services are free, or cost very little while offering millions of songs. Music streaming services are easily accessible from various media options. You can listen to your favorite song or artist anywhere you go.
Some of the Top Music Streaming Services of 2017 include the following:
Amazon Prime Music
Amazon prime music offers tens of millions of songs including a catalog of music than can be purchased or downloaded. It also has the capability for users to upload their own music and stream from anywhere.
Although Amazon Prime does require a membership fee, you will have access to other exclusive deals such as free 2-day shipping and Amazon Prime Video.
It is definitely worth the $99 annual fee especially when the other services are already being utilized.
Apple Music
Apple music has become one of the most popular streaming services out there. It offers users over 25 million songs along with playlists, 24/7 live radio, and the capability to upload your own music and stream on your devices.
There is a unique social component to Apple Music that allows you to follow artists and see what they are up to.
There are various monthly payment plans available to individuals, students, and families.
Pandora
Pandora is extremely popular because it can be played on virtually every platform and even in certain vehicles.
Pandora is a non-interactive platform, meaning all you can do is skip tracks or give them thumbs up or down. If you are using the app for free, you can only skip a certain number of songs and advertisements cannot be skipped.
Subscribers have an unlimited number of skips and there are no advertisements.
Although Pandora only features around 1 millions songs, many users do not notice.
Spotify
Spotify is arguably the most popular music streaming app our there. It features over 30 million songs with handmade and curated playlists available, video content, and podcasts.
Spotify is one of the most well-rounded services to choose from.
Users have the option to use spotify for free, giving them access to playlists. In order to gain access to the full experience of spotify a monthly fee is required.
Family plans are an option along with a discount for students.
Slacker Radio
Slaker Radio is one of the less popular music streaming apps out there. The free version is similar to Pandora, with limited track skipping capabilities and the option to create your own station.
For only $3.99 per month subscribers can get ad-free listening, unlimited song skipping, and offline stations.
By paying full price subscribers will get an experience that is similar to Spotify with on-demand song playbacks and handmade playlists.
Slacker radio is among the most versatile streaming services, offering less songs that Spotify and Apple Music.
iHeart Radio
iHeartRadio is a completely free service that is ad supported and features lots of content. The service offers over 1500 live radio stations and a variety of music genres. It also include talk radio and seasonal radio.
You have the ability to create custom stations that are based on the music you like. iHeart offers over 18 million songs by thousands of artists.
There is not individual song control like Spotify, but it is comparable to Pandora in terms of use and convenience.
iHeartRadio is compatible on many devices and even on smart TVs.
If you have a passion for music and want to be heard on streaming services such as the ones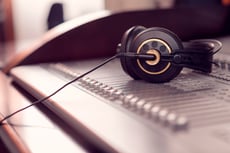 mentioned above, our music school may be right for you.
The Atlanta Institute of Music and Media has a uniquely effective approach to vocational training for musicians, production, and engineering students utilizing a well-rounded curriculum, classroom instruction, private instruction, audio, DVD and video labs, a computer lab and live clinics.
We provide students with the instructional environment necessary to develop both their technical and practical talents. Students will acquire the skills to advance their musical aptitude and gain knowledge in the field their music field.
For more information on the programs we offer and how we can help you advance your musical career, click on the link below.