What Can You Do with a Music Degree?
The amount of job opportunities available to a music school graduate is much greater than students normally realize. A lot of individuals think that the only thing you can do with a music degree is teach or perform.
While teaching and performing are certainly appealing career aspirations, those are not the concrete limitations.
Although the majority of people dream of a career in performance, not everyone wants to be a "rock star."
Table Of Contents
Multiple Jobs Opportunities
Many musicians today will choose to work multiple jobs. They usually have a steady and fulfilling career, while pursuing their performance dream on the side.
They will work their main job regularly while booking gigs and performing at shows as much as possible in the evenings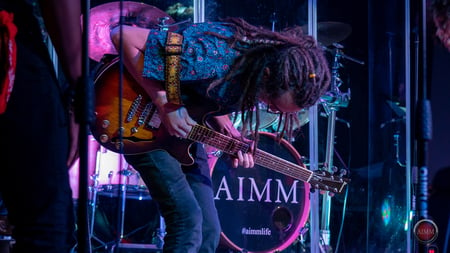 and during the weekends trying to "make it" in this industry. These venues often include;
weddings
cruise ships
religious events
clubs
bars
restaurants
hotels
conferences
festivals
There are thousands of potential music careers waiting to be pursued, and even this list does not begin to cover them all.
Potential Careers for Music School Graduates
Songwriter
Arts Administrator / Management
Tours / Road Manager
Audio Post Production
Cruise Ship Entertainer
Music Licensing / Copyright Consultant
Music Critic
Audio Engineering
Band Director
Choral Director
Music School Director / Administrator
Composer
Vocal Coach
Conductor
Military Band
Radio Programming
Music Agent
Music for Game Development
Educator / Lecturer
Pit Orchestra Musician
Entertainment / Music Lawyer
Piano Tuner / Mover
Event Production / Management
Instrument Company / Music Store
Media Development
Lyricist
Music Production
Instrument Repair
Talent Scout
Atlanta Institute For Music And Media
Most of these careers require a degree in a musical focus area. If you are interested in a career in the music industry and are looking into music colleges, then the Atlanta Institute of Music and Media could be for you!
We help our students to grow and enhance their performance skills. Our state of the art facility gives our students the opportunity to work with the latest and greatest technology, preparing them for today's fast-paced industry.
An education from our Atlanta, Georgia Music School will provide graduates with the opportunities to obtain these ever-changing career possibilities and supply them with the knowledge and skills they need strive in these careers.
Not sure a degree or certificate from an accredited music college could lead to a career?
Just look at AIMM alumni, Kesha Lee. She just won a Grammy for Record of the Year for This is America with Childish Gambino. AIMM also graduated Turbo the Great, who is known for Drip or Drown 2.
You could be the next success story out of AIMM! Call today or click on the link below for more information!