How Much Do Professional Guitarists Get Paid?
What is the Average Salary of a Music Producer?
Are you passionate about the guitar? If you spend your free time learning cover songs, writing your own tunes, and performing on stage, you need to consider a professional career as a guitarist.
Of course, one of the main questions that circle your head when you consider this idea is: do guitarists make good money?
Let's take a look at average guitarist salaries and steps you can take to achieve this career.
How Much Can You Earn as a Guitar Player?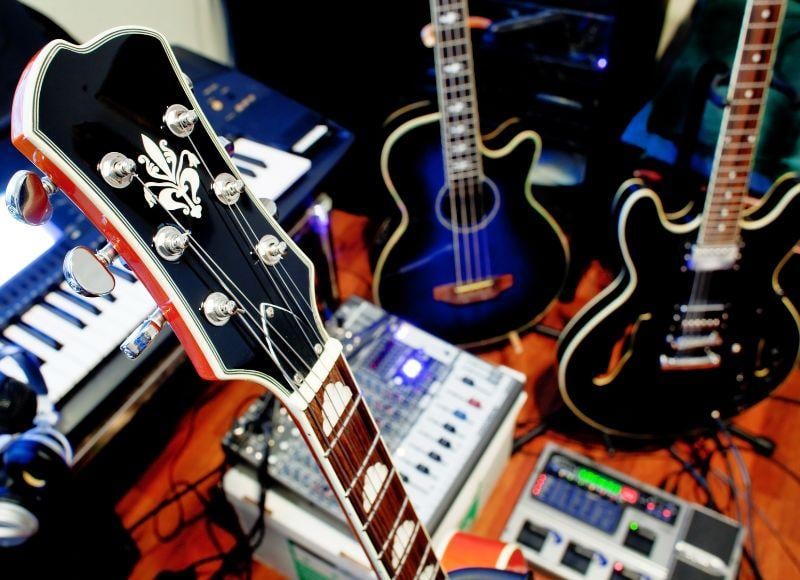 Firstly, let's give a small description of what a Professional Guitarist does.
There are 3 main paths you can take, for the most part, as a professional guitarist:
Original music performer
Session musician
Guitar Instructor
We'll break these options down below, but first - let's take a look at the average salary for guitarists.
According to ZipRecruiter, the national average annual salary for guitarists is $71,318 per year which equals about $34 per hour.
This works out to about $1,371 per week and $5,943 per month.
The low end is around $25,000 per year and the high end jumps up to $179,000 for guitarists.
Taking another source into consideration, salary.com lists the average guitar player salary as $50,906 which is equivalent to about $24 per hour. This works out to be $979 per week and $3,916 per month.
Definitely a lower average, however, they list the low end significantly higher than ZipRecruiter, with a low end guitarist salary of about $33,795. Their high end is listed at $62,154.
There is certainly some discrepancy between the data, but as you know as a guitarist, there are no guarantees and each day, week, and year can be different.
For clarity, ZipRecruiter is basing their information on current job postings and salary.com is pulling their statistics from HR reports.
Career Options as a Professional Guitarist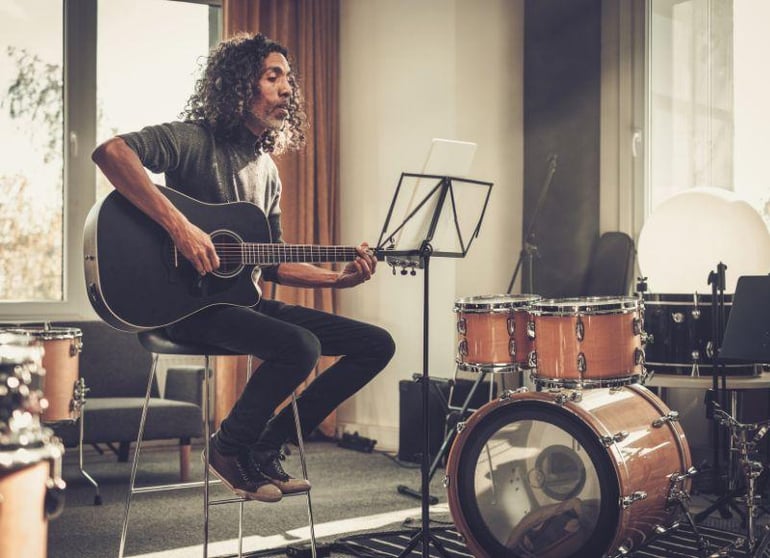 There is no direct path as a guitar player. And this is a good thing!
If you are a guitarist, chances are you are very creative-minded. This is beneficial because there are countless ways you can make significant income as a guitarist.
Some of the steps are very "by the book," while others are a little more creative and outside the box.
Let's take a look at a list of guitarist jobs and then break down the three categories we mentioned above:
Professional Guitarist
Classical Guitarist
Performance artist
Clinical Artist
Session Guitarist
Guitar coach
Music Center Owner and Entrepreneur
Music Performers
Music Ensembles
Professional musician
Accompanist
Artist Director
Private guitar teacher
Guitar Instructor
Private Lesson
Band director
We mentioned three main pathways guitar players traditionally take to earn income. Let's take a look at those career options for guitarists.
Guitar Performance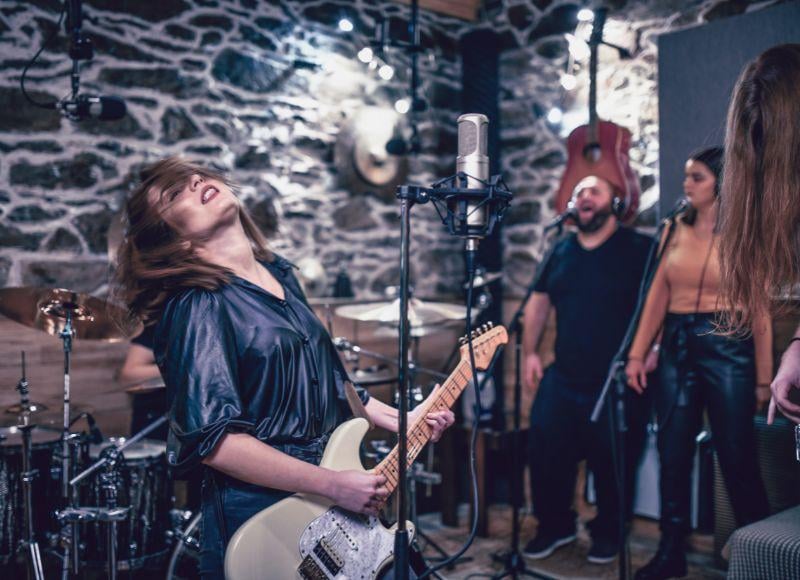 There is a good chance when you picked up the guitar, this is the dream path you wanted to take. You envision standing on stage killing a solo or people lining up at their local record store to pick up your newest album.
This is still a very viable career option, you just have to get creative!
Get out to your local venues, make a mixtape with your phone or a simple DAW like garageband. The sooner you get your music out there in the world the quicker you'll be able to earn income as a guitarist.
Don't overlook Spotify, either! There are plenty of guitarists and musicians that consistently upload music to Spotify and earn royalties for years to come.
Session Guitarist
Do you prefer playing guitar moreso than writing your own music (and don't want to be in a cover band)?
If so, being a session guitarist is your best bet. The days of jumping from studio to studio seem to be over, but you have to roll with the punches as a guitarist.
So, what can you do?
Learn how to record in your home or, better yet, create a home studio. Learn as many guitar styles as possible and make a few demos.
Approach vocalists, drummers, and bassists that need guitar assistance. Session guitarists can range from simply getting paid to create guitar tracks in their homes to touring with popular musicians in major stadiums across the world.
Guitar instructor
Are you knowledgeable about the guitar and have a strong understanding of music theory? Think back to your younger years - there is no shortage of aspiring guitarists looking for help. You can be that person that helps them get into their new favorite hobby.
Now that we live in a digital world you have more opportunities than ever. Sure, you can take the traditional approach and offer guitar lessons at your residency or travel to work with your students one-on-one.
However, why not make the internet do the heavy lifting for you? You can create multi-video tutorials and guitar lessons and even use a private discord for a monthly charge to continually provide guitar instruction and information to your clients.
The opportunities are endless, just be sure that you know your stuff and having a guitar degree or certificate goes a long way in terms of building trust and separating you from other guitar instructors.
Where Can I Study Guitar?
Don't put off your passion and delay that potentially massive payday!
If you want to capitalize on your talents and elevate your guitar, look no further than the Atlanta Institute of Music and Media.
AIMM offers aspiring music producers a hands-on, immersive atmosphere where you will be taught by industry-leading instructors in exclusive studios.
A little bit more about AIMM's campus...
Classrooms and offices
Recording studios
A media center library
Private lesson rooms
A performance hall
A student lounge
Computer lab and practice areas
Piano keyboard labs
Music Production and Audio for Media suites
Don't live near Atlanta? It's no issue! AIMM also offers a 100% online guitar certificate. There is no unnecessary classes or fluff, so you're quickly in and than out getting paid.

What Makes AIMM Different From Other Music Schools?
Sure, there are other music colleges in the world that you can attend. But, you know what makes AIMM so unique? In addition to programs dedicated entirely to the guitar and performance, AIMM also offers the ultimately musician degree - the Music and Technology Associate Degree: Guitar Concentration.
What makes this degree so special? Essentially, this degree will make you the ultimate profitable and desired musician in this current music scene.
This is because this guitar degree uniquely combines guitar instrumentation with music production. While you master the guitar and develop the best techniques, you'll also learn how to record, mix, and master music like your favorite professionals.
When you graduate you will be qualified as both a professional guitarist and a skilled music producer.
This opens so many doors for you. You will be able to:
Play guitar professionally
Teach guitar and music theory
Record, mix, and master your own music
Record, mix, and master other musician's music (check out how much music producers earn here!)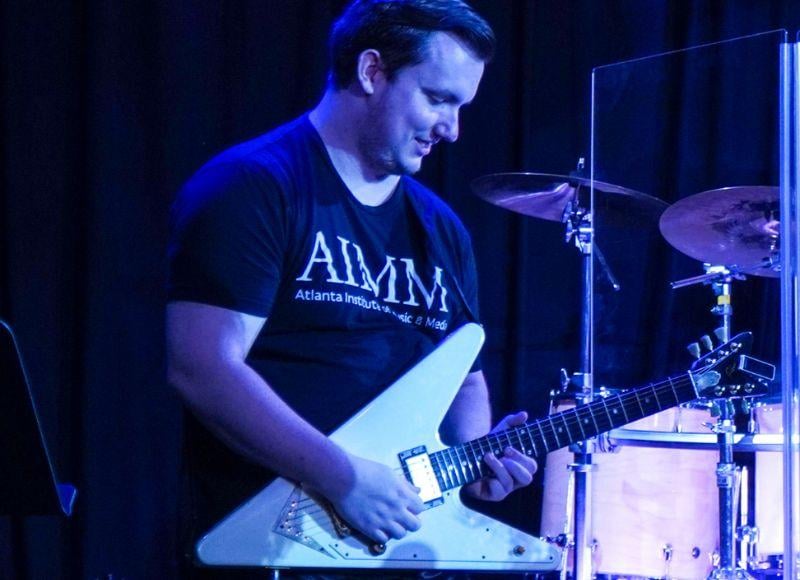 Graduating from an accredited music college like the Atlanta Institute of Music and Media with a music and technology degree significantly boosts your opportunities to make a massive income as a professional guitarists.
How Long is Guitar School?
AIMM's Music and Technology Associate Degree: Guitar Concentration can be completed in 18 months of accelerated studies, 24 months of full-time enrollment, or 30 months of ¾ time enrollment

Do you want to focus purely on the guitar? Not interested in the production side of music?
AIMM offers a Performance Certificate that is 100% focused on your guitar techniques, style, and skill level.
Attend the College that Offers a Guitar Degree Program
Take your passion and career into your hands and become a successful and well-compensated guitarist. The music industry can be difficult to break into, but if you have determination, natural guitar skill, creativity, and learned techniques from an accredited music college you have the entire tool kit needed to succeed.
If you want to learn from industry-leading instructors in exclusive studios and receive a hands-on music education, discover more about the Atlanta Institute of Music and Media's Guitar Degrees and Certificates.
You can absolutely make money with music, you just have to take the right steps. Get started with AIMM today.