Music Production School for Hip Hop & R&B
Our accredited Music Production School for Hip Hop strives to educate audio engineering students on techniques like, mixing, editing, music composition, and creating a variety of sounds.
The world renowned Atlanta Institute of Music and Media in Georgia offers ambitious students a once in a lifetime opportunity to learn from the best professionals in the music industry.
Our variety of focus areas allows students to choose from different certificate programs and degrees.
Students wanting to learn Music Production for Hip Hop and R&B will enhance and maintain their musical abilities, preparing them for what could be an incredibly fulfilling and prosperous career in the music industry of their choice.
Degree in Music Production & Audio for Media
AIMM's Music Production and Audio for Media Degree and Certificate in Music Production offer an abundance of varying courses that are specifically designed to enhance student's musical talents, while simultaneously gaining valuable knowledge from professors about their future fields and industries related to hip hop music production.
The Music Production Degree Program was designed with individuals in mind who wanted to produce their own hip hop music, songs, scores, and soundtracks.
The program will take your passion for music and turn it into the professional production of music with the latest in digital music technology.
Our constantly updated curriculum focuses on courses like music theory, composition, digital music production and recording as well as mixing and mastering.
Our professor's instruction techniques are constantly changing. Our music college and its accredited professors realize that teaching styles must evolve with the music industry around us, so we utilize varying instruction styles, like,
live clinics hosted by professionals currently working in the industry
hands-on lab instruction
practical application instruction
Employing a variety of teaching styles within the classroom allows students to learn from traditional practices, hands-on experience, and real world scenarios from current industry front-runners. The Atlanta Institute of Music and Media offers programs in hip hop music production, as well as related degrees like audio post and engineering.
Just some topics you'll receive training in include,
Hip Hop Music Composition
Digital Music Production
Mixing and Mastering
Music Copyright and Publishing
Another benefit students of AIMM have access to are our industry standard labs and consoles. We believe working on the same gear that the professionals use is the only way to fully prepare our students for the real world.
Our Georgia Music School will supply students with the best state of the art technology and equipment in the industry. Therefore, not only does our institution improve individual's musical talents, but also their technical ones!
Ambitious students pursuing the AAS Program will graduate fully prepared and confident. It is AIMM's main goal to provide all of its students with the trade secrets, skills, and opportunity they need to obtain and strive in a hip hop music production career.
Professional Music Producers as Professors

Some of the world's best music professionals are professors at the Atlanta Institute of Music and Media. We employ only the best instructors to teach the demanding curriculum.
These industry professionals have an abundance of knowledge that they have learned to combine with their "real world" experience to teach the most beneficial combination of courses and degree programs a music production college could offer.
In addition to students obtaining a prestigious arts education, they are simultaneously networking to create professional relationships with these prominent audio engineers, producers, and hip hop musicians who at the forefront of their industries.
Our esteemed Music Production Instructors have worked with the following artists:
Snoop Dogg
Beyonce
Ludacris
Rick Ross
Ciara
Aflac
Nickelodeon
Comcast
Cartoon Network
Kandi
Pharell Williams
George Lynch
Paul Gilbert
Tosin Abasi
Adult Swim
CNN Sports
Verizon Wireless
Honeywell
Victor Wooten
Steve Bailey
Their abundant work experience in Atlanta's most high-end studios makes them all extremely valuable asset to AIMM.
Graduates Become Professional Music Producers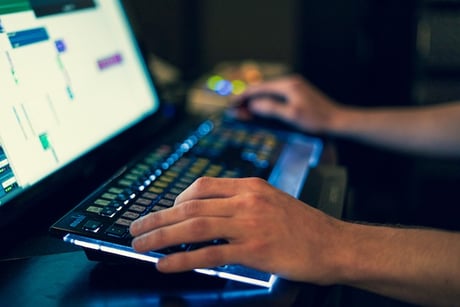 AIMM graduates often pursue rewarding careers in the music and media industry within their areas of focus. Matt Aston, just one of our successful alumni, stands out among the crowd.
During his time at AIMM, he landed an internship at the infamous Tree Sound Studios, in Atlanta. This opportunity would have most likely been out of reach without the resources presented to him at AIMM.
This opportunity led to a career, in which he became an engineer at the studio! He credits AIMM for this fantastic opportunity, and for preparing him to be successful in his role.
Matt truly believes that without his education from AIMM he would have missed out on some great opportunities. His music education and recording degree has proven to be instrumental to his future and success.
He attributes his knowledge to the instructors and relationships he built at AIMM. If you are an aspiring hip hop music producer or audio engineer and aspire to work in the music production industry, then our Music Production School in Georgia is the right choice for you!
Another success story from AIMM's Music Production Program is Turbo the Great.
He is most famous for producing Drip Harder. He has worked with and produced for Lil Yachty, Young Thug, Lil Baby, Gunna, Hustle Gang, Shad Da God, and more!
AIMM's location
Address: 2875 Breckinridge Blvd #700, Duluth, GA 30096
Phone Number: (770) 242-7717
The Appeal Of A Georgia Music Production School
Atlanta is the hip hop headquarters of the world. Music and entertainment is not only in our blood, but Atlanta is also home to many of the most famous and successful hip hop music production studios and recording labels in the world.
The Atlanta Institute of Music and Media offers many certificate and degree programs in a variety of industries, including music production, audio engineering, and recording. Each program's curriculum is purposefully designed to yield extremely knowledgeable graduates, ready to pursue a successful career in their desired media related field.
Students are almost guaranteed to graduate with confidence, allowing them to obtain a fulfilling career. Our music institution can help students find a job, which is easy with the classroom knowledge and hands-on experience our priceless education has provided students.
As an additional part of our curriculum, students are required to produce a recorded portfolio. They create this portfolio throughout their time studying at AIMM.
This portfolio is a demonstration of each student's abilities, and when combined with an impressive resume, can quickly help any student demonstrate their capabilities as an artist to a potential employer!
The high demand for skilled and technologically advanced music composers and producers makes right now a great time to pursue a hip hop music production, mixing, editing, or audio engineering degree!
Professionals are being quickly sought after, and with AIMM's state of the art technology, and industry professional instructors, our school can be exactly what you need to jump start your dream career!
If you want to become a professional hip hop music producer, then look no further than AIMM! Atlanta's best music college can prepare you for the career you have always dreamed of.
Our graduates have the greatest potential to succeed, and our school can take you anywhere that you wish to go. The Atlanta Institute of Music and Media is precisely where you should be!
Separate yourself from the DIY and local music producers by earning a Music Production Degree at an accredited music school.
If you searched for a Hip Hop Music Production School, then get more information on the Atlanta Institute of Music and Media today by clicking the button below.