Are you a keyboardist that wants to enroll in a top Rome, GA Keyboard School?
If you're looking for one of the Best Colleges for Electronic Keyboard Education, you're in the right place. AIMM is an accredited music college that offers various degree and certificate opportunities that are directly related to the current industry. The music you love and listen to every day is exactly what we teach at our Keyboard School.
In a world saturated with free YouTube lessons and tutorials, it is more critical now than ever to stand out from the crowd. Attending an accredited music college, honing your craft, and learning the absolute best keyboard techniques is a major separating factor. Not to mention the music industry connections you'll make and tons of peers open for music collaboration.
AIMM provides each keyboard player with the instructional and immersive music environment necessary to help develop technical and musical talents in order to acquire the skills necessary to land a successful job in the music industry. Trust us, when you can take a passion and turn it into a comfortable income, it is an amazing feeling. Our number one goal at AIMM is helpful as many dedicated musicians turn that dream into a reality as we can.
And we have the lessons, tools, courses, and connections to do it.
Discover how our music college can help benefit your Keyboard Music Career in Rome, Georgia.
What You Get at AIMM
The Atlanta Institute of Music Media offers unlimited musical resources to take your professional keyboard career to the highest levels possible. This is much more than online tutorials or private keyboard lessons.
Our music industry-leading faculty teach our performance students the skills necessary to become one of today's elite keyboardist or keyboard teachers. At AIMM, you'll find yourself in an immersive, fast-paced music atmosphere where creativity and music instruction are always the main focus.
Your skills are guaranteed to blossom.
Whether you are looking for:
· Keyboard Lessons
· Keyboard Performance
· Keyboard Techniques
· Piano Lessons and Instruction
· Increased playing speed
· The Number System
· Scales
· Countless Performance and Career Opportunities
· Music Theory and Music Production Education
You will find everything you need to advance your music career at AIMM!
Professional Keyboard Development
AIMM develops our keyboard performance students into successful musicians and teachers.
If you've searched for keyboard lessons near me, tried the Free YouTube content approach, and are still not seeing the growth and results you want - you're not alone. In fact, it's becoming harder and harder to find quality free content online. And that's not even considering the music business side of the industry.
At the Atlanta Institute of Music and Media, we address all industry challenges with hands-on instruction, performance workshops, and music theory and business lessons. Our professional instructors provide keyboard students with the instructional environment necessary to achieve their individualized musical goals.
Their knowledgeable backgrounds allow them to shed light on topics you can't learn from books and YouTube videos. Additionally, our experienced faculty maintains a working relationship with some of the most renowned artists of our time.
To be able to combine elevated skill levels with powerful music connections is a massive edge AIMM students have over the competition in Rome.
We Push Keyboard Skills to Their Limit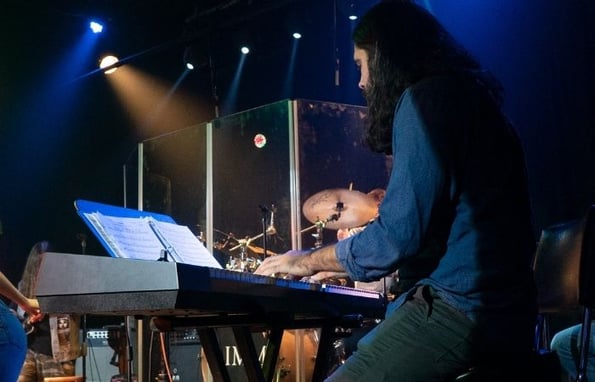 Our top-rated Rome Keyboard School provides students with the instructional environment necessary to develop their rhythm, speed, feel, technological & musical proficiency, and acquire the expertise necessary to become one of today's elite musicians.

The curriculum is intense, combining classroom experiences with performance opportunities at every level. You'll be in a fast-paced music atmosphere and learning from industry-leading keyboard instructors. It's a musician's dream - every focus of every minute at AIMM is purely music.
Within each specifically designed program, we challenge our students to become enlightened artists, who are successfully capable of making their own artistic and professional decisions while still working as a member of a larger team.
The keyboard curriculum accomplishes this through:
· Audio and Video Computer Lab Instruction
· Classical and Modern Instruction
· Hands-on Keyboard Lessons and Courses
· Live clinics and workshops featuring today's most well-known and innovative performers, producers, and music industry professionals
AIMM's Rome Keyboard Programs - Much More Than Keyboard Lessons
AIMM has two immersive and hands-on programs for keyboardists:
· Music and Technology Associate Degree: Keyboard Concentration
· Keyboard Performance Certificate
Let's talk about each music program a little more.
Music and Technology Associate Degree: Keyboard Concentration
The Music and Technology Associate Degree: Keyboard Concentration is the perfect Keyboard Degree for musicians that want to master the piano, learn the best techniques, fully comprehend music theory and scales, increase performance speed, get their foot in the door of the music industry, and learn beneficial music production techniques.
AIMM is one of the only Rome Music Colleges the blends instrumentation with music production instruction. As an AVID Pro Tools Training Partner, AIMM offers all of the insider techniques and professional approaches when it comes to recording, mixing, and mastering. For pianists, music production goes hand in hand with the keyboard. This is the perfect opportunity to capitalize on your skill!
Each graduate from AIMM is properly equipped to take on the music industry and create a successful music career.
Keyboard Performance Certificate
Not interested in audio engineering, music production, or sound design? That is okay, too!
We also offer Rome keyboardists the Keyboard Performance Certificate. This hands-on certificate will help you master your on-stage presence, improvisational abilities, and technical skills.
For musicians that truly want to bolster up their performance skills and are more interested in mastering their stage performance over studio performance, this program has you covered. AIMM's immersive Performance Certificate ensures you're always ready and prepared to take every musician around you to the next level.
Also, the certificate is a fairly short program. It can be completed in 12 months, so you'll be back out gigging full-time before you know it.
What Our Keyboard School Offers Prospective Rome Students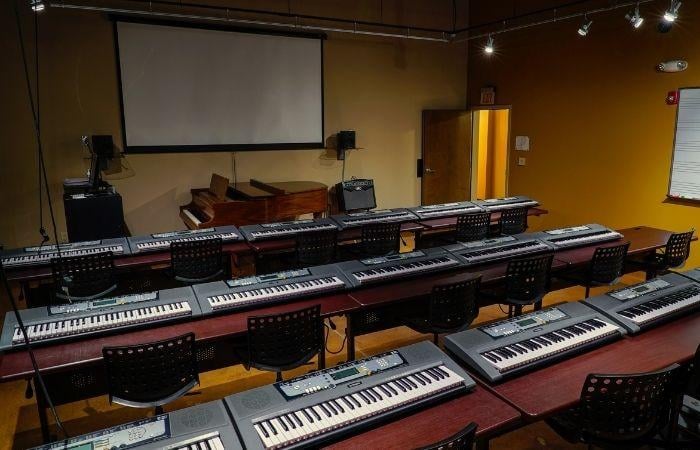 The demand for creative, dynamic, and passionate music professionals is becoming greater than ever, and thanks to advances in music technology, we have the ability to prepare you for a career that can take you anywhere you want to go. With more musicians opting for free online music lessons, the need for technically efficient musicians is on the rise.
We help you rise above the rest.
Below are a few of the many resources and benefits we provide that are necessary for our students to advance their careers.
· Work-Study Program: Students with financial needs have the opportunity to get a part-time position within our campus departments.
· Vast Musical Curriculum Experience: Music students can experience many musical flavors from all different genres including jazz, classical, rock, blues, folk, and R&B. We help you add variety to your musical style.
· Job Placement Upon Graduation: During the final quarter of attendance, our students work with a Placement Specialist to produce a resume and begin exploring in-field employment opportunities.
At AIMM, we are changing the way the world experiences music.
If you're a pianist, want success in the music industry, or are hoping to become a keyboard instructor yourself, then AIMM has the ability, keyboard classes, connections, and opportunities to help you become exactly what you desire to be. We truly believe that no dream is too big to accomplish, and we are here to help every step of the way.
Take the First Step Toward a Successful Keyboard Career in Rome
If you want to enroll in the Top Keyboard School near Rome, there is no better opportunity to separate from the crowd than by enrolling at AIMM.
With the advanced electronic keyboard techniques you learn and the connections you make, you are able to fast-track your career and success within the music industry.
You have the passion. You have the drive. You have the skill level. Now is the time to take action.