Master an Instrument or Master Music Production
from the Comfort of Your Home
Spark Your Career by Attending an Accredited Online Music School

Your Home | Your Studio | Your Classroom
Are You Exclusively Interested in Music Production?
Learn Music Production Techniques with AVID Pro Tools and Ableton Live
We have exciting news for you! If you're purely interested in the tech side of music and learning how to track, mix, and master like your favorite professionals, you can study music and technology online 100% online at AIMM by getting an Online Music Production Certificate.
This online program offers a comprehensive curriculum in music technology.
AIMM's online courses teach beneficial music production techniques in:
Recording
Mixing
Mastering
AIMM believes in developing well-rounded musicians, so whether you want to have significant music technology and production knowledge when you dive into the music business or the ability to be your city's best DIY musician, we have you covered.
As an AVID Pro Tools training partner, AIMM provides the music production courses that are most relevant to the industry, such as Pro Tools 101 and Pro Tools 110. Learn the best insider tips and hands-on techniques that your favorite sound technicians use.
Are You Exclusively Interested in Guitar or Bass Guitar?
Develop and Expand Your Guitar or Bass Skills Online
The Atlanta Institute of Music and Media is excited to offer an Online Certificate in Music and Technology.
The Atlanta Institute of Music and Media is excited to offer an Online Certificate in Music and Technology. This accredited institution offers a focus on either guitar or bass guitar, integrating digital audio workstations and sound design principles.
This online certificate offers a focus on either guitar or bass guitar.
Watch the videos below to learn more about the courses.
The nationally accredited Online Music and Technology Certificate consists of 36 credit hours that are fully transferable to the Associate of Applied Science in Music and Technology Certificate. Financial aid is available for those that qualify.
Financial assistance is available for those that qualify.
The online certificate is offered 100% online and contains online music courses designed to provide the student with the necessary education to further their musical and recording, and engineering abilities.
The program is designed for the intermediate instrumentalist who also wishes to gain knowledge in the field of recording and music engineering in order to open career options in today's ever-changing music industry.
Our online music classes will fully prepare you for the style, workload, and expectations of the music industry.
Our Online Certificate in Music and Technology is a major first step for musicians who want to master their instrument and learn valuable digital music production techniques.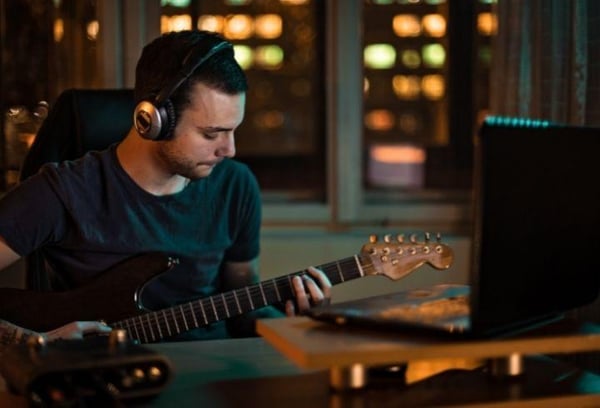 Check out all of the states AIMM's Online Music Certificate serves.
Additional Services Offered to AIMM Students and Alumni
AIMM provides students with an opportunity and the tools for rapid progress, expanding their repertoire, and making a career in music technology possible.
As confident and intelligent musicians, producers, or live sound technicians and engineers, our students will be capable of handling more demanding and better-paying jobs in a competitive market.
Combining what they learn with their personal styles, AIMM alumni build confidence, a deep industry understanding and unlock their musical talents, creative potential, creative skills, a broader skill set, and technical skills.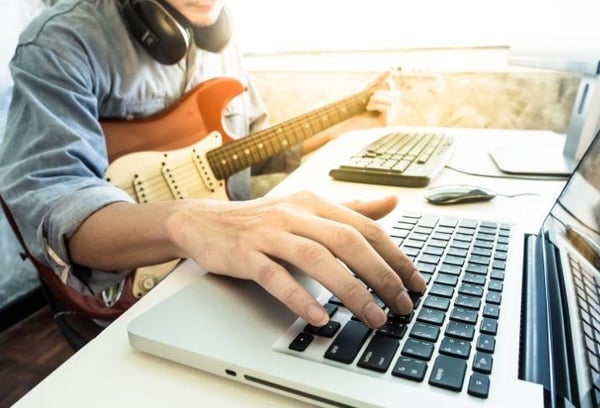 Below are a couple of the many resources and benefits we provide that are necessary for our students to advance their careers in commercial music and electronic music:
Vast Musical Curriculum Experience: Music students can experience musical flavors from all different genres, including Jazz, Classical, Rock, Folk, Blues, and R&B.
Job Placement Upon Graduation: During the final quarter of attendance, our students work with a Career Placement Specialist to produce a resume and begin exploring in-field employment opportunities.
Online Music Education Benefits
Are you wondering if you can get a music certificate online? The answer is: absolutely!
Increased schedule flexibility
Lower cost - travel, room & board, etc
More freedom
Convenience
And that is just the start of it!
Unlocking Career Paths With an Online Music and Technology Certificate
Pursuing an Online Music and Technology Certificate not only equips students with a profound understanding of music and its intertwining with technology but also opens doors to many career paths in the music industry.
For those with a penchant for overseeing recording sessions and ensuring everything runs smoothly, a role as a studio manager might be the perfect fit. This position involves coordinating studio bookings, managing equipment, and often liaising with artists and producers to ensure the best recording environment.
Becoming adjunct faculty at academic institutions can be a fulfilling career if you are passionate about sharing knowledge and inspiring the next generation. This role allows professionals to teach specific courses related to their expertise, bridging the gap between practical industry experience and academic learning.
The dynamic world of concert promotion is another avenue. Here, you can harness your skills to organize, market, and manage live music events, ensuring artists connect with their fans in memorable performances.
Lastly, producing music is a coveted career path for those who dream of crafting the next big hit or shaping an artist's sound. Producers play a pivotal role in the music creation process, from the initial song concept to the final master recording, ensuring the artist's vision comes to life.
Notable AIMM Alumni
AIMM has had the pleasure of instructing many passionate and talented musicians, sound engineers, audio producers, and media students. We are incredibly proud of the success our alumni have found in the music industry. A few alumni we'd like to highlight include:
Kesha Lee - Engineer
Kesha Lee is an engineer who earned a Grammy for her work on Childish Gambino's song, This is America.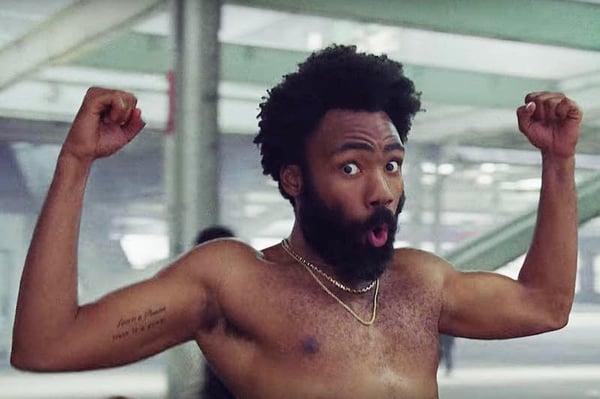 KEYZBABY - Producer
Jay Foye, aka KEYZBABY, is an AIMM alumnus that co-produced the current #1 song in America, WAP.
Tosin Abasi - Animals as Leaders
Tosin is a phenomenal guitarist. He founded the band, Animals as Leaders and even has his own line of guitars.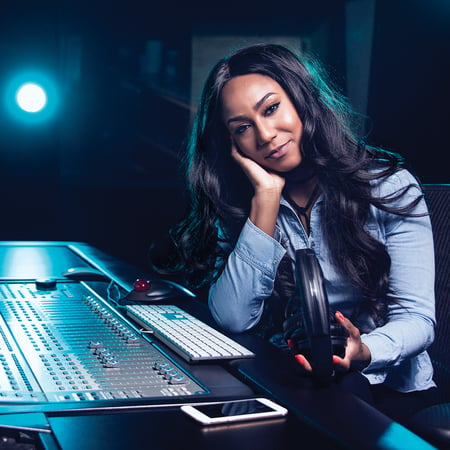 Kesha Lee - Grammy Award-Winning Engineer
"Each quarter, I would exceed the required hours, and I never missed a day of class. I was always eager to tell my family about my day and what I learned. For once, I was excited about what I was doing."
Tosin Abasi - Guitarist Animals as Leaders
"I didn't want to spend four years without touring or gigging. So if you want to get a really condensed concentrated musical education without being out of the scene for a few years and save money, I think AIMM is perfect!"