Pro-Tools Training School in Atlanta
Pro-Tools is a Digital Audio Workstation (DAW) used by many professionals in the music industry to produce legendary albums.
The Atlanta Institute of Music and Media is proud to be one of the elite music schools in the country that teaches this program and is an Avid Learning Certified Partner.
AIMM is the only school in the State of Georgia where you can take the Pro-Tools Certification exam.
There are many DAW platforms to choose from, but if you are serious about your career, why would you choose to learn on anything less than the best?
Why is Pro Tools Certification Important?
The Pro Tools Certification is essential if you are interested in producing music of your own, or for others.
You do not want to have to work on sub-par equipment if you want to produce the mind-blowing results that you are looking for.
If you want to be relevant in todays extremely competitive industry, you need Pro Tools and you want to learn it from skilled instructors that have helped develop some of the best audio engineers in the world.
So you might be asking...
How can I benefit from becoming an Avid Certified user on Pro Tools software?
This certification is a credential recognized academically and by industry professionals. Passing the exam to become a certified Pro-Tools user shows potential employers and clients, that you have a fundamental understanding of how to properly record, edit and mix.
Let's discuss some of the Pro Tools Certificate Benefits. The Pro-Tools Certification can help you to:
Demonstrate your skills on a digital audio workstation (DAW)
Differentiate your skills from your competition
Make your resume stand out with measurable results from trainings
Prove your capability with a Certificate of Achievement
Why Choose the Pro Tools DAW?
We know there are other DAW's out there, but there is a reason accredited music schools and professionals choose to work with the Avid Pro Tools software. Simply put, its the best!
Student's at AIMM, often come to us familiar with other DAW systems. Some of which we also use.
Other DAW's include:
Ableton
Logic Pro
Studio One
Cubase
Reaper
Expert Music Production Engineers, producers, and professional musicians work on many DAW's, however, Pro Tools keeps them coming back for more.
Pro Tools is simply better than the competition and the main DAW in most studios across the world.
Depending on the type of music you want to create, a different DAW may be best for project, but for the most well-rounded results, there is no better choice than Pro Tools.
For example, Ableton caters towards EDM professionals and makes creating the electric sound easier. This is not to say that Pro-Tools would not be able to get the job done, it just does not provide the same EDM specialty.
That being said, having the universality to create any type of music is what makes Pro Tools such a valuable digital audio workstation. This is what makes it perfect for most musicians that require a well-rounded tool to produce their own music, as well as that of others.
How Can You Benefit from AIMM's Pro Tools Certification?
Your resume, your career, and your wallet will thank you for making AIMM and Pro Tools a part of your life changing education!
Why pay other producers and studio costs when you can become Pro Tools certified to create and produce your own music and the music of others?
Not only are Pro Tools skills a requirement if you want to be of value in your industry, it is becoming a common requirement for users to be credentialed.
Obtaining your Pro Tools training and certification at AIMM will boost your resume in addition to gaining your respect and trust with artists and future employers. You will be paid more for your expertise and will graduate with an extensive portfolio as a Pro Tools Certified user.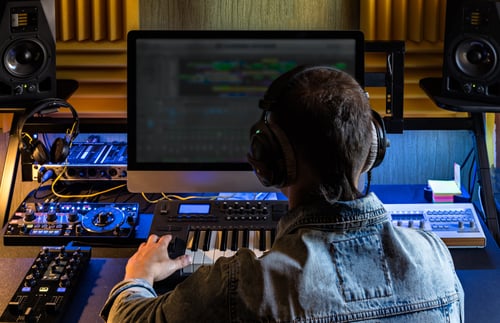 Cool Features on the Newest Pro-Tools DAW
One of the best features of the Pro Tools certification is that it never expires! Once you pass the exam, you are certified for life.
However, this only applies to the particular version of the Pro-Tools software that you were tested on. Therefore, it would be in your best interest to continually update your certification to the most current version available from time to time.
Other amazing features the Pro-Tools Software offers its users include;
The ability to capture performances retroactively is one of the coolest features Pro-Tools has to offer. For example, you may just be fooling around or practicing when you happen upon a dope jam or perfect run. Well, thanks to "listen mode," you have the ability to retroactively drop the improvisations into a track post-performance.
Pro-Tools is completely customizable, allowing the user to program custom keys to perform any function with a single press of a button, consequently speeding up many processes.
Pro-Tools also offers access to the

Avid Artist Community. Here you can make connections,

find collaborators, and even promote your work. This extensive online community is perfect for sharing your music and networking with other professionals. You can even work together with up to ten other artists with Avid Cloud Collaboration. This makes working with artists from all over the world easy because all that is needed is a Pro-Tools equipped computer and it is like you are all in the studio together.
Most artists know that the Pro Tools software is renowned for its sound. This means your tracks will be of quality no matter if you are recording

directly to your computer or

through an audio interface. Pro-Tools allows you to hone your music performances by compiling together multiple passes into a flawless track. You can even use

QuickPunch recording to non-destructively

replace mistakes.
You can compare and contrast alternate and previous versions of a track easily with the Project Revisions feature.
If you are of intermediate skill level looking to hone your craft and be the
best audio mix engineer,
AIMM and the
Pro-Tools Certificate
are the right choice for you!
Click on the button below to start your journey at the Atlanta Institute of Music and Media today!