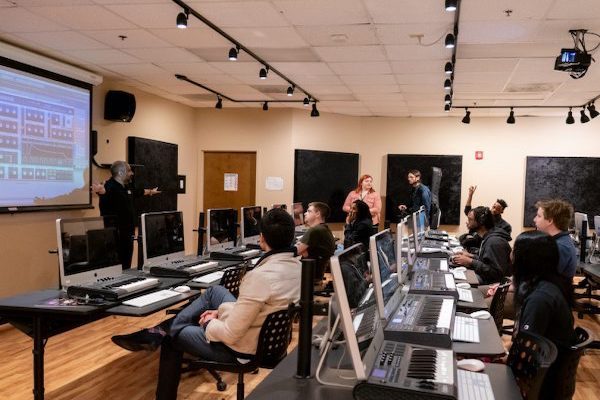 View Course Details
Certificate in Music Production Curriculum
Core Courses (Students must complete 36 credits).
Course Number
Course Title
Credits
RCD100*
Pro Tools | Native 101*
T

his course introduces basic principles a student needs to understand how to complete a Pro Tools project, from initial setup to final delivery, and to take the Avid Pro Tools 101 User Certification exam. Topics include purposes and uses of edit tools, modes, various track and signal clip functions for recording, editing, and importing audio, MIDI, and video used for music and media production. Included with the course textbook are media files for Pro Tools 101 exercises and hands-on projects. Students in good standing will have the opportunity to take the Avid Pro Tools 110 User Certification exam upon course completion.

.
2
RCD101*
Critical Listening Skills*
T

his course will cover essential listening skills in relation to music production, from recording to mixing. Topics focus on recognizing essential music and production components including beats and note values, identifying time signatures, key signature, natural major and minor scales, and recognizing octaves of frequencies.

.
1
RCD110*
Basic Keyboarding Skills*


In this course, the students are introduced to the keyboard layout, playing techniques and scales and chords. The course curriculum progresses to include all aspects necessary for proper keyboard operation for MIDI and music production. Corequisite: RCD120 Music Theory Basics

.
2
RCD120*
Music Theory Basics*
T

his course Introduces students to the basic elements of sound and pitch, rhythm and meter, scales and key signatures, chords and progressions and other aspects needed to understand basic music concepts from a technical perspective. Corequisite: RCD110 Basic Keyboarding Skills

.
2
RCD130*
MIDI: Synthesis & Sequencing*
T

his course is an introduction to the MIDI language, using Ableton Live and Native Instrument's Komplete Bundle as the vessel of instruction. This course demonstrates core concepts such as the basic MIDI environment, sequencing, sampled-based and synthesis instruments, automation, and final steps for MIDI-based production including mixing and effects processing

.
4
RCD140*
Introduction to Audio Production I*
T

his course gives the student an introduction to, and a strong foundation in, audio production techniques, including an introduction to analog recording history, physical properties of sound, basic microphone types, recording environments, mono & stereo microphone techniques as well as basic analog signal flow & analog signal processing including equalization and dynamic processing techniques

.
3
RCD150*
Skills Lab*
T

his lab course is designed to help the student gain awareness of "soft skills" such as behavior, habits, work ethic, etc. in a fun and engaging way. Students will complete the course with a better understanding of their own strengths and areas in need of improvement. Students will gain tools to help them succeed in their academics and beyond.

.
1
RCD200*
Pro Tools 110*


his course builds on the introductory Pro Tools 101 course, evolving basic Pro Tools principles while providing the student with the essential processes needed to complete a Pro Tools project, from initial set up to final mixdown, and to take the Avid Pro Tools 110 User Certification exam. The course teaches intermediate Pro Tools techniques, covering key concepts and skills needed to operate a Pro Tools system. Topics include Hardware I/O setup and routing, Elastic Audio, internal Bus path usages for send/returns, automation, and more. Included with the course textbook are media files for Pro Tools 110 exercises and hands-on projects. Students in good standing will have the opportunity to take the Avid Pro Tools 110 User Certification exam upon course completion. Prerequisite: RCD100 Pro Tools 101

2
RCD205*
Studio Interconnect Basics*


This course teaches the basics of studio connections and routing of electronics, various types of analog and digital cables and connections, and soldering basics, developing necessary skills commonly needed in professional and home studio environments.

2
RCD220*
Studio Acoustic Basics*
T

his course expands upon the basic principles of acoustics in recording studio environments including analysis and measurement of acoustic related issues. Students will learn various solutions concerning room acoustic treatment, concert halls, and recording studio environments.

.

1
RCD231*
MIDI: Sampling & Composition*


Building on the previous MIDI Production course, this course introduces industry-standard processes and techniques used to record, edit, and create a sample-based MIDI instrument, enhancing realism in MIDI-based productions with attention to sound and timbre, tone production, and tempo-mapping, as well as covering standard commercial music cues for visual media, such as composition of music beds for film or television. Prerequisite: RCD140 Introduction to Audio Production I

2
RCD240*
Introduction to Audio Production II*
This course gives the student a more advanced introduction and foundation to audio production techniques including principles of analog & digital audio production and recording and data storage and playback media for digital audio formats. The student will gain an advanced understanding of large format analog console signal flow, time-based processors and an introduction to plug-in processing.

Prerequisite

: Introduction to Audio Production I.
3
RCD255*
Applied Computing Basics*
T

his class covers the basics of computer components and software essential to maintenance and use in audio production studio applications. While the information in this course is universally applicable, it retains a strong focus on the Mac OS X® computing platform, which is the industry-standard operating system for professional digital media

.
2
RCD330*
DAW Editing and Processing*
T

his course covers vital tools & processes of audio editing and production techniques used in the industry by musicians, engineers, producers and sound designers. Subjects range from integrated functions in popular D.A.W.s such as playlist compositing, time-alignment tools, sample replacement, and vocal and instrument tuning with Antares Auto-Tune, Celemony Melodyne, & many more topics.

.


Prerequisite

: RCD100 Pro Tools 101 required .
2
RCD430*
Music Business*


Students will learn about the music business through a series of lectures covering copyrights, entertainment agency contacts, trademark/service mark, resume creation, tax deductions, artist management and split agreements. the changing record industry, performing rights organizations, demo and pro-tape kit creation and health and safety of engineering industry.

1
SCI120*
Physics of Sound*


This course introduces students to the physical nature of music and sound. Waves, sound propagation, harmonic content, the human hearing mechanism and musical instrument tone production are discussed. Psychoacoustics and perception of sound are included.

3
RCD530*
Portfolio and Web Media*


In this course students will gain the knowledge necessary to market themselves in the ever changing audio industry. This course will help students connect their academic work and studio experiences to a digital environment where they can present themselves to employers in a professional manner. The students will analyze and create business card templates, digital showreel demos for online platforms, and deliver an electronic portfolio for completion of the program. Prerequisite: RCD130 MIDI: Synthesis and Sequencing.

3
| | |
| --- | --- |
| Total Required Credit Hours | 36 |
Courses denoted with an asterisk (*) may be available to take online. Please check with your Academic Advisor on availability.

To better serve our students, the curriculum is subject to change.
Curriculum is empty
Additional Music Program Options
Program Features
Courses

17

Credit Hours

36 hours

Skill level

Intermediate

Language

English

Currently Enrolling

Yes