What Degree Do You Need for Music Production?
The Role of a Music Producer
Music Producers must have a keen ear and enjoy keeping up with the latest songs, trends, and recording artists.
A music producer must have an extensive knowledge of musical and technical application. In addition to that, they must be able to meet the demands and expectations that are set forth by the recording artist.
Is a Degree Needed to Become a Music Producer?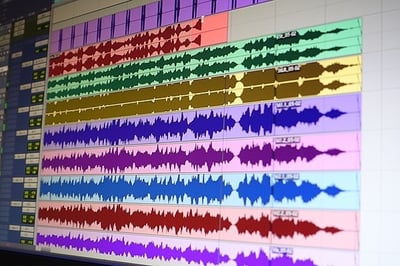 So, what type of degree is necessary to get into the music production industry? And with this push for DIY and self-learning, is a degree even necessary?
Let's break that down.
First are foremost, a degree definitely helps.
Earning a degree is exactly what separates you from the train of thought we just mentioned. Couldn't I take the DIY approach and teach myself?
In a sea of music producers that take that approach, you can elevate from the saturated crowd by earning a degree.
The main degree options are:
2 Year Associate Degrees
4 Year Bachelors Degrees
You may think the bachelors degree is better and more valuable because it takes longer to acquire, but that is not the case.
Why Associate Degrees are Best for Music Producers
You decide to earn a degree to increase your career opportunities, but now you must choose: Associate or Bachelors degree?
For many successful music producers, the answer is an Associate Degree. Let's explain why.
How Long is Music Production School?
This one is a given, but the longer you are in school, the less chance you have of diving into your career. Sure, you can take odd jobs and opportunities here and there, but when you attend (full-time), your course-work will likely take the bulk of your time.
With an Associate Degree, you are adding two years to your career shelf life. That is two extra years that can be used for networking, connecting, working, and building your portfolio.
Overall Cost
Because of the value of a degree, they certainly do not come cheap. Even with financial aid opportunities, to knock off two full years of tuition payments is monumental.
You may not be thinking about this now, but if you choose to pay for two years rather than four, your future self will be thanking you!
Condensed and Useful Content
In the music production industry, you are always learning. The learning never ends, and that is a good thing.
But, how much extra content do you think is being offered to bachelors students rather than associates? Is it useful, applicable content, or is it just filler?
Not all Music Colleges are guilty of this, but oftentimes, the longer your degree takes, the higher the filler material to jam pack those credit hours. With an Associate degree, it's immersive, hands-on, and your time (and money) is never wasted.
What School Offers a Music Production Degree?
Now that you know what you need to succeed, where should you go to earn your degree?
If you want to learn from industry-leading instructors in exclusive studios, you need to check out the Atlanta Institute of Music and Media.
Check out the AIMM's Music Production and Audio for Media Associate Degree.
Click the link below and find out why AIMM is the perfect fit for you to elevate and jumpstart your career.
Additional Resource: