No matter what hobby, career, or passion you pursue, everyone is a beginner at one time or another. Being a newcomer is arguably the best time to learn and to make a lot of mistakes. Get them all out of the way while expectations are low, right?
New music producers are no exception to this rule, and the creative process, especially, is often about trial and error. Some people might say that there are no mistakes in music production as long as it sounds good in the end.
However, there are a few mistakes that seasoned music producers tend to notice over and over again with great frequency. And if you can completely avoid these mistakes from the get-go, why wouldn't you?
So, in the blog post below, we will break down each common music production mistake and help you avoid them.
Table Of Contents
1. Overproducing
One very common mistake is producing without a strong core idea.
It could be a catchy harmony, an excellent sound design, quality reference tracks, or your track's overall vibe.
Every producer should go into making a new track with a certain approach suitable for the genre you're trying to make.
If you don't, there's a chance you'll end up stacking tracks and overproducing a weak idea. The best tracks and your favorite songs are usually comprised of fewer elements than you might realize.
It's rare to have more than five core elements playing simultaneously in a track. The most basic structure is a kick drum, a snare drum, percussion, bass, and lead sound.
The best approach is learning to distinguish between the different elements of electronic music and focus on these key elements.
Once you establish this understanding, you will be able to accurately decipher what is occurring at the core of a track.
Listen to a few well-produced reference tracks and their elements instead of listening to fifteen FX samples over a weak core of the track.
2. Not Finishing Songs
This may feel a little obvious, but it needs to be said. Finishing songs is one of the most important parts of being an experienced producer.
However, many beginner producers have a hard time finishing songs. It's a common issue.
If you fall into this group of producers that has issues completing songs, fixing this struggle is a critical moment in developing your production skills. If you can work through what's holding you back now, it will be easier the next time you produce a song.
Why is that the case? Think of it like a diet. The more days you consistently eat well, the easier it is to avoid sugar and fast food. But, if you make cheat days a regular habit, you'll find more excuses to skip those salads.
This is the same mentality. Giving up on a song only makes it easier to give up on the next one. You are what you practice over and over again, so practice finishing every song you start.
It doesn't have to be an instant classic. It just has to be finished. And remember, you can always revisit it again later.
Doing this should be your #1 goal when you're first starting out. Finishing your songs will improve your skills as a music producer faster than anything else.
3. Skimping on Studio Monitors
Let's shift from skills to equipment for a second. Many new producers make the mistake of thinking they need all the fancy new gear to start making music. You really don't. You just need a few essentials to get you going.
One of those essentials is solid studio monitors. Unfortunately, it's very common for folks diving into electronic music production to skimp on a quality set of studio monitors.
If you have to cut the budget anywhere, it should not be on monitors. Monitoring is an essential part of the overall music production process.
It's possibly the most crucial aspect, right next to finishing your songs.
A proper set of studio monitors serves the function of highlighting all of the true details of your music. This allows you to accurately edit and mix the track with good perception.
Studio monitors present the recorded music with a flatness that bears subtle nuances, instrumentals, and flaws.
There are no enhancements to the sound produced through studio monitors. This is why you shouldn't use your old hi-fi speakers.
These speakers are often modified for the end user's listening experience. They aren't made for the refinement and nit-picking you need to do while perfecting your track. Professional sound matters.
Speaking of music production equipment, we also have an article discussing the best music production laptops if you'd like to check that out.
4. Overindulging a Mix
If you spend days or weeks tweaking a mix, then there's a good chance your default production or mixing workflows are overindulgent.
This is why deadlines are essential.
If you don't have a deadline for your track when producing it, you run the risk of overindulging your mix, which can undo all of your hard work. It seems a little counterintuitive, right? You might think the more time you spend on a mix, the better it will be.
It's easy to lose track of time while tweaking a mix, but days spent on a mix can cause you to lose sight of what you originally wanted to achieve for your song.
Deadlines may seem restrictive, but they are useful tools that help you keep your creative mind focused on your goals.
If you don't have deadlines, the law of diminishing returns can start to come into play.
Also, financially speaking, if you charge for your work then ignoring deadlines will likely hurt your income.

5. Not Learning Basic Music Theory
Anyone interested in a music career should learn basic music theory. That includes music producers, too.
Not learning music theory is a common mistake that even experienced producers make. The question you have to ask is, why would you choose to drastically limit yourself? Because that is truly what you're doing by neglecting music theory.
Understanding basic music theory can significantly increase your workflow productivity by eliminating the guesswork of choosing melodies, finding scales, notes, keys, etc. Set aside a few hours to learn some basic music theory.
There are plenty of free resources online that can teach you what you need. Look up some videos on YouTube that can introduce you to theory as a complete beginner.
You'll find some great videos that can teach you the basics in just a few hours. If you're truly dedicated to your craft, consider enrolling in an accredited music school.
Once you learn some music theory, melodies will make more sense, chords will come to you naturally, and keys will be easier to find and stay in.
Your writing will become quicker and more nuanced, as well.
6. Recording a Bad Sounding Source
There is no amount of compression or EQs better than starting your mix with an excellent recorded sound source. Don't settle with a subpar recording and just assume you'll be able to fix it and clean it up later.
That mindset is just begging for a world of frustration and stress.
Professionals should set up guitars so they are tuned perfectly up and down the neck. A new set of strings will also go a long way as well. Pay attention to the minor details.
Drums should be tuned with heads that aren't beaten up and stretched beyond their life span. You should also be sure that there aren't squeaky pedals or rattling hardware.
The bottom line for any instrument, acoustic or electronic, is that it needs to sound excellent. Trust us, the process is much easier if you're not fighting the original sound recording the entire time.
7. Trying to Learn Completely on Your Own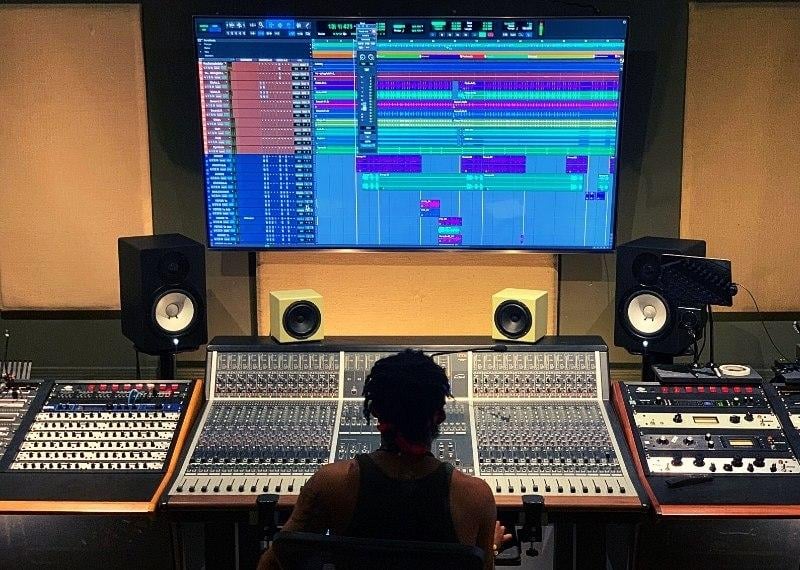 There aren't many people that can immediately become expert music producers on their own.
While some music makers are self-taught, attending an in-person or online music production school is a great way to enhance your skills. Free YouTube tutorials only get you so far.
Being in an immersive, music atmosphere taught by industry-leading professionals that will push your knowledge and techniques is a sure-fire way to put yourself in the best position to succeed and land a successful music production career.
That is exactly what the Atlanta Institute of Music and Media offers.
AIMM is an accredited music college that offers multiple music production programs, including:
Music Production and Audio for Media Associate Degree

Online Music Production Certificate

Certificate in Music Production
You even have the opportunity to become AVID Pro Tools Certified at AIMM.
If you're seriously passionate about music production, don't settle for anything less. Take the first step towards a successful music production career by learning more about AIMM today.