What Are the 5 Best Laptops for Music Production?
Part of being a musician and producer is having great tools and instruments.
Don't get us wrong; beautiful music can be made with a couple of sticks and an old bucket, but to be the best you have to play and create the best.
This is especially true if you are in music production.
Music producers need to utilize the best laptops they can get their hands on so their machines can keep up with their music.
When you're choosing a laptop, you'll need to find one with a good processor and plenty of RAM (hint, we go into specs in our bonus section below).
Those laptops will allow you to tackle multiple tracks.
If you're on the road a lot, you'll also need a laptop that can handle a drop or two as well as wear and tear from being in a bag a lot of the time.
Many music producers opt for thin and light laptops because they are easier to carry around.
If some of what I just said seemed like it was in another language, or you're overwhelmed at all of the available options, we've compiled a list of the top five laptops for music production below.
What is a Good Laptop for Music Production?
Table of Contents
1. MacBook Pro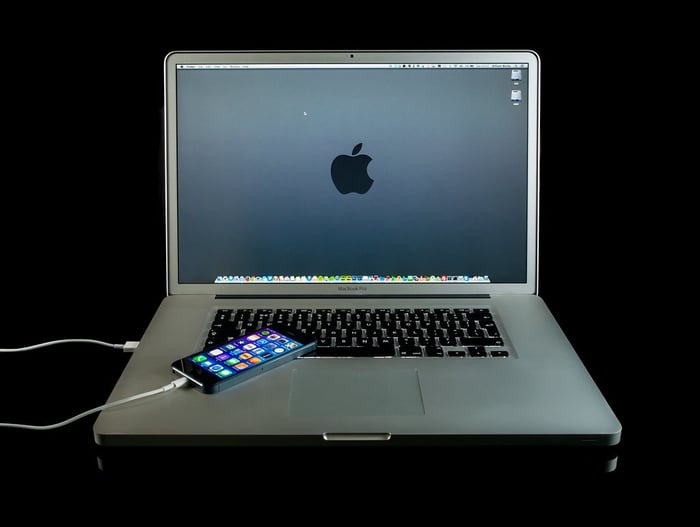 This device is likely to be at the top of any list dealing with the best laptops for music production. It's arguable the laptop for music production (although, certainly not the only great option).
The MacBook Pro comes in a 13" and 15" model, and unless you plan on working in a lot of tight spaces, the 15" MacBook Pro with the Touchbar is your best option.
The MacBook Pro comes packed with up to 32GB of RAM, a 2.6GHz 6-core Intel i7 processor, and up to a 512GB solid-state hard drive so you will be set with a quality laptop for years. It also comes with a Radeon Pro 560x with 4GB video RAM.
It includes 4 USB ports, so you will likely need to get adapters or a dock. Be sure you don't confuse the MacBook Pro with the regular MacBook or MacBook Air.
The regular MacBooks are designed to surpass the average battery life, not performance, so they won't be what you need for music production.
This laptop does not come cheap, however. You can get your MacBook Pro for around $1300 (starting out).
2. Microsoft Surface Book 2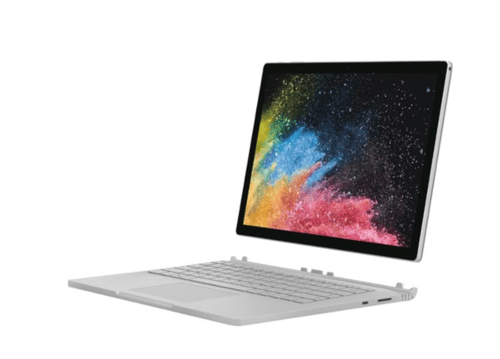 It's a tablet...and it's a laptop. The future is here.
The Surface Book 3 is an extremely versatile machine, which is why it's so high on our list. If you're looking for the best of both worlds, you've found it.
The Surface Book 3 is one of the latest in the Surface Book Series and features an i5/i7 Intel core processor, 256 GB of storage, and 32GB of RAM.
You can easily upgrade your storage all the way to 1TB if the price isn't an object, and that's a lot of music files you can store. The Surface Book 3 also boasts a 15" touchscreen display, which isn't necessary for producers, but it's a nice feature.
This laptop/tablet hybrid can handle anything you throw at it. It's even a touchscreen!
If you opt for the 15" display (which is the minimum you should consider), and 256GB of storage, you're looking at about $2000 for the Microsoft Surface Book 3.
It's a pretty penny, but if you're serious about music production, it is an investment.
3. Lenovo IdeaPad Y700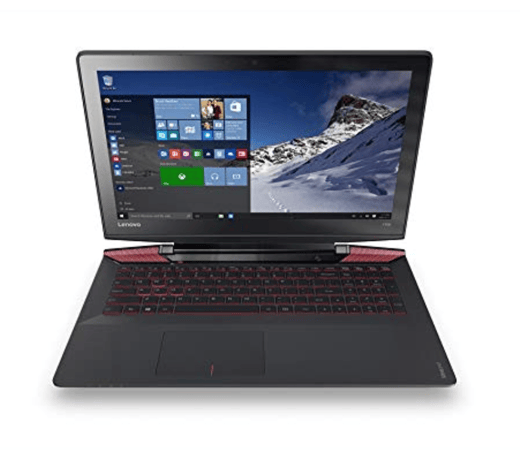 The Lenovo IdeaPad started out as a gaming device, but the powerful processor in it makes it perfect for the music producer who needs to run process-hogging workstations.
It also comes with a terabyte of storage, serving up impressive speeds for a non-SSD with its quad-core Intel i7 processor.
Since it's aimed for gaming, it comes with an amazing graphics card that isn't necessarily needed for music production, but it's definitely a nice touch.
This one comes with just 8 gigs of RAM, but it can efficiently handle smaller workloads. The battery will last you about 4 to 5 hours before you need a charge.
The Lenovo has fantastic processing, and if you happen to be a gamer as well, this laptop is perfect or you. Produce music by day and play a little WoW or Sims on the side.
It also is available as a 16 gig touch screen if you prefer to be more hands-on with your production. If you're okay with going used, Amazon offers some like-new options that are under $1000.
4. Razer Blade 15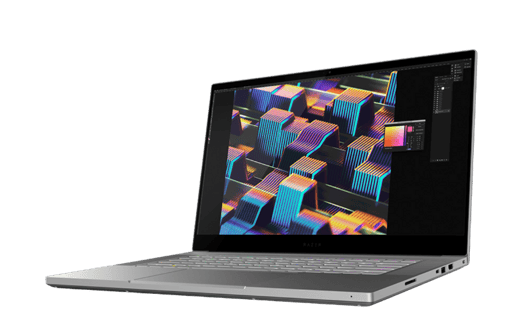 Okay, this one may be on the pricier side of the spectrum, but trust us - it's worth it if your price range allows it!
The Razer Blade 15 is an incredibly powerful laptop that has its roots in the gaming world, but honestly, it is a fantastic piece of equipment for any creative task. Including music production, of course.
In the words of Razer, this beast of a laptop is created to be powerful, purposeful, and portable.
It has backlighting on the keys, 32GB RAM, Intel Core i7-10875H 8-Core, three USB ports including a USB-C port, up to 1 TB of storage, and its standard screen size is 15.6". Much more than just a gaming laptop.
5. HP Spectre X360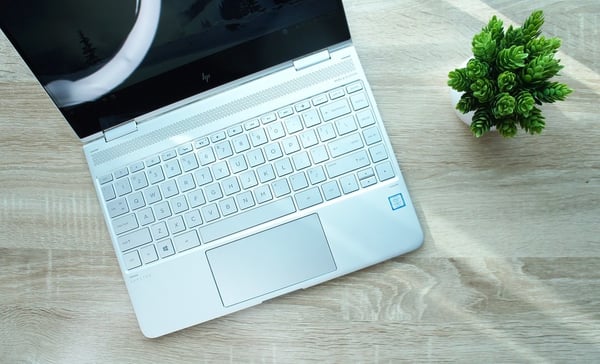 The HP Spectre X360 is a beautiful, versatile, and powerful machine.
The 15" model with an 8th generation Intel Core i7, 16GB RAM, 512GB SSD, and a Radeon RX Vega graphics card is an excellent laptop for any music producer.
This is also a 2 in 1 laptop with a folding 4K touchscreen that turns it into a table, similar to the Microsoft Surface Book 2.
HP included both USB Type-A and 2 USB Type-C ports, one of which includes Thunderbolt.
They also include an SD card reader and an HDMI port, so you won't need a bunch of dongles to get all of your gear connected.
The versatility and price point of the Spectre X360 is an excellent choice for a WIndows-based music production laptop. You can order your HP Spectre X36O for about $1150.
Bonus: Recommended Laptop Specs for Music Production
As a bonus, let's break down some specs to keep your eye on.
While we hope you take the suggestions above to heart, if not, at least keep these specifications in mind as you do your browsing and shopping for the perfect music production laptop. For tips on the best Digital Audio Workstation, click here.
What Laptop Specs Do You Need for Music Production?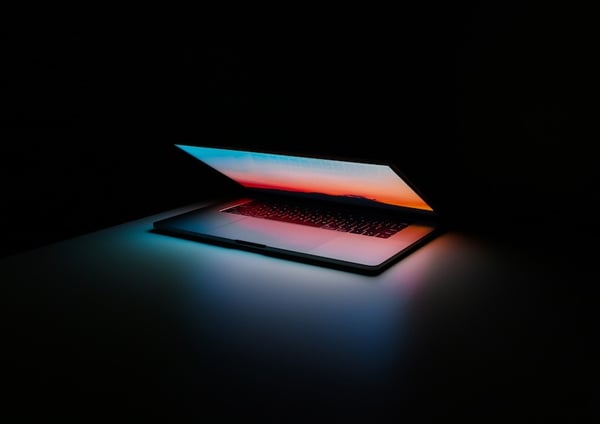 Suggested minimum requirements you should be seeking in any laptop you plan on utilizing for music production:
Processor: You definitely want to get the CPU (computer processing unit) correct when choosing your music production laptop. This can be broken down into core and frequency.
Core: When in doubt, the more cores your processor has, the better. We recommend, at minimum, an i5 dual-core processor (but you can't go wrong with a 17 quad-core).
Frequency: We recommend a minimum of 2.2Ghz. For speed, the higher you can get with your budget, the better.
RAM: The more plug-ins you add to your processor the more memory your laptop will be utilizing. It's important not to confuse RAM (random access memory) with how many GB your hard drive has.
We suggest RAM storage between 8GB and 16GB for those big audio files. 4GB is manageable, but if you can stay between 8GB and 16GB, you'll thank yourself later. Plenty of storage is always a plus.
Hard Drive: If you are just starting out as a music producer, it may surprise you how much space one single track can take. Here is a pro tip: external hard drives are your friend. But don't lose them.
You can work your way up to this, but once you get cooking with serious musician clients, we recommend a minimum of 256GB of internal storage space and 500GB of external storage.
Screen Size: This is likely the least concrete spec. Ultimately, it depends on how you function, the size you want to work with, and your eyesight. You may want to opt for a larger screen like 17", but keep in mind it's harder to haul around. 15" might be the sweet spot, but others may find it too small.
Without an external monitor, less than 15" would not be recommended. Therefore, it is up to you if you value those extra two inches visually or value simpler mobility.
Elevate Your Music Production Today
As we touched on with our bonus specifications, we believe these are five of the best laptops out there for music production, but this list certainly isn't all-inclusive.
When you're shopping for your new laptop, you need to get the best bang for your buck but stay away from the cheap options.
You don't want to break your budget, but if necessary, you should save a little money until you can afford a capable machine.
The last thing you want to do is get stuck with a cheap machine that can handle the simple tasks you need it to perform. There is a difference between a cheap laptop and an affordable laptop, however.
You don't want to get a laptop that takes the fun out of your profession.
Want to Maximize Your Music Production Skills?
As you can see, there is no laptop choice for music production. However, there is an easy choice to elevate your production career.
The DIY approach to music production is fun, but learning on the fly can be stressful and expensive. Also, it can be really difficult to find musicians to take on.
One way to go beyond this approach (and stand out amongst the Music Producer crowd) is by attending an accredited music production college.
The Atlanta Institute of Music and Media offers a Music Production and Audio for Media Associate Degree and a Certificate in Music Production.
AIMM provides:
Pro Tools Certification Opportunities

Exclusive Studios

Life-long music industry connections

Industry-standard equipment
If you want to maximize your potential, become a better music producer, and this excites your music passion, click the button below to learn more about AIMM today.