Listing 10 of the Greatest Drummers
The exact criteria for a great drummer has divided music fans since the very first beat was played.
Some people argue that feel should preside over technical skills, and some prefer showmanship over restraint.
So, making a definitive list of the top 10 drummers of all time would be near impossible.
But, we tried it anyway.
We've done our best, but there will be, without a doubt, drummers we missed that you think should be on the list and drummers we did add to the list that you think shouldn't be there.
Either way, we'd love to hear what you think in the comments. And remember, this is a list containing 10 of the greatest drummers, not the only great drummers. While there are many ways to become a better drummer, a truly great drummer stands out amongst the crowd.
So, without further ado, let's dive into our list of the ten greatest drummers in music history.
Table of Contents
1. John Bonham
John Bonham is undoubtedly one of the best rock 'n roll drummers of all time.
Fans knew Bonham changed rock drumming forever the minute they heard him. "Good Times Bad Times," with its outstanding bass-drum hiccups, had an immediate impact on everyone who listened to it.
John Bonham of Led Zeppelin was known for his instincts and feel of the groove, which shined through his love of speed, fast kick drumming, and hard-hitting power.
For the most part, John was self-taught and tried emulating other greats, like Max Roach and Buddy Rich, after receiving his first drum kit at 15 years old.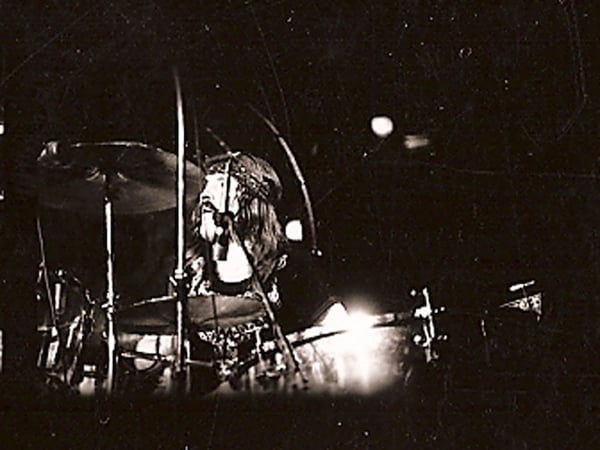 Several drummers, like Chad Smith, Dave Lombardo, and Dave Grohl, all consider Bonham the most significant influence on their drumming.
He's best known for his rock drumming, but later in his career, he began integrating funk and Latin styles into his work. Bonham's drum solo "Moby Dick" lasted over 20 minutes in front of a live crowd, and they loved it.
John is at the top of many of these lists now, but at the time, many critics didn't appreciate his style, claiming he lacked swinging in his timing.
15 years after Bonham's death, his band Led Zeppelin was inducted into the Rock and Roll Hall of Fame.
2. Neil Peart
Neil Peart was the fantastic drummer for the band Rush.
He was chosen as the drummer for the band because he reminded them of Keith Moon from The Who. When it was all said and done, the only thing he had in common was his hard-hitting style.
Moon was loose with his timing, and Peart was considered the most meticulous and technical drummer of all time.
If you had the opportunity and pleasure of watching him perform live, you would have immediately been awestruck with his ridiculously large drum kit. The kit literally wrapped all the way around him and had digital samplers and so much more.
None of it was wasted, though. During solos, Peart was sure to include every single part of the kit himself.
3. Keith Moon
Speaking of Keith Moon, he lands at number three on our list as one of the greatest drummers of all time.
Self-described as the greatest drummer in the world, Moon hated rote rock drumming and repetition, in general.
Serving as the inspiration for Animal of the Muppets, he gained a reputation for smashing hotel rooms as hard as his drum kits. Not the greatest reputation to have, but he owned it. He was even known for flushing explosives!
Moon was as much a performance artist as he was a drummer. He tried to play with everyone in the band at once, making his breaks melodic, and he fit drum rolls into places they had never gone before.
He did this until 1978 when he died from a drug overdose at the young age of 31.
4. Ginger Baker
Ginger Baker is the well-known drummer for the bands Cream and Blind Faith with Eric Clapton.
Ginger Baker was one of the pioneers of using two kick drums and recording extended solos.
He was more of a bebop and jazzer drummer because of his use of matched grip, syncopation, African rhythms, and ride cymbals. His playing style and showmanship were often described as extroverted, primal, and inventive.
Some people even consider him a pioneer for heavy metal drumming, although he despised it.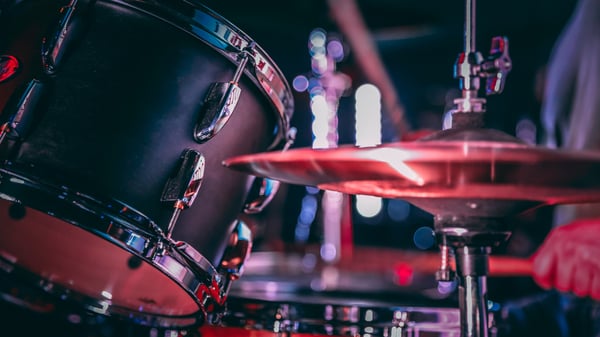 5. Hal Blaine
Playing drums on The Ronettes "Be My Baby," is enough for Hal Baine to be called one of the best drummers of all time, landing at number five on our list.
But, Hal Blaine did so much more with Sinatra, the Beach Boys, Elvis, and the Supremes.
Born Harold Simon Belsky, Hal was the leader of the Wrecking Crew, a group of Los Angeles session players that dominated the studio scene in the '60s and '70s.
That made Hal Blaine the most recorded drummer in history, losing count around the 35,000 mark. Blaine drummed one of the most recognizable beats in popular music in Phil Spector's "Wall Of Sound."
However, Blaine will be remembered for his adaptability to any session, and he didn't need to use a conventional kit.
For example, on the Beach Boy's "Caroline, No," he played on water jugs, and on "Bridge Over Troubled Water," with Simon & Garfunkel, he pulled tire chains across a concrete floor.

6. Buddy Rich
Buddy Rich was best known for his speed and power without sacrificing any technique. A jazz drummer and bandleader, Buddy was a self-taught child prodigy.
At the very young age of 4, he was already playing drums on Broadway and in vaudeville shows.
By the time he was a teenager, he was leading bands on international tours. At the ripe age of 15, he was the second highest-paid child entertainer in the '30s.
Rich stayed committed to his art even as big bands lost their appeal, as he played sessions for Ella Fitzgerald and Louis Armstrong.
Rich played with a traditional grip, but would often switch to matched grip when playing the floor toms, and there was a period where he played with brushes almost exclusively.
7. Gene Krupa
Neil Peart claimed that Gene Krupa, in many ways, was the first rock drummer.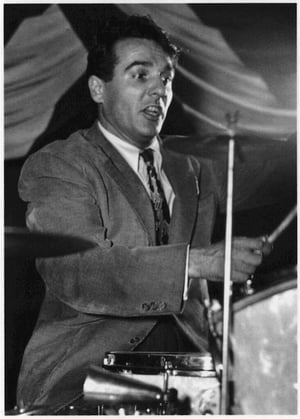 Krupa demanded the spotlight and was really the first drummer to be celebrated for his drum solos, particularly on, "Sing, Sing, Sing."
The things Krupa did were easy, fundamentally easy, but he made them look spectacular.
Krupa had an influence over big names like Baby Dodds and Zutty Singleton, he drove Benny Goodmans Thirties big band to new heights, and he inspired future rock giants like Keith Moon and John Bonham, who we've already talked about.
Krupa, along with Buddy Rich, is the godfather of drum-set artistry as a spectacle, not just a musical performance.
Gene Krupa was perhaps the first superstar drummer.
The tradition of the show-stopping, arena-scale drummer star turn is unthinkable without Gene Krupa.
8. Benny Benjamin
For years, Berry Gordy, a hit-making songwriter in Motown, refused to record anything unless Benny Benjamin was in the studio with him.
Benny Benjamin had a knack for executing various rhythms all at once. He had a steadiness that would help Gordy keep the tempo better than a metronome.
Like many of the artists on this list that we've talked about, Benjamin struggled with addiction, and it kept him out of the studio often.
Benjamin died of a stroke in 1969, but not before he was a mentor to the young Stevie Wonder, who credits Benjamin for his own drumming style.
Stevie Wonder says he learned a lot from Benny Benjamin, who was one of the major forces in the Motown sound.
9. Mitch Mitchell
Mitch Mitchell was well known for his fusion of jazz technique and beautiful riffs.
Stewart Copeland of the Police admitted that Mitch Mitchell influenced everything he did that he was proud of.
And in 1966, when the Jimi Hendrix Experience needed a new drummer, a coin was flipped to choose between Mitchell and Aynsley Dunbar.
Mitchell won the flip and brought a heavy improv quality to the Jimi Hendrix Experience.
Mitchell would usually construct a tense, heavy groove that veered off into a fluid, yet structured, counterpoint to Jimi's guitar.
10. Stewart Copeland
Many people know The Police because of Sting, but The Police got their sound from Stewart Copeland's use of space, subtlety, and aggression.
Copeland was never interested in playing the snare, and his signatures often involve intricate hi-hat patterns.
Copeland's father Miles was a diplomat that traveled often and lived in various places in the Middle East. Copeland's unique upbringing brought The Police rhythmic accents far from home.
Sting would eventually admit that the band's first record was entirely a tribute to Copeland's energy and focus.
After The Police went their separate ways, Copeland has written soundtracks and solo albums and has appeared with other groups.
He has also written soundtracks for TV and movies, and orchestras, even playing classical percussion.
Who Will Be The Next Top 10 Drummer?
There's our list of ten of the greatest drummers of all time.
Do you love it? Hate it? Who did we miss, and who didn't deserve to be on here?
Let us know in the comments, we can't wait to hear from you.
If you have aspirations of becoming a great drummer, the best thing you can do for your future is to surround yourself with professional instructors and like-minded peers at an accredited music college and earn a professional drum degree.
The Atlanta Institute of Music and Media offers the following programs for drummers:
We understand that during these difficult times that choosing to attend a music college on-campus can be stressful.
But we also know that some musicians need that tangible experience.
That is why AIMM is proud to offer students the option between attending AIMM on-site, online, or a combined hybrid schedule.
Click below to discover how AIMM can maximize your drumming skills and benefit your music career.