When you're holding that ticket stub driving to see your favorite musician, it seems like nothing else matters except the fact that shortly you will see and hear music that you love.
However, many factors that attribute to the overall experience of the night. This can include traffic, dinner plans, and of course the venue.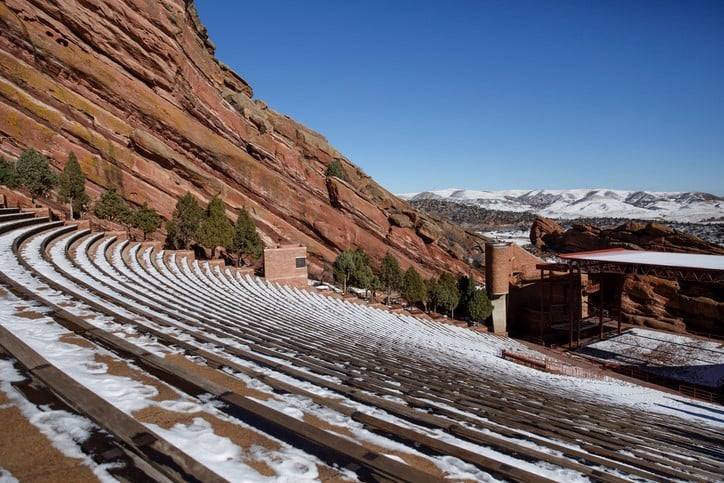 Consider how your view on the night may change if you have a perfectly mixed sound along with a clear view of the band compared to a cramped club where you're stuck in the back corner with no view and the music tech just isn't quite raising the volume enough on the lead singer.
Where you see a performance can matter just as much the sound you hear.
So what are ten amazing music venues you should visit for an overall amazing experience?
10. Severance Hall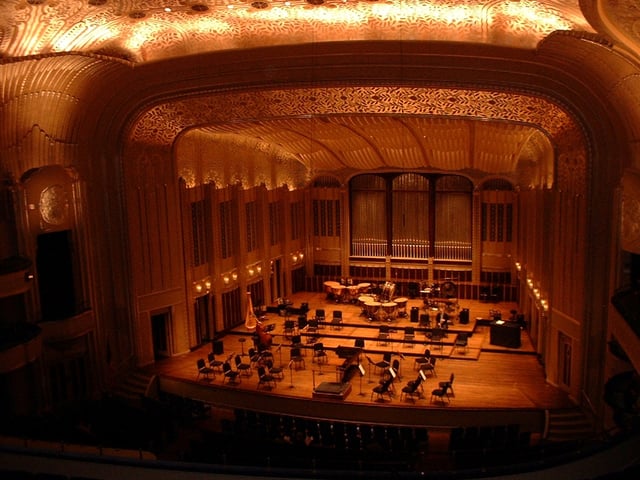 City: Cleveland, Ohio
Capacity: 2,000
Opening in 1931, Severance Hall is home to the Cleveland Orchestra.
The fantastic hall is considered one of the most beautiful in the entire United States. It is home to the Norton Memorial Organ which boasts over 6,000 pipes. The resonating sound is breathtaking, and any classical music lover should add this stop to their travels.
For additional information:
Cleveland Orchestra: Severance Hall
9. Metro Chicago
City: Chicago, Illinois
Capacity: 1,100
Built in the early 80s, Metro Chicago is perfect for big-name bands along with those underground shows only 40 kids know about.
Metro is great for local Chicago bands. However, it also attracted bands such as the Ramones, R.E.M, and the White Stripes. Smashing Pumpkins also played their first and last shows here technically before reuniting later.
For additional information:
8. Troubadour
City: Los Angeles, California
Capacity: 500
This 50s venue was popular for folk music in its early days and shifted to more of a rock music and club scene.
The Troubadour played a pivotal role in musicians such as Elton John, James Taylor, the Eagles, and Van Morrison. As each decade passed Troubadour became more and more prolific, and recently they have assisted emerging UK bands, such as Radiohead, and punk rock bands like Rise Against.
For additional information:
7. Bowery Ballroom
City: New York, New York
Capacity: 575
If you are looking for a music venue for emerging bands that just haven't found that mainstream success, the Bowery Ballroom is for you.
Build in the 1920s; it wasn't until the 90s Bowery Ballroom combined its beautiful interior with alternative rock and punk. Notable bands that started out in this venue include The Strokes and Vampire Weekend.
For additional information:
6. Ryman Auditorium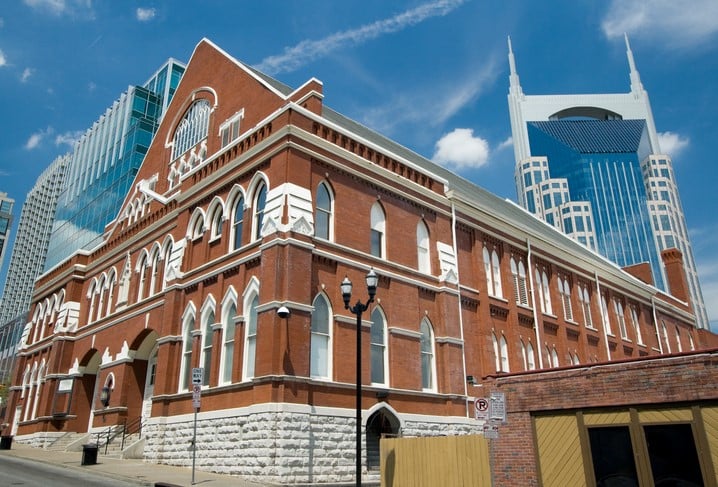 City: Nashville, Tennessee
Capacity: 2,362
Formerly the Grand Ol' Opry House, Ryman Auditorium is a National Historic Landmark and was pivotal in the rise of Country music in the United States.
Built in the late 1800's, Ryman Auditorium has been renovated multiple times, yet has never lost its historical charm. Neil Young's filmed concert Heart of Gold took place at Ryman Auditorium.
For additional information:
5. Radio City Music Hall
City: New York, New York
Capacity: 6,000
Built in the 1930s and known for the Rockettes, Radio City Music Hall has been nicknamed the Showplace of the Nation.
The stage is over 60 feet tall and 100 feet wide and is accompanied by an enormous golden stage curtain. This beautiful venue hosts the Grammy's, Tony's and used to consistently host the NFL Draft. It is the largest indoor theatre, and you should certainly consider a visit if you find yourself in New York City.
For additional information:
4. The Tabernacle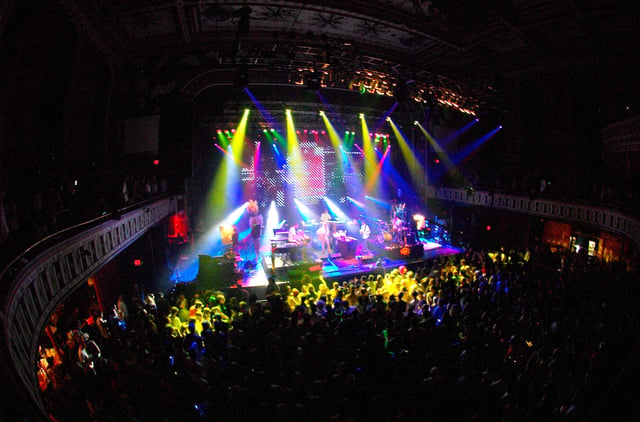 City: Atlanta, Georgia
Capacity: 2,600
Currently managed by Live Nation, this 1800s music hall has had a large range of musical acts grace its stage and is without a doubt the best venue in the city of Atlanta.
In 2008 a significant portion of the Tabernacle was destroyed in a tornado and needed restoration and repairs. Notable performances over the years include the Blues Brothers, Johnny Cash, and James Brown.
For additional information:
3. Hollywood Bowl
City: Los Angeles, California
Capacity: 18,000
Known for its concrete arch and Hollywood sign in the background, the Hollywood Bowl is a large, outdoor venue to watch popular, big-name musical acts in Los Angeles.
Built in the 1920s, the Hollywood Bowl stage has welcomed artists from Elton John and the Doors to Imagine Dragons and Chance the Rapper. In October 2017, Linkin Park hosted their tribute to their late lead singer Chester Bennington, with the assistance of various musicians at the Hollywood Bowl.
For additional information:
2. Gorge Amphitheatre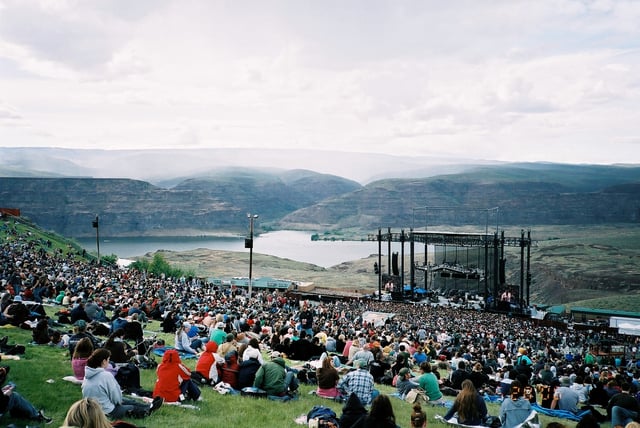 City: Quincy, WA
Capacity: 23,000
Easily 100 miles from any major city, the Gorge Amphitheatre is great if you want a "get-away" style music experience. Featuring a gorgeous view of Columbia River and Columbia gorge canyon, many attending fans take advantage of their camping passes and make a trip out of this venue.
The Gorge hosts numerous music festivals such as Ozzfest, Sasquatch! Music festival, Lollapalooza, and Van's Warped Tour. Both Pearl Jam and Dave Matthews Band have released Box sets, CDs, and DVDs of their performances at the Gorge Amphitheatre.
For additional information:
1. Red Rocks Amphitheatre
City: Golden, Colorado
Capacity: 9,500
Very few music venues can boast a natural, scenic view quite as amazing as Red Rocks Amphitheatre. Operated by the city of Denver, this highly sought after venue has two natural monoliths that are beautiful to look at and assist the music's acoustics.
Musicians that have graced the Red Rocks stage include the Beatles, Jimi Hendrix, the Blues Brothers, U2, and the Grateful Dead.
For additional information:
Do you have a different top ten venue list?
Let us know below.
Also, if you are an intermediate musician and want to push your guitar, bass, drum, keyboard, or vocal skills to the next level and maybe even play one of these venues someday, check out the Atlanta Institute of Music and Media.
AIMM also offers a Post-Production program, if that is closer to your interests.
Click the link below for more information.