The 2000s offered a variety of music style and riffs.
With the addition of Nu Metal, Alternative metal, evolving alternative rock, and pop punk, the list reaches genre as far and wide as your own personal music library.
With 2000 now being almost two decades in the past, some of these riffs will tug at the nostalgia strings and bring you back to simpler times of fat computer monitors and pre-camera cell phones.
Let's dive right into these riffs that helped define the 2000s.
Each riff is ordered by release date chronologically.
Table Of Contents
1. Down with the Sickness - 2000
Artist: Disturbed
Album: The Sickness
Guitarist: Dan Donegan
Due to the success of their album The Sickness, Disturbed took the early 2000s by storm.
With the assistance of Draiman's "Ohh-wah-ah-ah-ah" vocals, Donegan's riff drives this popular song that spread to music listeners of all genres. It set the tone for the turn of the century and is still wildly popular today.
2. Plug in Baby - 2001
Artist: Muse
Album: Origin of Symmetry
Guitarist: Matt Bellamy
Bellamy's wailing riff in Plug in Baby drives the song into arguably one of the top riffs of the decade.
Total Guitar even conducted a survey in their magazine, and Muse's Plug in Baby beat out all competition and was voted best riff of the 21st century.
3. Fat Lip - 2001
Artist: Sum 41
Album: All Killer No Filler
Guitarist: Dave Baksh
Blending rap and punk-rock, Sum 41's launched into mainstream success with their album All Killer No Filler.
Daksh riff starts the song alone before the whole band joins in and makes you want to jump around and cause havoc. Fat Lip made it to the 1 spot on the US Billboards Modern Rock Tracks, and the album went platinum.
4. Can't Stop - 2002
Artist: Red Hot Chili Peppers
Album: By the Way
Guitarist: John Frusciante
The funk-alternative rock legends, Red Hot Chili Peppers, hit the 2000s decade hard following Californication with By the Way.
Can't Stop's intro builds for the about the first 20-25 seconds until Frusciante's bumping riff comes in and sets the rhythm for Keidis sharp vocals.
5. No One Knows - 2002
Artist: Queens of the Stone Age
Album: Songs for the Deaf
Guitarist: Josh Homme
Homme's punchy-staccato riff in No One Knows pops immediately and delivers a robust and memorable song.
While initially flying under the radar, No One Knows off of Songs for the Deaf pushed them into the mainstream. The assistance of Dave Grohl on drums certainly didn't hurt the song's chance of achieving success.
6. Cochise - 2002
Artist: Audioslave
Album: Audioslave
Guitarist: Tom Morello
Rage Against the Machine guitarist, Tom Morello, helped create the band Audioslave and provided a tasty riff for Cochise.
With the main riff coming in around the one minute mark, Morello's heavy riff offers the perfect tone for their homage to the Native American Apache chief. Cochise was nominated for Best Single at the 2003 Metal Hammer Golden God Awards.
7. Seven Nation Army - 2003
Artist: The White Stripes
Album: Elephant
Guitarist: Jack White
When it comes to "memorable 2000 riffs," all others tend to bow to White Stripe's Seven Nation Army.
White's riff has that low tone that confuses listeners into thinking it is coming from a bass when, in fact, it is a semi-acoustic guitar run through a whammy pedal. It has even seeped into the sports world, as crowds at European football games chant the riff in unison.
The iconic song and riff even catapulted the White Stripes to a Grammy for Best Rock Song.
8. Are You Gonna Be My Girl? - 2003
Artist: Jet
Album: Get Born
Guitarist: Cameron Muncey
The Australian band's signature song, Are You Gonna Be My Girl, was voted #1 in Triple J's Hottest 100.
Percussion and bass start this tune, but then Muncey comes in strong with the riff that makes you want to get out of your seat and start dancing around. Popular and catchy, Are You Gonna Be My Girl has withstood the test of time.
9. Mr. Brightside - 2004
Artist: The Killers
Album: Hot Fuss
Guitarist: Dave Keuning
Keuining's song-long riff pops right at the beginning of the song. It sets the tone and literally continues the length of the song. Mixed with Flower's 80s style throw-back vocals, the melody and rhythm flows flawless and has the crowd crying, "I NEVER."
Written in the key of D-flat major, Mr. Brightside was the Killer's first single and without a doubt their signature song.
10. American Idiot - 2004
Artist: Green Day
Album: American Idiot
Guitarist: Billie Joe Armstrong
Don't ever let anyone tell you that punk rock doesn't mix with politics.
As a response to the war in Iraq, Green Day released American Idiot with an unapologetic voice and a decade-defining riff. The response to American Idiot has been so critically acclaimed that an American Idiot stage adaptation premiered in 2009.
11. Blood and Thunder - 2004
Artist: Mastodon
Album: Leviathan
Guitarist: Brent Hinds
Hinds creates a riff for Blood and Thunder that is as intense as the name of the song.
The track is from their second album, Leviathan, and features Neil Fallon as additional vocals. Hailing from Atlanta, Georgia, Mastodon blends heavy metal with unique southern roots that helped cement them as a top metal band during the decade.
12. Take Me Out - 2004
Artist: Franz Ferdinand
Album: Franz Ferdinand
Guitarist: Alex Kapranos
Another #1 in Triple J's Hottest 100, Franz Ferdinand's Take Me Out has a super catchy riff that you can't get out of your head.
The Scottish band's hit single is playable in Guitar Hero, Rockband, and Just Dance 2.
13. B.Y.O.B - 2005
Artist: System of a Down
Album: Mezmerize
Guitarist: Daren Malakian
In protest of the Iraq war, System of a Down cleverly created B.Y.O.B (Bring Your Own Bomb).
With a quick tempo and various stop-and-start sections, B.Y.O.B incredibly unique. The blend of screaming and clean vocals along with guitar rhythms keeps your attention every second.
14. Beast and the Harlot - 2005
Artist: Avenged Sevenfold
Album: City of Evil
Guitarist: Synyster Gates
The opening melody of Beast and Harlot is arguably the most recognizable of any Avenged Sevenfold song. After the wailing, sinister intro the song drives into a lower, metal approach paired perfectly with M. Shadows high screech.
Along with the impressive riff, Avenged Sevenfold also adds a shredding solo between the first chorus and second verse. With songs like Beast and Harlot, it's no surprise City of Evil and Avenged Sevenfold became one of the most popular heavy metal bands of the decade.
15. The Dark Eternal Night - 2007
Artist: Dream Theater
Album: Systematic Chaos
Guitarist: John Petrucci
Formed under the name Majesty in 1985, the progressive metal band's song The Dark Eternal Night slays the fretboard in a very rhythmic riff. In October 2010, Total Guitar Magazine's readers voted The Dark Eternal Night the 4th best guitar riff of the decade.
A fun fact: The Dark Eternal Night is based on H.P. Lovecraft's short story, Nyarlathotep.
How does this list compare to your own? What songs did we forget about?
Let us know in the comments below, and if you are an ambitious and intermediate musician, consider elevating your existing talent at the Atlanta Institute of Music and Media.
We have an excellent guitar program that will help any guitar player reach their maximum potential and make some fantastic connections along the way. We even offer an Online Certificate in Music and Technology: Guitar Concentration, that means you can learn 100% from your own home.
But, wait; we know what you're thinking. A music degree or certificate is a major investment, correct?
You're right, that is why AIMM is offering a Free Online Intro Course. Get a taste of AIMM and discover how our music school can benefit your guitar career. Sign up (for free!) below.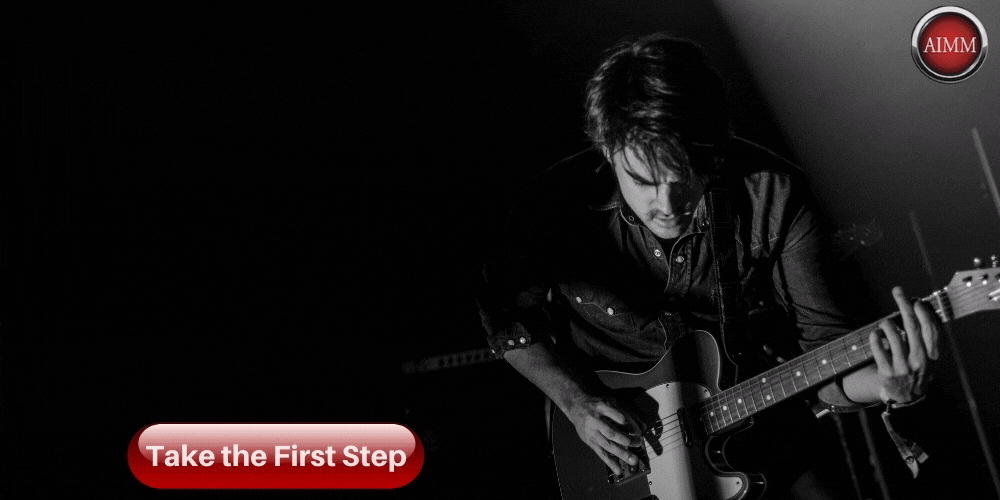 If you liked this article, check out: