Top DAW Software for Beginner Audio Producers
Are you a musician or an aspiring audio engineer that is considering dabbling in Music Production?
It can be a little overwhelming at the get-go, but once you start getting the controls, lingo, and experience under your belt, your confidence will skyrocket!
First things first, it's good to know that you are able to make high-quality music on any popular DAW.
That being said, there are DAW's that may be specifically better for you based on your needs and interests.
Important Term: DAW stands for Digital Audio Workstation.
Creativity should always be at the forefront when making music, but the DAW is there to help your inspiration blossom and to lay your ideas down concretely.
Don't let the price of these DAW's immediately scare you away either. If you are serious about creating music as a potential career, it is worth the small investment.
Table Of Contents
DAWs are an Investment
DAW's are investments for your music career or hobby.
Think of a carpenter paying upfront for tools. While power tools, circular saws, and drill bits may not be cheap, they are an integral part of the process. And not only are they part of the process, but they are stepping stones to help carpenters successfully complete the overall project.
Without investing in the tools, you can't get the payoff and satisfaction of the project's end goal.
Now, back to DAWs.
None of the various software you'll be reading about today is massively overpriced. The cost of these DAWs range from $99-$450.
You can pick up the "Intro" version of Ableton Live 10 for $99, but you may find it to be slightly limiting. Ableton offers three versions of its software and the middle priced one is titled "Standard" at $450.
If you're a student, you're in luck because Ableton offers a student discount at about 40% off for you!
Essentially, you can create the same music in these DAWs; they just each have their own particular nuances. The key is finding the right DAW that speaks to you.
Now, let's get into the top three DAWs (in no particular order) for beginner audio engineers!
Ableton Live 10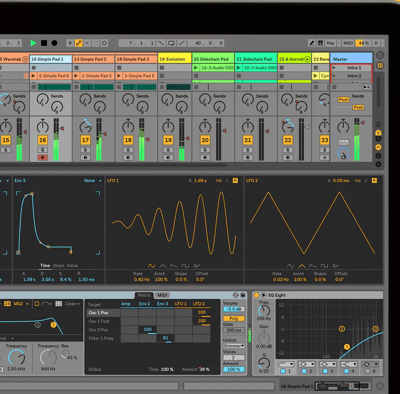 Ableton Live is an amazing DAW used by many producers. Ableton's strength lies in recording vocals and instruments, but it can produce just about any type of music.
Ableton allows you to really manipulate and destroy sounds (in the best way) within the DAW to give you unique tones.
Not only can you produce in Ableton, but you are also capable of performing live with this software!
You can rearrange your songs, or even solo and mute specific instruments all on the fly. This will give your audience a one-of-a-kind experience every time you perform, which makes for a memorable show.
Ableton may take some time to get used to, but after you know what you're doing inside of the program, it makes for a really quick and easy workflow.
Many electronic and hip hop producers, such as Skrillex, use Ableton as their go-to DAW, so if those genres are the type of music you are making, Ableton would be a great start for you!
Logic Pro X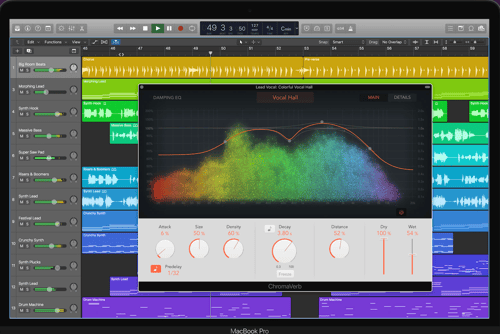 If you are someone already comfortable and familiar with Apple Products, Logic will more than likely be the DAW that you'll find easiest to use from the start.
Many of the quick keys and the overall interface is something that you are already used to from using your MacBook Pro, etc.
Logic Pro X is a great piece of software for the following:
Mixing Songs
Producing
Recording Vocals
Even prominent artists such as Calvin Harris use Logic!
In comparison to Ableton, Logic has a nice variety of virtual instruments that actually sound pretty organic.
Many producers who use Ableton end up using third-party VST's for instrumentation, whereas audio engineers that use Logic Pro X have the benefit of great sounding instruments built in.

Avid's Pro Tools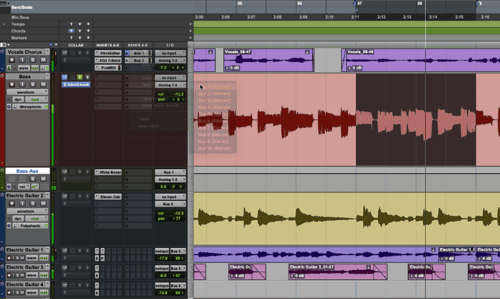 Since donning the title Sound Designer when it dropped in the 1980s, Avid's Pro Tools has been one of the staples and most reliable DAWs for audio engineers.
According to Sweetwater, Pro Tools is the "world standard audio production platform."

Excellent benefits of AVID's Pro Tools include the following:
Professional metering and automation for quick and creative mixing
Recording, MIDI, and Score Editing tools
Offers 128 audio tracks, 512 instrument tracks, and 512 MIDI tracks
Professional plugins that range from reverb, guitar amp emulators, EQs, and more
Do you often collaborate with other audio producers or band members? If so, Avid's Cloud Collaboration is perfect for you!
You can work with up to 10 collaborators on a single project.
Pro Tools even offers Loyalty Rewards, so if you register for a subscription or currently have an active subscription you are eligible for complimentary gifts.
For a free taste, you can download Pro Tools First for free. Pro Tools First provides 16 audio tracks and you can still collaborate with other Pro Tools users. It is much more than a stripped down version of traditional Pro Tools.
Popular and successful musicians that proudly use Avid's Pro Tools include Kanye West, Pharrell Williams, and Alicia Keys.
The Choice is Yours
All three of these DAWs are great pieces of software equipment in music production. While each has its own strengths and drawbacks in certain areas, they will all get the job done.
Ultimately, the decision is yours on which one you choose to help develop and cultivate your music.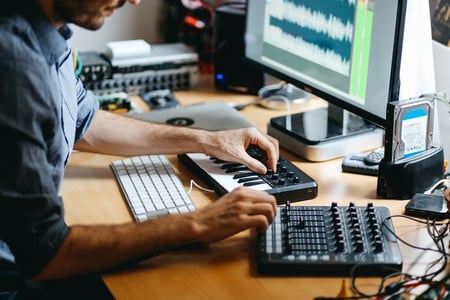 Just remember that creativity is what makes music happen, not which software you use. Do some research on these three DAWs and find out which one will suit your style best.
While you may be spending a few hundred dollars, you'll most likely be using it for quite a few years, so it's not a bad investment by any means.
Aside from personal research or trial and error, a great way to enhance your audio engineer knowledge and skill is by attending an Accredited Music College.
The Atlanta Institute of Music and Media offers an immersive environment that provides the following:
Industry-leading instructors
Industry-standard equipment
Excellent studios
The opportunity to become Pro Tools Certified
Don't delay your aspirations any longer.
Learn more about AIMM and our Music Production Certificate and Associate of Applied Sciences in Music Production and Audio for Media Degree today by clicking the button below.
Related Articles: