Everyone can name a few of the most famous bassists in history off the top of their head, but the five exquisite bass guitar players I am focusing on today are some of the best that you have probably never heard of.
These five individuals were mostly session bassists that played on tracks behind the scenes during studio recordings.
But don't let their lack of notoriety fool you.
Despite not wanting the lifestyle of fame and the spotlight, these artists were extremely prominent within the industry because of their sheer talent on the bass.
Their studio talents were very well known and highly demanded by producers in the music industry.
These five individuals were usually better than the famous artists themselves and could give any rock and roll bassist a run for their money.
5 of the Greatest Unknown Bass Players of All Time
1. Joe Osborn
Bio:
Joe Osborn was born on August 28th, 1937. He is one of the greatest session musicians of his time and has contributed to many albums in Los Angeles and Nashville throughout his impressive career.
Achievements:
Joe Osborn has contributed to many famous tracks by artists and bands like;
The Mamas and the Papas
Simon and Garfunkel's "Bridge Over Troubled Water"
Major Hits by Neil Diamond
The Carpenters
Nancy Sinatra
Kenny Rogers
Ricky Nelson "Travelin' Man"
Fun Facts:
Osborn was not needy, in fact, in an interview, he confessed to really only playing one bass his whole career. He received a Fender Jazz Bass in '61 when they were departing on their world tour, and he just played that for the rest of his career.
Greatest Quote:
"The song will tell you what to play if you listen." -Osborn
This quote is apparently one of Osborn's most repeated lessons to young and ambitious bassists.
Where are they now?
After returning to Nashville to finish out his career, he finally settled in Louisiana where he remains to this day living a semi-retired life working on projects as he chooses.
2. James Jamerson
Bio:
James Jamerson born in January 1936 was an extremely talented session bassist that spent most of his career seeking the recognition he deserved. He was behind the majority of the classic Motown Music of the 60's that is still well known today.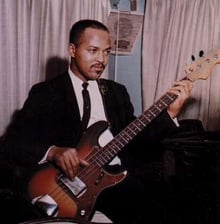 Achievements

:

Unfortunately, James Jamerson was the uncredited session bassist on most of Motown Records' recording in the 60's, according to Paste Magazine.
Fun Facts

:

As a session musician, he played on 30 Billboard #1 hits, as well as over 70 R&B #1 hits, more than any other bass player in both categories.

He finally gets the recognition he deserved and is now regarded as one of the most influential bass players in modern music history.
Greatest Quote

:

Although this quote was not actually from Jamerson himself, I thought it was a wonderful representation of his talent and influence.

"Music has always been in my family, but it was mainly keyboards. I learned to play classical piano, but when I first heard the amazing bass guitar of James Jamerson, who played on all the big Motown hits of the '60s and '70s, I knew bass guitar was my instrument." -Suzi Quatro
Where are they now?
Sadly, in 1983 the world lost one of the greatest bassists to illness. The combination of cirrhosis of the liver, heart failure, and pneumonia eventually killed Jamerson, but his legacy lives on.
3. Donald "Duck" Dunn
Bio:
Donald "Duck" Dunn accomplished so much is his lengthy career it is difficult to sum it up.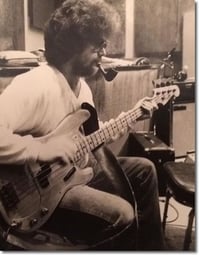 Born in Memphis, Tennessee in 1941, Dunn didn't start playing bass until he was 16 years old. He actually tried guitar first but it had too many strings, plus best friend Steve Cropper played guitar so that position was already filled.
In high school, Dunn formed his first band with best friend, Cropper. They called themselves the Royal Spades. They later transformed into the Mar-Keys who made it big with his "Last Night."
Cropper eventually left the band becoming a full-time session musician and Dunn was not far behind him.
The two became part of Booker T's MG's, and the duo spent most of their career there.
Eventually, they were inducted into the Rock and Roll Hall of Fame with this band.
Achievements:
Donald "Duck" Dunn may be the most prominent bassist on this list and has worked with an abundance of notable musicians, just a few include:
Neil Young
Rod Stewart
Elvis Presley
Tom Petty & The Heartbreakers
Stevie Nicks
Jerry Lee Lewis
Peter Frampton
Bob Dylan
Eric Clapton
Ray Charles
Jimmy Buffet
The Blues Brothers
Fun Facts:
He referred to himself and lifelong friend and band member, Steve Cropper, as a married couple. He said he could just look at him and know what he would order for dinner.
He also said that because of this closeness that when they played together, they would both instinctively know where the other was going with something.
Greatest Quote:
"We had a band powerful enough to turn goat piss into gasoline." –Donald "Duck" Dunn The Blues Brothers
Where are they now?
Unfortunately, Dunn passed away in 2012 when he was on tour in Tokyo. During this series of performances, he was found to have died in his sleep.
4. Carol Kaye
Bio:
Born on March 24, 1935, in Everett Washington, Kaye first picked up the Bass Guitar at age 13.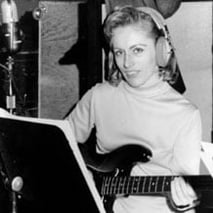 She got her start as a session musician and played bass on some of the most well known and iconic music today.
Since then, she has played with some of the worlds most prolific artists and made a name for herself within the industry.
Achievements:
Kaye has thought to have played on over ten thousand records over the course of her long and successful career, but some of the most notable contributions include:
The Beach Boys' "Surfin USA"
Many Simon and Garfunkel Tracks
Tracks for The Monkees
Ritchie Valens' "La Bamba"
Sonny and Cher Songs
"These Boots are Made for Walkin"
Mission Impossible Theme
"California Girls"
Fun Facts:
Carol Kaye knew her worth. She demanded twice the pay of union scale, and she got it.
Great Quotes:
"Jazz musicians invented rock lines. We could cut rock & roll real fast. We invented lines every night. Rockers weren't good enough to play their own music. They had poor technique, and the sound and feeling were wrong. They were stars, not musicians." -Kaye (LA Weekly)
"Stardom is created and it can be taken away. You don't need talent to be a star. You only need to capture the imagination. Being a musician means they can never take that away, and good musicians were always respected." -Kaye (LA Weekly)
Where are they now?
According to an article from LA Weekly, Carol Kaye strayed away from being a session musician many years ago. She has since lived a more relaxing life in her Antelope Valley home teaching bass lessons. She has written over 50 instructional books and offers lessons via Skype.
5.Mike Watt
Bio:
Michael Watt was born in December 1957.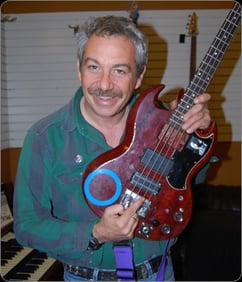 He is not just an American bassist, but also a vocalist and song writer!
His long and successful career has consisted of founding bands, working with famous musicians, and even being featured in an episode of Space Ghost Coast to Coast on Cartoon Network.
Achievements:
He is most well know for founding the following bands;
In addition to playing in those groups for most of his career, he as also worked with some of these famous artists:
Eddie Vedder
Grohl
Flea
Nirvana
Henry Rollins
Pearl Jam
Jane's Addiction
Beastie Boys
Fun Facts:
Watt got introduced to playing Bass when his best friend Boon's mother decided they were going to start a band. She came up with this idea to keep them off the "sketchy streets of Pedro."
Greatest Quote:
"The bass has got some righteous karma and politics—you look good making other cats look good, and the more notes you play, the littler you get. It's an eternal struggle for the right notes. Which I think should never be solved." –Mike Watt
Where are they now?
Mike Watt's dedication to the musical experience has kept him working on new and inventive musical projects even in his later years. He doesn't seem like the type to take on retirement, so I think there is more to come from Mike Watt and his collaborators.
Interested in Learning More About Bass Guitar?
Whether you want to be playing the bass guitar front and center in a famous rock band with thousands of people screaming your name every night, or live a quieter life as a studio musician that plays behind the scenes for some of today's most famous artists, I think this list more than proves that you can be equally successful and appreciated no matter which path you choose.
If you want to become a professional bass guitar player, the Atlanta Institute of Music and Media can help you achieve your goal. Learn the best right hand techniques, maximize your bass skills, and more.
Click on the button below now to get more information about our accredited Bass Guitar Program today.