The Top Bassists of All Time
If you are a Bass Guitarist then you already know the important role you have in a band. However, many audience members have no idea what a bass even is.
Despite this fact, the bass is probably the most critical instrument in the entire band. It is very rare to find a performing band who does not have a bass guitar player.
The bass has a dual role in music, acting as a rhythm instrument but also helping with the chord structure of the band. This means that each member of the band needs to pay close attention to what the bassist is doing. Otherwise, everything falls apart.
From amazing techniques to the best bass guitar riffs, there are countless memorable bassists throughout the years. Today, we have compiled a list of the 15 Best Bass Guitarists of All Time.
1. Paul McCartney
Paul McCartney is known as a singer/songwriter for The Beatles in the 1960's. He helped to transform popular music into a creative, highly commercial art form. He is also one of the most popular solo performers of all time, in terms of both sales of his recordings and concert attendance.
"I don't work at being ordinary."
Paul took on the role of the bassist in The Beatles after the original bassist left the group. Although he was reluctant to take on the role of the bassist, he was able to master the instrument and become one of the greatest bass guitar players of all time.
2. Flea
Michael "Flea" Balzary started out as a jazz enthusiast and was a talented trumpeter growing up. Flea turned to punk and rock in high school and formed the band
Red Hot Chili Pepper with three of his high school friends.
Flea emerged with a refined style, largely trading in his slapping for muscular, melodic statements.
Throughout the years, Flea has remained one of the most visible and admired representatives of rock bass.
"I think Anthony called me it first? And I've always been kind of a little guy that jumped around like a spastic animal. It stuck because it's kind of the nature of who I am. But I'm not a blood-sucker, I'm a giver of blood."
Flea has worked outside of the Red Hot Chili Peppers and has recorded and performed with other artists. He worked as a musician on other albums by Mick Jagger, Johnny Cash, and Alanis Morissette.
Flea also paired up with Radiohead's Thom Yorke for Atoms for Peace in 2009.
3. John Paul Jones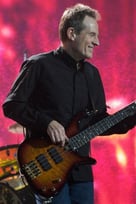 John Paul Jones is one of the founding members of the legendary group Led Zeppelin.
Before he joined the band, he was considered one of the best session bassists in England, playing on tracks by Jeff Beck, Cat Stevens, and Donovan.
When John helped to form the Led Zeppelin band, he formed one of the most powerful rock groups in history. Although he was content to remain in the background, there is no doubt that he was the backbone of the entire sound.
After Led Zeppelin ended, John continued his musical career by producing and arranging albums for other artists. He also wrote songs and film scores for movies like The Secret Adventures of Tom Thum and Scream for Help.
4. Geddy Lee
Geddy Lee is best known as the vocalist, bassist, and keyboard player for the rock group Rush.
Geddy's voice and signature bass tone have garnered seven Grammy nominations; it is very rare for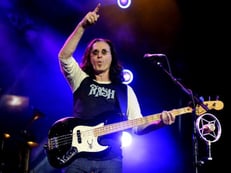 a bassist to achieve such universal acclaim.
"For me, there is a lot of room for improvement and there are a lot of things I would like to be better at."
Geddy has the ability to trigger samples, play keys, step on bass pedals, and sing vocal parts in odd time signatures while nailing the catchy, complex bass lines.
Rush is one of the most successful Canadian music groups in history. They are the third most prolific seller of consecutive Gold and Platinum Records and videos behind only the Beatles and the Rolling Stones.
5. Les Claypool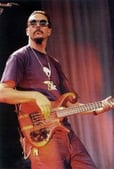 Les Claypool is one of the most original rock bassists to come along in the '90s and is one of the all-time best slap bass players.
With his funky playing style, Les took his varied musical influences and created an invigorating and completely inventive style.
"When I saw my first Rush concert, I spent the whole time watching Geddy's hands."
In 1993 Les's band Primus scored a Top Ten Hit with Pork Soda. This helped to solidify the band's status as quirk rock's undisputed kings, and many more hit releases followed throughout the decade.
6. Victor Wooten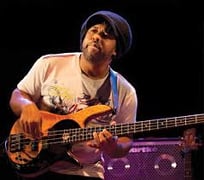 Victor Wooten is a founding member of the super-group Bela Fleck and the Flecktones.
He is a five-time Grammy winner and is known for his Grammy-nominated solo recordings and tours.
"It was made clear to me that Music is related to everything, especially nature and language, but in order to speak it naturally, I had first to make myself a part of it."
As the bassist of the Flecktones, Victor has a funky music style that integrates jazz melodies as well as complex R&B arrangements.
Victor has been known as "the Michael Jordan of the bass" and "one of the most fearless musicians on the planet."

7. John Entwistle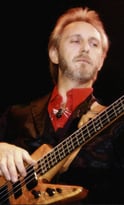 John Entwistle, known as the Ox and Thunderfingers, was trained on the piano and French horn before he became a bassist.
"So by the time I taught myself how to play the bass guitar at age 14, my hands were already pretty nimble".
He played the bass like a lead instrument, creating a potent sound that often overshadowed the guitar playing of Pete Townshend.
John is a founding member of The Who and his approach to the bass can best be captured on songs like "My Generation," "Sparks," "the Real Me," and "Dreaming from the Waist."
Probably one of the most famous bass solos in rock history can be found in the song "My Generation."
8. Lemmy Kilmister
Lemmy Kilmister is known as the unforgettable bassist/shouter for the band Motorhead.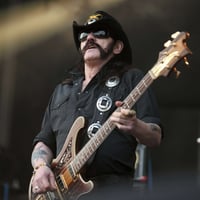 "We are Motörhead. And we play rock and roll."
There have been few bassists who have been the iconic face of rock in the way that Lemmy was. His playing taught future generations of bass players that attitude is just as important as talent.
During Motrhead's commercial success in the late 70's and early 80's, Lemmy was the only constant figure in the group during the "Golden era."
In addition to Motorhead, Lemmy also helped co-write tracks for notable hard rock artists such as Ozzy Osbourne and Lita Ford. He also appeared on the TV show The Young Ones, and in several films.
9. Jaco Pastorius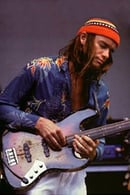 Jaco Pastorius began his musical career as a drummer, but due to a wrist injury, he was forced to switch to the bass.
He was able to master the instrument quickly, and become obsessed with jazz fusion.
"A chimpanzee could learn what I do physically, but it goes way beyond that. When you play, you play life."
In the 70's, Jaco was one of the most sought-after bassists in the field, playing with Joni Mitchell, Ian Hunter, Weather Report, Herbie Hancock and various others.
From 1980 to 1984, Jaco toured and recorded with his own band, Word of Mouth that fluctuated in size from a large combo to a big band.
10. Jack Bruce
Jack Bruce began his career as a jazz bassist but switched to rock in the early 60's when R&Bbands began surfacing throughout London.
Bruce met Clapton when they were both players in John Mayall's Blues Breakers; they then went on to form the band Cream.
Bruce wrote and sang the majority of Cream's songs such as "White Room" and "Sunshine of Your Love."
When the band split apart after a two-year run, Bruce released albums and collaborated with other musicians, launching a solo career that lasted over 40 years.
11. Roger Waters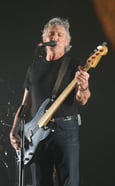 British musician Roger Waters is best known as the singer, songwriter, and bassist for the British Rock Band, Pink Floyd.
Roger is the driving force behind the albums Dark Side of the Moon, The Wall, and Wish You Were Here.
Roger asserted a heavy degree of creative control over Dark Side of the Moon, penning all of the lyrics, receiving music writing credits on all but three songs, and creating the concept.
With his departure from Pink Floyd in 1985, Roger continued to create new works and capitalized on the popularity of his old band by staging live revivals of Dark Side of The Moon and The Wall in their entireties.
12. Bootsy Collins
Bootsy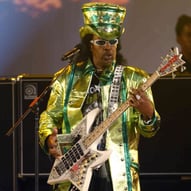 Collins has made bass history in multiple ways.
He was a teenage sideman with James Brown on classics such as "Soul Power" and "Super Bad," he was a co-creator of immortal Parliament Funkadelic classic like, "Up for the Down Stroke," and was a ringleader of Booty's Rubber Band.
"Funk is the absence of any and everything you can think of, but the very essence of all that is. And saying that, I'm saying funk is anything that we create in our minds that we want to do, what we want to be, but we don't have the resources."
13. Cliff Burton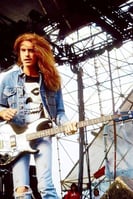 The first band that Burton created was EZ-Street.
A few years after its creation he joined Trauma and recorded the tune "Such a Shame," which was featured on Metal Blade's "Metal Massacre II" compilation.
Cliff Burton joined Metallica in 1982 as the bassist, and his impact on the band couldn't be more significant.
"Why should we change onstage? We're not trying to be something big and fancy, it's just us, doing what we do, we'd like to keep it that way."
Burton went on to perform on Metallica's first three albums, all of which became big hits.
With these three albums he instantly became a favorite musician among many music fans, with his powerful stage presence, impressive bass playing, and his opinionated and honest personality.
14. Charles Mingus
Charles Mingus's early career focused on the swing and bebop scenes of the 40's and 50's. In 1956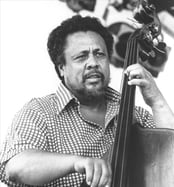 Mingus released his first noteworthy album, "Pithecanthropus Erecus". Afterward, he had a string of groundbreaking recordings.
Mingus stood out with bass-friendly tunes and his bold, exciting, groovy style of playing. Mingus had a knack for playing complicated harmonies that were laced with blues.
"Creativity is more than just being different. Anybody can plan weird; that's easy. What's hard is to be as simple as Bach. Making the simple, awesomely simple, that's creativity."
He had a willingness to explore all elements of bass playing from free jazz to bop to down-home gospel blues. This authentic style is what places Mingus in bass history.
15. John Patitucci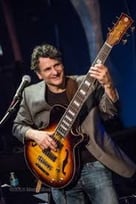 John Patitucci is known as one of the top bassists of the 1990's because of his speed, very clear tone, and versatility while playing both the acoustic and electric bass.
"I use all different kinds of techniques for all different types of music. The music dictates the style."
On the electric bass side, he firmly established the 6-string bass guitar, which inspired a generation of chopsters in all styles.
Now that we have covered some of the best bass guitarists of all time, check out some of the best bassists you've likely never heard of!
Do You Want to Be On This List?
While it takes a significant amount of effort, time, skill, and potentially luck, one way you can separate yourself from other bassists in the crowd is by earning a music degree or certificate from an accredited music college.
The Atlanta Institute of Music and Media offers:
Online Certificate in Music and Technology: Bass Concentration.
Both programs offer valuable music production techniques, such as recording, mixing, and mastering. This way, you leave AIMM a well-rounded bassist with the production skills of your favorite pros.
Don't live near Atlanta? No worries, the Online Bass Certificate is 100% online!
If you're not sure AIMM is right for you and not ready to dive into a major commitment, we totally understand. Why not get a taste first? AIMM offers a Free Online Intro Course so you can see how AIMM can benefit your music career without spending a penny.
Click the button below to check out the Free Online Intro Course!
Was there someone else you thought belonged in the top 15 Bassists that we left out?
Share it in the comments below, we would love to hear your feedback!