Is your songwriting process feeling stale?
Are you having trouble diversifying the method you use to come up with killer songs?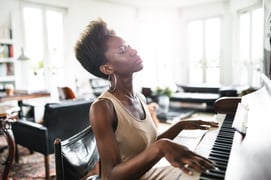 If you answered yes to the above, then we have some unique tips that may help you change up your songwriting process so you can create lyrics and melodies that will keep your music interesting.
One primary reason songwriters get in a rut with their writing style is because their process is overused.
If you find yourself approaching your songwriting process the same way every time, simply changing your approach can quickly improve your creative block.
Here are five unique ways to change up your songwriting process:

1. Change the Starting Point of your Songwriting Approach
Sometimes getting out of your standard groove of songwriting is simply changing up your normal process to piecing a song together.
If you usually write lyrics before placing them to music, try to begin with music first and lyrics second to match the tone, mood, and style. Moreover, if you normally start with music, then begin with the lyrics first.
2. Change Rooms
Many songwriters are creatures of habit, and will typically write in the same location.
If you are having trouble with your songwriting, try changing up your location now and then. Have you ever written in a park?
It may surprise you that writing in a brand new location can improve your musical imagination.
3. Write with an Instrument you Don't Typically Play
You do not need to be excellent at this instrument to do this. If you typically only play the same instrument, you will find that many of your songs tend towards a sameness.
So if you are a keyboardist, try sitting down at a piano and playing a few tunes.
The benefit of playing a different instrument when you are trying to write a song is that you won't succumb to muscle memory.
You may find that the melody shapes you find will differ from the ones that you tend to use on your instrument of choice continuously.
4. Listen to Different Music for Outside Inspiration
For many people, their sound and approach to songwriting are influenced by the type of music they tend to listen to.
An easy way to change up your writing style is to step outside your box and listen to different music. You never know, you may find the inspiration that you are looking for to create a unique new song.
5. Write Lyrics from a Different Perspective
Another great way to change up your songwriting process is to try writing your lyrics from a different perspective.
For example, if your method of songwriting consists of always writing in the first person, try writing in the third person instead.
This easy change can create an entirely new feeling for your songs; it may even help you develop stores that you haven't been able to produce before.
If you are having trouble diversifying your songwriting process, try the above suggestions and see where they take you.
Looking for a Music School to Propel your Career?
If you are looking to improve your musical talent, The Atlanta Institute of Music and Media may be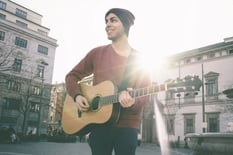 the right place to develop your career.
Our Music and Media College takes a unique approach to vocational training for musicians, production, and engineering students.
We utilize a well-rounded curriculum, classroom instruction, private instruction, audio, DVD and video labs, computer lab, and live clinics.
It is our goal to provide non-beginning instrument students and recording arts students with the instructional environment necessary to develop their musical talents and acquire the skills demanded of today's professionals in the music industry.
What are you waiting for?
Click below for more information on how our Top Music School in Atlanta, Georgia can help you build the career of your dreams.