Quality bass guitars are available at every price range, you just first have to figure out what you want and what style and type will work best for you and the music genre you like playing.
Whether you prefer rock, jazz, or even the blues, we have some quality bass guitars to present at great price points!
Whether you are looking for a modified bass, classic vibe, or deluxe jazz guitar, there is something in your price range.
How to Find the Perfect Bass for You?
Start with Comfort.
Much like anything else, comfort is a very important, and your new bass should feel like an extension of your body.
Some basses have larger bodies, some have wider necks, and some have skinnier.
The body style and neck width all depend on the players comfort level and what they prefer.
It is essential to find the style and size that best suits you and enhances your playing ability before you make a final purchase decision. You want the perfect fit once you start conquering those bass riffs.
Another one of the most important questions to ask yourself before departing on the trek to finding the perfect bass, is how many strings do you need?
Bass Guitars traditionally have four strings; however, it is becoming increasingly common for bassists to try out, five strings, six strings, and even up to 12 strings!
Extra strings are not necessary, and you can still play everything on a four string bass, but heavier genres can sometimes benefit from the addition of a string or two.
So without further ado, here is a list of our hand selected Top 5 Quality Bass Guitars Under 500 Dollars.
1. Vintage Modified Bass VI
For the more advanced bassist looking for a modified vintage guitar, the vintage modified VI bass is a true classic. Still within budget at a cool $449.99 this gem is nothing to overlook.
Squier brings back the "long-vanished Fender- Vintage Modified VI six-string Bass.
If you are searching for vintage-style, perfect tone, and the addition of three custom Jaguar single-coil pickups, then the Vintage Modified Bass VI delivers.

Features:
30" scale length, guitar tuning one octave below standard
21-fret rosewood fingerboard with white pearloid block inlays
Maple neck with "C"-shaped profile
Three custom single-coil Jaguar pickups (reverse-wound/reverse-polarity middle pickup for hum cancellation)
Vintage-style bridge with non-locking floating vibrato
Three on/off slide switches (one for each pickup), "strangle" bass-cut slide switch
---

2. Yamaha TRBX204
This versatile and affordable bass features a powerful pickup configuration and can fit whatever style you hope to be playing.
The TRBX204 sits under $350 and is actually on the lower end of the TRBX range, making this beauty a deal just ready to be snagged up.
It comes in 4 different color options:
Gray Metallic (shown right)
Bright Red Metallic
Galaxy Black
Old Violin Sunburst

---
3. Squier Vintage Modified Jaguar Bass V Special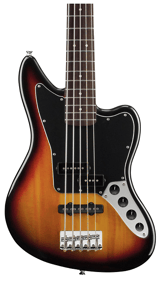 This bass is Squier's most versatile Jaguar.
This model not only extended the range of the Vintage Modified Jaguar Bass V Special five-string model with the addition of an earth-shaking low B string, but you also get sharp looks and a fantastic tone!
Additional Features:
Basswood body and a Jaguar body shape
"C" Shape maple neck
20 Medium jumbo frets
34" (864 mm) Scale
Synthetic bone string nut

Fender-designed single split-coil Precision Bass V middle pickup

Fender-designed single-coil Jazz Bass V bridge pickup with adjustable pole pieces
5-String standard vintage-style bridge with single groove saddles

---
4. Ibanez SR400QM
Looking for an Ibanez on a budget? Well, then we have got a treat for you!
If you were looking for a bass in the SR family with a 

wide range of tones, a lightweight mahogany body, and a beautiful quilted maple top, then this Ibanez is perfect for you.
This killer bass guitar has a great look and even better sound from а budget Ibanez.
Be apart of the Ibanez SR family for just about $450. 

---
5. Epiphone EB-3
"The Bass that Defined Rock"
This classic is a remake of the original SG Bass that was played by some of the Rock Greats. 

Both John Entwistle and Bill Wyman of The Who and The Rolling Stones, respectfully, cherished this guitar. This beauty is one of the most distinctive bass guitars.
If you want to rock, the Epiphone EB-3 is for you. Its classic look is a "nod to the past," while its modern updates, like a long scale neck, makes it perfect for today.
With a beautiful mahogany body, neck, and bridge pickups, this EB-3 can be yours for just about 300 dollars. Get a perfect tone and feel while becoming a piece of rock and Epiphone history.

---
Take Your Bass to the Next Level
Now that you have the instrument, why not put yourself in the best position to suceed?
The Atlanta Institute of Music and Media offers a few program opportunities for bassists. If you are purely set on performing bass, you need to check out AIMM's Bass Performance Certificate.
What if you have interest in music production, too?
AIMM's Music and Technology Associate Degree: Bass Concentration gives you all the necessary education to master the bass guitar, along with valuable and insider techniques when it comes to tracking, mixing, and mastering.
Don't live near Atlanta or want to make the travel plans? AIMM also offers an Online Certificate in Music and Technology: Bass Concentration.
Click below to discover how AIMM can benefit your Bass Guitar Career today!