Many of today's most influential and impactful hip-hop artists and producers came out of Atlanta. Some of the most legendary artists were produced there, and ever since, floods of talented musicians, producers, and performers have been making their way down south to create their own legacy.
Atlanta's music history stems back to artists like Usher, Young Jeezy, T.I. and Ludacris. Many Atlanta-based artists often appear on Billboard charts repeatedly, making new aspiring artists even more eager to dip their toes in the prosperous Atlanta music pool.
Groups like Outkast and TLC gave Atlanta some of the most impactful music and influential musicians since the 90's. The history is deep and the list goes on with names new and old,
Mike Will Made-It
Gucci Mane
Young Jeezy
London on da Track
Childish Major
Soulja Boy
Southside
T.I.
Ciara
Waka Flocka Flame
B.o.B.
Ludacris
Black Metaphor
Jermaine Dupri
Andre 3000
Lil Jon
Usher
Ying Yang Twins
CeeLo Green
C-Note
The Hottest Music City in The Country
The music scene, and hip-hop especially, is thriving in Atlanta. Since the city has become a hotbed for the culture, producers, artists, and executives alike have begun to flock to the city.
Many of the most legendary hip-hop acts and R&B artists have their roots in Atlanta, and everyone wants to stay as close to the pulse as possible. Meaning young and talented new producers and rappers are arriving in swarms to create and be a part of that new and dynamic Atlanta sound.
However, the "Atlanta sound" is constantly evolving, making it a prime spot for new artists to experiment and see just how far they can push the boundaries.
These new emcees, producers, rappers, and DJs may be the individuals that influence the next generation of rap.
With the Internet making it easy to share newly created music immediately, it is distributed quickly and profited off faster than many things in this world.
For over a decade, Atlanta has been considered a hip-hop mecca. It is consistently discovering new hip-hop artists and featuring them on radio stations like V-103, Hot 107.9 or Street 94.5. Atlanta music experts have trouble going in depth about Atlanta's hip-hop music scene because "it's more than just a genre."
"The South Got Somethin' To Say"
Andre 3000 is a southern legend, and many believe that he may be the sole reason Atlanta has such a strong voice in the hip-hop music scene.
In 1995, at the Source Awards, many remember his speech that put Atlanta on the map. After Andre 3000 and Big Boi won the award for Best New Rap Group, they were met with boos by a loud spoken East Coast/West Coast crowd.
However, Andre took it in stride and commented on the "close-minded people" that would not listen to his demo.
He ended his speech saying the infamous line, "The South got somethin' to say," leaving audiences around the globe wondering what was next f`or the rap group and the hip-hop city.

Andre did not disappoint, many artists, including himself, began to prove just how musically ingenious Atlanta artists were.
Artists like Lil Jon, Gucci Mane, Future, and Young Thug debuted their diverse styles of music and dress expanding the range of hip hop.
Many artists in the past did not veer away from the similar styles and successful artists on their coast, but Atlanta has forced the hand of traditional sounds. Andre made it cool to be terrestrial, Lil Jon made it cool to "get crunk," and Future capitalized on the "struggle rapper" approach.
Do You Even Go Here?
"Name dropping" is a common way to associate oneself with a prestigious place, person, or thing. It establishes validity, and that is why it seems every rap artist and producer now has to reference their ties to Atlanta.
Associating oneself with Atlanta establishes credibility among peers, fans, and the big names in the industry. In other words, if you rep the ATL, you are musically relevant.
Artists like Lil Bow Wow and label partner, Da Brat both launched their careers as proud Atlantans, but are from Columbus, Ohio and Joliet, Illinois, respectively.
More artists are following this lead, like Usher, who goes hard for Atlanta despite his Dallas, Texas roots. He even encouraged Justin Bieber, his protégé, to rep the ATL in his debut single "One Time" despite the fact he isn't even from this country!
Another Canada native that might just be the most notable Atlanta lover of all time, is Drake. He is infatuated with the Atlanta Hip-Hop movement and the eroticized stripper club scene lifestyle. It is more than clear that Atlanta is hot right now, and everyone wants a piece of it.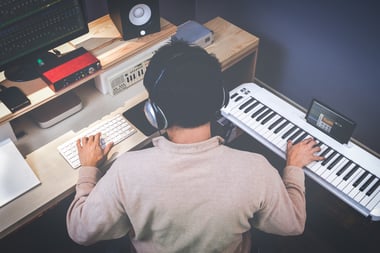 Atlanta is Winning, Admit it or Not
Hip-hop has a long standing history in the bustling cities of New York and Los Angeles. They were the two main cities artists flocked to in order to grasp a piece of the rap game.
However, in the 90's, Outkast, TLC, and others made a name for themselves in a city that was not New York or L.A.
They paved the way for artists like T.I., Ludacris, Lil Jon, and Usher to make it in Atlanta and appear on the radio more and more. The city began to gain attention and benefit from the economic growth.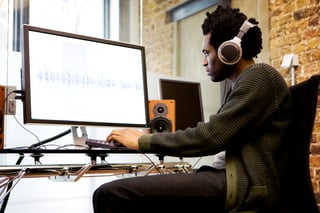 Now that the media has picked up on Atlanta's appeal, more franchises are opening and headquarters are moving to this southern city.
In the past, artists would move to New York or Los Angles to "shop around" their demos and search for opportunities, but now the new destination is Atlanta.
Califoria and New York had their time to run hip-hop, but now it's Atlanta's time to stand at the forefront.
Through the eras, hip-hop artists have emulated the styles in whatever region was hot at the time, and now artists from all regions are imitating the south with trap beats and lyrical styles to try new sounds that have been successful for them.
If you want to be a part of the exciting new music being produced out of Atlanta, our music school and production program can enhance your skills.
Our state of the art facility will give you the opportunity to work and learn on the equipment and latest technology that the top producers use, preparing you for today's fast-paced industry in the music mecca that is Atlanta.
Call today or click on the link below for more information about our hip-hop music production school in Atlanta, Georgia!