YouTube is, by far, one of the greatest music discovery platforms there is.
However, because of its immense popularity, the competition for attention is enormous.
On YouTube, you're competing with other talented musicians, but you are also fighting for eyes and ears against cat videos and anything else people can dream of.
That's why it is vital that people interested in your music, genre, or cover songs can find your videos. And, it's important that once they find you, they watch as much of the video as possible.
View count alone isn't the only metric that's crucial anymore. They also need to spend some time on your videos.
In the article below, we will discuss a few tips on how to get your YouTube channel found and how to keep your fans engaged.
Table of Contents
You Have to Start
At the risk of sounding like a self-help guru, many artists fail because they never start in the first place. But to be successful, you have to start. You have to create.
We all have friends that talk about all of their fantastic ideas, but they never follow through. Ambition only gets you so far; you have to capitalize by taking initiative.
As soon as you decide to make a YouTube channel, sit down and get it done. This approach should be used for all social media for your music, really. That includes creating an Instagram, Facebook, and Twitter.
Make your first video as soon as you can. It doesn't have to be special - sit down at your desk and sing. Play guitar. Pull out the piano. Then get that video uploaded.
When you first start your channel, you just have to create. Nothing has to be perfect out of the gate. As you build your channel, your quality will improve. This will only come with experience, though.
Remember to post more than just music. Your music should be your main focus, but you should also add in complementary videos, like Q&A's, behind the scenes, practice clips, and what kind of gear you're using.
Your audience should get to know you as well as your music. Sometimes people will listen to your music just because they like you, so start building your community of subscribers right away. Always be genuine, but having personality goes a long way!
Use Keywords for Search Optimization
YouTube ranks its uploaded videos in search results based on five key elements. Those elements are title, description, views, tags, and user rating.
Fortunately, you are in complete control of three of these items - title, description, and tags. That means optimizing these features is very important when starting and growing your channel.
Including keywords in all of these features can increase your visibility when people are searching for music on YouTube.
When you upload your videos, always be sure to include your name or your band's name in the title. Also, depending on the type of music video it is, add in "music video," "concert," "live video," or "cover."
When people search for songs, they will often throw in these keywords, so having them in your title will make it easier for them to find you.
You can also throw the genre of music you're playing in the title as well for a little extra juice. So, for example, the title of a music video could look something like this...
"Thinking Out Loud" Ed Sheeran - Music Video
or
"Crawling" Linking Park - Acoustic - Live In Concert
Once you pick how you want to format your titles, make sure you stay consistent with it and do the same thing every time. Along with your title, use these same keywords in your video descriptions and tags.
Don't be lazy with the description box, either.
This is the chance for you to talk to your fans and tell them everything they need to know about you, your music, and the song they are listening to. Honestly, the more relatable text here, the better! It's also an ideal space to promote a new album, song, merch, a music video, or link to past videos.
After you reach 100 subscribers, be sure to change your YouTube Channel's name to your band name or music artist title.
Use A Custom Channel Photo Background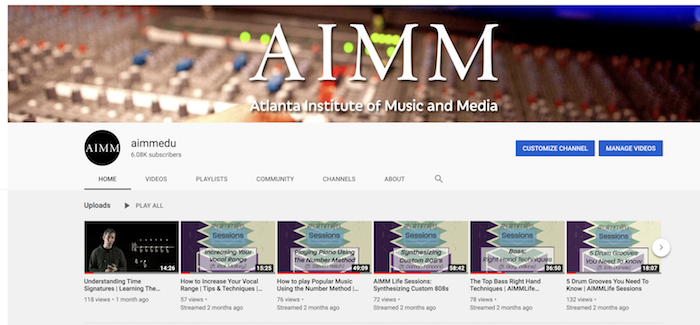 You want to make a brand around yourself and your music, and your brand should be reflected in your custom photo background.
You can style your account by logging in and navigating to Themes & Colors and then going to Advanced Options.
This is where you can start customizing your channel's look and add in your custom background for your YouTube channel page.
There are a few things you should keep in mind when deciding which picture to use for your background.
First, you want to use a picture that is more panoramic than something that is close up. So, something like a wide-angle shot of you performing on stage.
Keep in mind that the middle of your picture is going to be pretty covered up by your videos and text. So an image where the main focus is on the right or the left is ideal.
Avoid pictures taken in portrait mode at all costs. Landscape looks much better on most modern monitors.
You also need to use a high-quality picture that won't look pixelated on your page.
Using a photo that is wider than 970 px will make sure your picture is big enough and extend beyond the main edges of the content area. You also need to go to your General Settings and then go to Color Palettes, so you can set your transparency to allow your photo to be seen through the foreground boxes.
Set your transparency somewhere between 10% and 40%. While you're there, you can also change your text color to be sure it's readable. Don't tile your image. It doesn't look professional. Check out a free platform to create and work on graphics like Canva.
Important tip: Don't create a banner, post it on desktop, check it out, and think you are finished. You have to consider mobile. You'd be surprised how different a banner can look on mobile (which is used more than desktops these days, anyway). Be sure to have a banner that works on both, desktop and mobile.
Cards, Annotations, Playlists, and Calls To Action
You are in complete control of what appears on your videos.
So, if you want to add invitations for people to subscribe to your channels so they can receive updates when you add new content, you can do it.
Just make sure it's not too intrusive.
YouTube has cards that allow you to engage your artist in a very simple yet very effective way.
Put a call to action at the end of your video to encourage your audience to follow you on social media, download your album, or sign up for your newsletter (you should have a newsletter).
Take advantage of playlists so you can put your videos into categories, making it easier for your fans to fans to find your music.
For example, a couple of playlist categories could be songs you've covered and live music. This also improves SEO for your channel.
Link To Your Website and Music Downloads
Your band website should be a place where anyone interested in your music can find out anything they need to know about you.
Many musicians neglect their website in favor of social media, but you have complete control over your website, and you should take full advantage of it. It likely wouldn't happen, but what if all of a sudden Facebook decided to remove pages?
Again, very unlikely. But, what if it happens? That is why your website is so valuable. Share your YouTube content on your website as well as sharing your website on YouTube.
But in addition to embedding or linking to your website, you should also include direct links to where your fans can download your music.
An excellent place to add these links in is your channel description, about me, or in your video descriptions. When you include links in your video description, make sure you do it in the first sentence.
YouTube truncates the text so that only the first sentence is visible until you click to expand the description. Again, remember that YouTube isn't just for sharing your music. It's also for promoting yourself or your band.
Be Consistent With Your Content
One of the most important things you can do for your channel is to be consistent with the content you create on YouTube. Once people start showing an interest in your channel, never leave them in the dark.
Your fans need to know when and how often you are going to upload videos. Tell them you are going to upload a new video every Tuesday, and then make sure you do it.
When your fans know when you are going to post new content, they will look for it.
Tell them when you release new content in your channel introductions, video descriptions, and wherever else you can. Getting people to come to your channel regularly is enormous. If you can become engrained in someone's weekly routine, that is a beautiful achievement.
A good rule of thumb is to post one music video every six weeks.
You should put in plenty of supplementary content between videos, like behind the scene videos, and do that on a consistent, regular basis as well.
Also, you need to be consistent with your style. Make your thumbnails clear, and be sure they fit your style of music.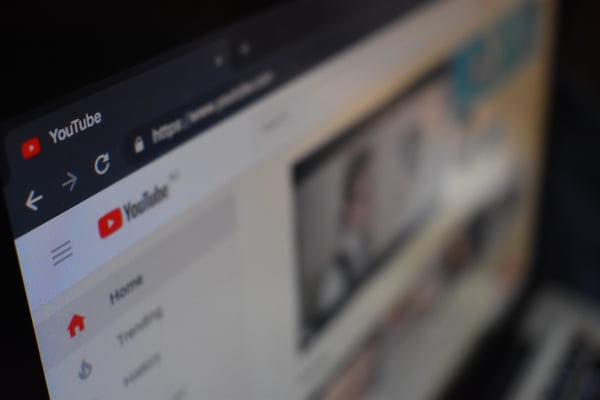 Learn With Professionals
These are just a few tips on how to start and build your YouTube music channel.
Can you think of anything else? Having a YouTube channel with a following is a great way to break into the music video today.
Unfortunately, gone are the days of selling mixtapes on the corner and praying a record executive actually opens your music and likes it. Now you can give your music directly to the fans without the middleman.
But the first step to becoming YouTube famous is to work on and perfect your craft.
There's no better way to do that than by working with professionals who have done it before. That's exactly what you get at the Atlanta Institute of Music and Media.
AIMM provides musicians and producers the opportunity to hone their craft, learn the best insider techniques, and work with industry-leading instructors. Follow in the footsteps of successful AIMM alumni like Grammy award-winning Kesha Lee or KEYZBABY, who co-produced the hit song, WAP.
Don't live near Atlanta? No worries! AIMM has a 100% online music program.
Click the button below and discover how AIMM can benefit your production career today.