Musicians have more control now than ever before over the success of their careers. Gone are the days of needing to impress executives for a life changing record deal.
Opportunities are essentially endless.
You can record, distribute, sell, stream, and promote your music all on your own by using affordable, and sometimes free, tools and platforms.
However, making money as a musician can still sometime seem as elusive as those record labels.
Fortunately, there are creative strategies you can utilize to make money as a musician, even if you aren't a famous household name. We'll cover some of these ideas below.
Table Of Contents
Royalty-Free Samples
If you have a passion for creating music and make a lot of it, you likely have a hard drive full of unfinished sounds.
The best way to use these unused tracks is to turn them into a royalty-free sample pack. You can easily find a music producer that will pay artists for quality samples to use in their own productions.
For income streams of royalty-free samples, compile a pack of 100 or so samples and put it up for sale. You can do this through your own website or with a sample marketplace.
It's a great way to turn all of your brain dumps into something valuable for someone else - and fill your pockets!
Make Money From Music With Live Streams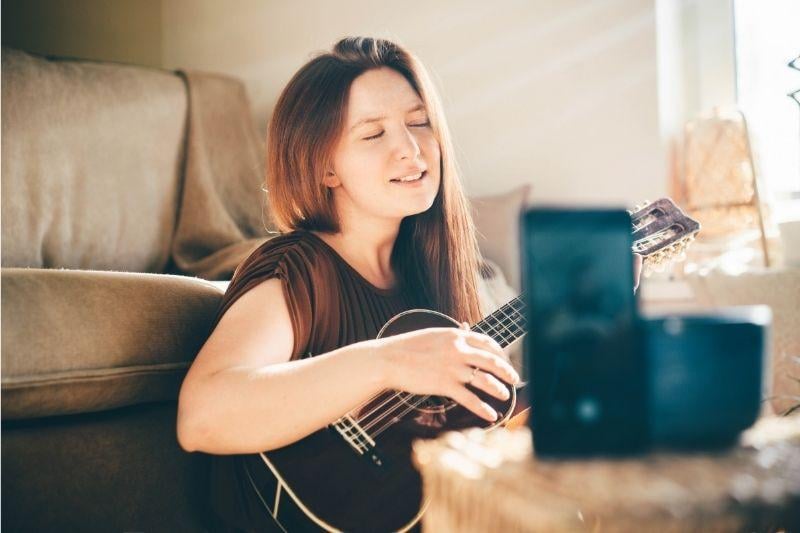 When live shows were canceled in 2020, many musicians started looking into live streaming so they could keep performing for their fans. Even famous artists were putting on intimate live stream performances.
Fortunately, traditional in-person shows have started coming back. However, that doesn't mean that live streaming is no longer valuable. It's still a great way to instantly connect with your audience.
With live streaming, you can reach countless listeners all over the globe. That includes many listeners that have never had an opportunity to watch you perform in person.
You have a ton of options with live streaming, too. You can sell tickets to online live streams, or you can do it for free and set up an online tip jar.
There is certainly money to be made in the music industry from live stream ticket sales and tips. In case you missed it, we wrote an entire article about how to do a great music live stream.
Write Songs
This one seems obvious, but it is often overlooked. And when it comes to good songwriting, it is definitely easier said than done.
When you write and sell songs, you can get mechanical royalties or performance royalties. With mechanical royalties, you will earn a statutory rate of $0.09 per track in the United States.
Therefore, if you write a song that is on 10,000 albums, you'll make about $900.

You'll earn a performance royalty whenever the song you wrote is performed.
Stuck in your songwriting process? Having issues creating the type of music you want? Check out our tips for writing great songs.
Teach In-Person Lessons for a Record or Music Store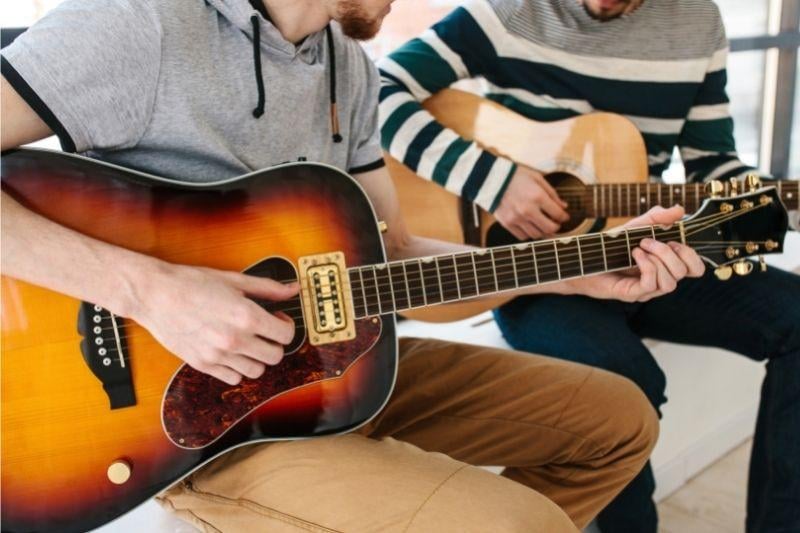 There are music stores all over the country that employ musicians to teach music lessons in their stores.
This is a great way to make money with music and you'll build connections at the same time.
Networking with music shops could prove to be invaluable, and it will be very easy to turn students into fans.
Ask your local music stores about teaching positions. If it's something they've never done before, see if you can negotiate a possible partnership.
If you don't want to go the music store route, you could also teach lessons from the comfort of your home. You'll just have to put a little more effort in your marketing compared to teaching in an established store.
Commissions
If you're a composer, commissions might be the most sought-after method of making money for original work.
There are two kinds of commissions:
Concert music commission
Commercial music commissions
With a concert music commission, you are paid a certain sum of money to write music for an ensemble.
A commercial music commission can come in the form of a lump sum for a one-time project, such as a movie score, or a recurring contract, such as a television series score.
Some composers find long-time employment being commissioned to write television scores.
Merchandise (Without Overhead)
While selling merch isn't necessarily a unique idea, it is all about how you go about it.
If you're constantly playing shows and need merch on-hand you'll still likely have to go the overhead route. However, if you just want to attach a merch platform to your artist, band, or music production website you should check out platforms like TeeSpring and TeePublic.
You never have to pay for a single item or to have anything shipped. Instead, just promote your merch on social media and watch the money come in.
The down side is these platforms do take anywhere between 50% - 60% of the total profit, but you get to establish the price that you want and you still never have to worry about handling the items. All that is needed from you are the design files that will be displayed on your products.
In addition to merchandise, these platforms allow you to also sell digital products - like MP3S, demos, EPs.
License Your Music
Getting a song placed in a movie, TV show, or commercial earns you a licensing fee.
Two licensing fees, actually.
The first is the master use licensing fee to use the recording.
The second is the synchronization licensing fee for the songwriters and publishers. These fees vary greatly and depend on the budget for the project and how much they use your song.
Music for films and television or licensing songs you've already recorded can be a significant source of revenue for musicians.
Freelance Recording, Mixing, and Mastering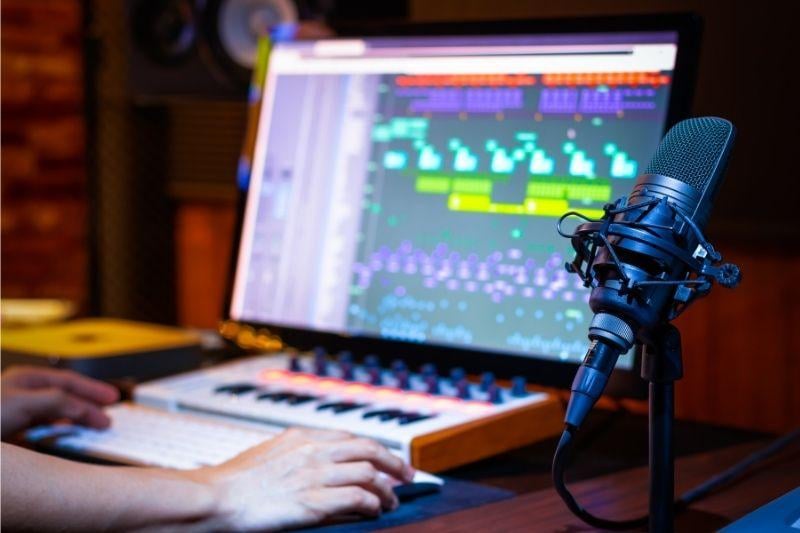 A professional musician well versed in recording, mixing, or mastering stands to make a considerable amount of money.
If you have the time and expertise to work on someone else's project, you can freelance as an audio engineer.
While it takes a lot of hands-on experience to gain these skills, if you are a skilled producer of your own music, you will bring a lot of value to someone else's project.
If you're looking to improve your music production skills, there are much better ways than free tutorials on YouTube. You should consider attending an accredited music college that offers a music production program.
The hands-on music experience, courses, networking, and techniques could easily catapult your career forward.

Fan Club or Membership Site
You can also generate revenue with a membership site.
You can release premium and exclusive material to users who pay a monthly subscription fee to access it with a fan club.
And when you have a fan club, you will also have their email address, so you can use email marketing to generate interest in your music.
There aren't a lot of these out there, but they are a viable option.
Once you've generated interest in your work and have a presence on Facebook, Twitter, and you've built an email list, you can easily seal the deal on a membership site.
If you want a "built-in" membership platform that is just a little less profitable, check out Patreon. They allow you to create multiple tiers for your patrons so you can offer various forms of extra music content at different price ranges.
This could include a percentage off of your merchandise, early demos, exclusive access, behind the scenes content, and more.
Music Video Distribution
Everyone knows to put their music videos on YouTube, but there are hundreds, if not thousands, of outlets that will play your music video.
To reach them, you can enlist the services of music video distribution companies. The distribution companies can get your music video out into the world via online, closed network, and broadcast.
This will also generate more performance royalties for you and expose your music to wider audiences.
Freelance Session Work
Artists advanced in a particular instrument should consider doing session musician work.
With the help of the internet, you can be connected to producers that have paid work for professional musicians. It's an excellent way for artists to pick up extra paid gigs.
You'll need to know how to record your stems and send them back to the producer.
An online session is a simple way to turn your skills into extra money.
Getting Started
These are all excellent ways to earn money with your music. Hopefully you took notes, thought about your own unique skills, and found a few of these options to be actionable.
When it comes down to it, to make money with your music all you need to do is push yourself to do it.
With a bit of hard work, the right tools, and dedication, anyone can make money with their music. If you have the talent and will power, it is there for the taking.
Want to Jump-Start Your Music Career?
As we mentioned, one of the best ways to accelerate your music career is by attending an accredited music school.
If you are interested in music production, guitar, vocals, bass, drums, or keyboard, the Atlanta Institute of Music and Media has extensive music programs for you.
Put yourself in an immersive, non-stop music atmosphere where your skills are guaranteed to blossom. If you have the drive to succeed in the music industry and don't know where to start, let Atlanta Institute of Music and Media put you on the right path.
If you want to pursue your passion and take the first step today, click below to learn how AIMM can benefit your music career.