Have you always wanted to be a music producer and start your own music production company?
If so, you're in luck because it's arguably easier than ever to get started in the comfort of your own home. It's pretty incredible what kind of technology and software is accessible to producers.
Many people wanting to break into the music industry think that they need the most expensive equipment or the fanciest studio to produce music. While amazing equipment and a premium studio might be nice, it isn't necessary to start out in music production.
But, what equipment do you need? And how should you go about setting up your home studio?
In the article below, we will discuss how you can start a music production company at home.
Table Of Contents
Learn About the Business and Build Skills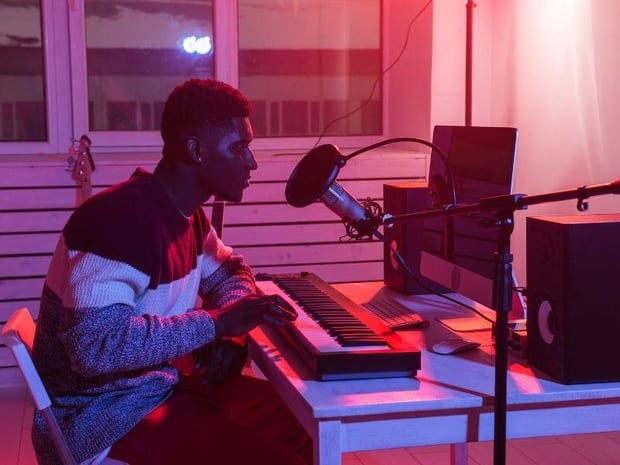 So far, we've only really mentioned equipment and how accessible it is. But, it's important to remember that producing music is not a skill-less endeavor. If you want clients, you need to know what you're doing.
And not only that, but be great at it, too.
An education from a music school will help tremendously when trying to break into the industry. If you want to learn the best techniques that your favorite producers use there truly is no substitute for attending an accredited music college.
However, you can get started before you attend school by building some skills on your own.
Learn as much as you can about the business by reading articles and subscribing to relevant newsletters and insider websites.
Once you have built a foundation of knowledge on your own, getting a degree in music production, sound engineering, or recording will help you advance your overall learning and career.
Set Up Your Home Recording Studio
Even the big-name producers have studios in their home.
Find a nice secluded spot in your house that will give you the best chance of working in silence. It's important to be free from distractions and interruptions of the outside world while you are working.
It's a good idea to soundproof the room with paneling that you can make yourself, or if you do have the funds, you can hire a professional to do it for you. You can also buy foam pads in bulk on sites like Amazon. This will remove outside distractions and your neighbors will likely thank you.
Sound treating a room is important, too, to get the best sound possible.
Wait, aren't soundproofing and sound treatment the same? They are not.
Soundproofing is when you reduce sound leakage from inside your home studio to the outside world and other areas of your home. Acoustic treatment involves reverberation and echo control inside your studio so that you can capture the best sound.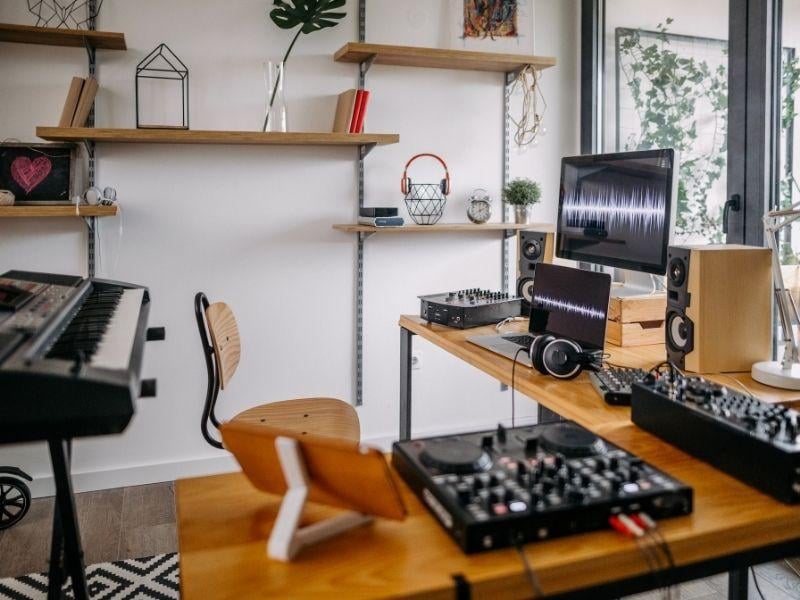 Once you've picked out your room, it's time to fill it with the right equipment. When you're on a tight budget, getting the recording equipment can be challenging.
If we're talking just the basic equipment needed to start recording, here's what you'll need:
A soundboard
An audio interface
A USB microphone, XLR mic cable, mic stand, and a pop filter
Headphones or a pair of studio monitors
And that's about all the gear you will need to start. Most beginner producers will use the laptop or desktop they already have.
This equipment can cost under $500 -$750, assuming you already own a computer.
If you want to record with an instrument, be sure to assemble the appropriate gear and equipment needed to record yourself or another musician playing.
How to Make Music with a DAW Software
The most important part of owning a production company is actually producing the music. Makes sense, right? That is where DAW software comes into play.
There are free programs available, but if you're willing to pay for one, it will definitely open up your options.
Pro Tools is a great program, and there are free, but limited, versions available for download.
They will be good enough to get started for sure.
Learning the free versions of these programs will allow you to know them and be familiar with them when it is time to upgrade.
As a beginner, you will need to figure out how to:
Create a MIDI with a piano roll
Create an audio track enabled to record
Set the input source to your webcam if recording
You can learn this on your own, but as we mentioned earlier, attending a music school that offers Pro Tools Certification can go a long way.

Name Your Company
Before you start networking or trying to get your brand out there, you should give your company a name. If you have plans of building your music production company to include staff, you'll need a unique business name.
However, using your name is an option you can roll with, even if you plan to establish a business for your music production.
If you create a business and choose a name for your company, you will need to file a DBA (doing business as) form. You might also want to look into creating an L.L.C (limited liability company).
Your state may require you to file additional paperwork and tax forms. If you're just playing around with the idea of starting a music production company, you might want to wait just a bit on this, because starting an LLC is a major financial and time commitment.
However, if you are serious about your company and want to appear as professional as possible, it is the way to go.
Develop Your Brand
If you're serious about your business, you will need to market yourself. Musicians aren't going to just stumble upon you. You'll need to really put yourself out there, both locally and digitally.
Once you are established and producing music, reach out to local and college radio stations.
Create social media accounts and showcase your work. Make sure to create a business Instagram, a Facebook Page, and maybe even a Facebook Group to help build your own community.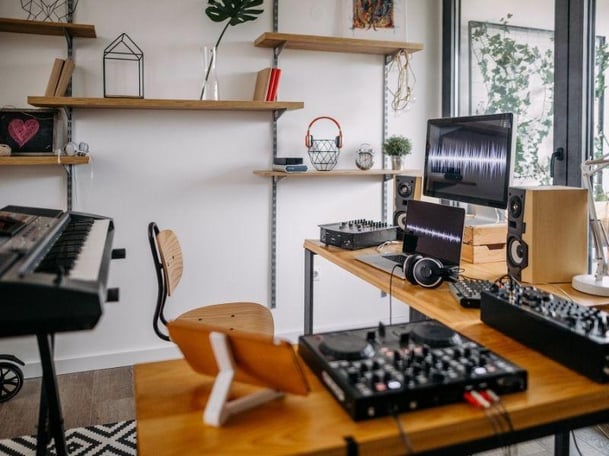 Did you know: you can invite people that liked your Facebook Page to join your group? This can be beneficial since the average Facebook user will search for Pages rather than Groups, but...your organic reach when it comes to posting will reach way more people in a Group.
For local, in-person meetings make sure you have business cards on hand.
Create business cards that are memorable, but don't make the graphics or colors so distracting that people can't find the information that is pertinent.
Having a website is also a great idea. We live in a virtual world, so securing a space where musicians can find you and learn about your music production abilities is important.
This is also a great place for you to showcase your talent and past projects.
Seek Out Local Talent
Another way to market yourself is to work with local talent who can help spread the word about your music production business.
And, at some point, it will be time to start producing songs. Being active in the local music scene and establishing contacts with local artists is crucial.
You can also branch out of your hometown and record with regional recording artists.
No matter what type of music you are into, there are local artists who will have similar tastes and styles you can link with.
If you don't have a production contract, there are plenty of templates online.
Want Music Production to be Your Full-Time Career?
Starting a music production company at home will take hard work, but if you are passionate about your craft and put the time and energy into it, you can certainly get it done.
The advice above will get you started, but you will have to stick with it.
Continue looking for new learning opportunities and ways to promote your music production skills.
What if there was a way you could master your music production techniques, collaborate with talented musicians, and network within the industry?
There is: attending the Atlanta Institute of Music and Media. AIMM is an accredited music college that offers multiple programs for producers, including:
Music Production and Audio for Media Associate Degree
Certificate in Music Production
You can truly put your home studio to the test in the Spring of 2022 when AIMM officially launches the Certificate in Music Production online!
You will learn how to track, mix, and master like your favorite professionals in a non-stop music atmosphere. You even have the opportunity to earn your AVID Pro Tools Certification.
If you're serious about your craft and you want to become a successful independent music producer, you need to learn more about AIMM.
Click below to discover how AIMM can benefit your music production career today.