How to Book More Gigs
No one wants to be a musician because it's easy. If it were that simple, every guy with a guitar would be headlining events, or at the very least have consistent gigs at their local bar.
People want to be musicians because they love music.
Most of the time, the artist or the band members are much more than musicians. They are also songwriters, managers, social media directors, and then once all of that is done, they get to play some music.
You have to wear many hats in the music industry. But for the aspiring musicians out there, where do you begin? Where do you play? How do you get venues to let you perform?
Below, we'll go over six tips that will help you land more gigs for you or your band. But before you go chasing down venue directors, make sure you're ready to get on stage.
This means you have a set playlist, your songs are memorized, your music is tight, and your transitions are smooth.
None of the following tips will do you any good if your music and performance is sloppy. If you're worried about this aspect, just practice more and hit up some open mics to get some experience under your belt.
If you feel confident about your music and presentation, you can use the following tips to land more gigs.
Let's dive into it!
Table Of Contents
6 Simple Steps to Get Booked More Frequently
How to get Gigs
1. Network
You've heard it a thousand times - it's all about who you know, right?
Well, this isn't always the case. What you know and what you can do is also incredibly valuable.
However, connections are a powerful asset, so get out there and meet people. Talk to fellow musicians.
You might think you need to focus on getting to know the venues, and you should, but talking to other artists is actually more important.
Collaborating with other artists will help you grow into a better musician, and knowing people in the local scene is a great way to hear about gig leads. Also, collaborating opens your music up to another artist's crowd and fanbase.
If you make a connection with an artist or band who is more established than you are, they can put in a good word for you with the promoters.
If you attract similar crowds, you could even open at their shows, too.
Once you become established, remember to pay it forward. You never know who the next breakthrough artist is going to be.
2. Research
All the information you could ever need is just a quick Google search away.
Contact info for all of the local booking agents can be found in seconds. But before you reach out to anyone, find out as much as you can.
You'll want to learn and know the following:
The agent/agency's name
Their preferred style or genre of music
What they require for an audition
How long of a music catalog they require
An honest figure for what your typical draw at a show is (never embellish here)
There's no such thing as being too prepared.
If you were referred to a booking agent, make sure to name drop the person who referred you. Or, better yet, see if the person who referred you is willing to make an introduction.
That is another reason why you network.
If you're trying to get added to an event or festival, make sure you stick to the festivals that fit your genre.
If you're hip-hop, don't try to get booked to a country music festival, unless you're Lil Nas X.
Also be prepared for there to be several stages at the festival, each with their own booking agent. Make sure you know which agent is in charge of each stage so you know who you need to talk to.
If you just want to play a local bar, watch some shows there first. Make friends with the bartenders and bouncers. Observe the crowd, pay attention to what they like, and what they don't like.
Connect with the bands that are already playing gigs at the bar. Having one of them put in a good word for you will go a long way.
3. Act Like You've Been There Before
Once you've done your research and found a point of contact, make sure your first interaction with them is well thought out.
If you send an email, it needs to be thoughtfully written. If that isn't your strong suit, don't be afraid to ask for help. You want to be sure you make a positive first impression.
You can also find email templates and tips online.
Remember to be persistent. Don't think your work is done after the first email. Booking agents get bombarded with emails, so you might need to send several to get noticed.
Even though you're brand new, you don't want to sound brand new. Booking agents want someone who is prepared and confident, not someone who is unsure and nervous.
4. Make It Simple
You should make it as easy as possible for potential promoters to listen to you.
Make sure all of the links and files you submit are working properly.
You also want to be sure to include a video of a live performance. Promoters are less concerned with how you sound polished in a studio, and more concerned with what kind of show you put on.
If possible, choose a live performance video with the following qualities:
A great music performance with minimal mistakes
Energetic stage presence (or at least not a stale performance, if your music is more "vibey.")
If possible, a video that displays at least a small crowd engaged and watching your performance
Keep your email brief, no one needs to know your life story, but be informative. Include contact info, the style of music you play, and all of your experience.
If you have a large following on social media and think you'll put a butt in every seat, feel free to tell them that. Promoters and booking agencies love packed venues.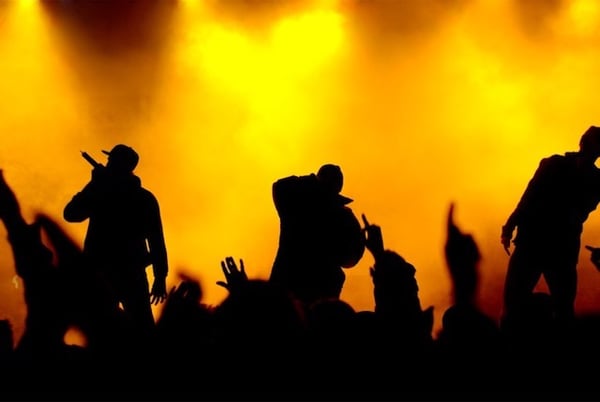 5. Always Respond Same-Day
When Batman sees the bat signal, he hops in the bat-mobile right away. When Superman hears a cry for help, he's out the door faster than a locomotive.
You need to have the reaction time of a superhero.
Be ready to respond quickly when you get a callback or email response. Try your absolute hardest to do it the same day.
They likely have dozens of other acts foaming at the mouth to take your spot, so you need to let them know right away that you're interested.
If for some reason you can't take the gig, let them know as soon as possible, and let them know why. And, let them know how disappointed you are that you can't.
If you do, they could remember you in the future. But if you don't let them know what's going on, they are likely to scratch you off their list for good. You never want to burn bridges.
6. Start Small
No one's first show is ever going to be at Madison Square Garden.
When you're starting out, you have to build a fanbase and get your music exposed to as many people as possible.
Unless you are already getting booked consistently, knock the word "no" out of your vocabulary.
Say yes to every gig that comes your way, and say it with a smile. You can be proactive with this, too.
Find a cause to support and do a benefit concert. Play your neighbor's block party. Play the high school prom. When you're first starting out, your goal is just to play.
Just get your music out there, you never know who might be listening.
Start Playing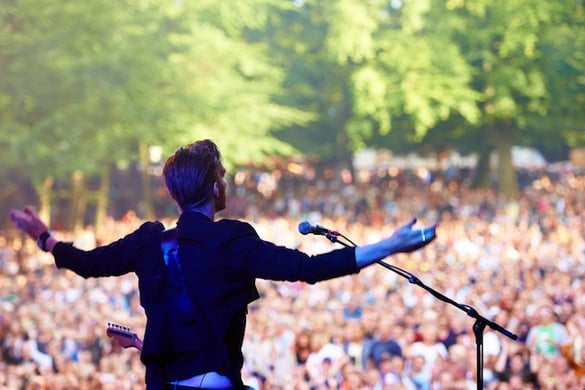 If you have music that you're dying to perform on stage, these steps will help get it there.
It might take you a while to get your first gig, and it might take you even longer to book something bigger than the local dive bar.
But don't get discouraged, keep working on your craft, and keep trying to land your first gig.
As you can see, preparation is a key component to all of these tips.
There is no better way to become prepared, develop a strong stage presence, and maximize your skills than attended an accredited music college.
If you're serious about a career in music, the Atlanta Institute of Music and Media is a great place to start.
AIMM provides students with the instructional environment necessary to develop their musical talents and acquire the skills demanded of today's professionals in the music industry.
Also, AIMM is the only music college that combines instrumentation with technical components, so you'll leave AIMM's campus a well-rounded and well-prepared musician.
Don't overlook all of the networking and connections you can make at AIMM, too!
If you want to start getting more gigs and elevate your music talent, click the link below for more information today.