You've spent hours and hours working on your music. You've written the lyrics, composed the music, put everything together, and it sounds perfect.
Your hard work and determination have paid off, even when people told you to quit and to get a "real job."
You didn't listen to them though, and you've finished your masterpiece. Now you can prove the naysayers wrong. Now you can show everyone how hard you worked to make your masterpiece.
There's just one thing left to do.
People have to hear it.
If the only people listening to your music are your mom and siblings, there's a good chance your music isn't going anywhere.
Luckily, it's 2020, and it is easier than ever to get your music out to the world.
No more reliance on record companies to listen to your CD and sign you to their label.
Some of today's biggest stars don't have a label.
However, there's a catch.
That also means that the filters are gone. That means anyone with a mic and a computer can put a song on the internet and try to get it out into the world.
With greater opportunity comes greater competition.
So how do you compete? How do you stand out from the crowds of everyone wanting to be the next Lil Wayne or John Mayer?
Table Of Contents
Here are 6 Strategies you can use to get your music heard in 2020.
1. Make Your Demo
This one may seem obvious, but it's still worth noting. Make a complete demo that you can show to anyone at any time.
You'd be surprised how many people will make just one song and ride it to death hoping that the one song they wrote is going to get them noticed.
Your demo should record multiple songs, but that's not enough anymore. We can't just put a few songs on a cassette tape (look it up) and send it off to the record labels anymore.
Your demo should include your songs, your website and social media accounts, professional pictures of you and your band, and even a music video.
Go the extra mile to put together the entire package, and you are sure to stand out from the crowd.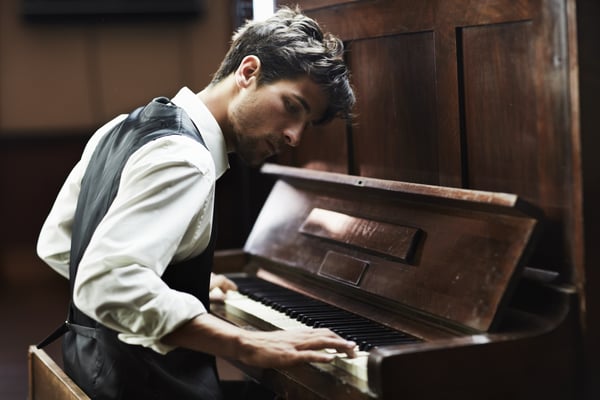 2. Network
This isn't a new idea, but it's a good idea, and it works.
You need to meet people. A lot of people.
The right people.
Networking is essential, but you need to do it right.
You need to surround yourself with people that are interested in the music you're making.
If you're trying to put out a classical CD, don't hang out in hip-hop dance clubs.
Doesn't make sense, and it's time wasted.
And always, be NICE. You never know whom you might bump into while you're out and about.
You'd be surprised how many "big breaks" come from chance encounters.
Be ready for them.
3. Library Music
In case you aren't familiar, library music, or production music, is music used for T.V. shows, video games, advertisements, and more.
I'm sure everyone wants to make the next big radio hit, but if you're just getting started, contacting the music libraries is a great way to get your music out to the masses.
Sure, it may just be "background music," but it's something you can build from.
And these companies are always looking for music so they'll be more receptive to your work than most people will be.
It's also a good idea to make a video to go along with your music so you can demonstrate to them how it will work for their customers.
Some popular music library sites are Pond5, Musicbed, and Artlist.
4. Market To Businesses
Okay, this one is a numbers game.
Will you be better off telling one person at a time about your music, or telling hundreds of people at a time about your music?
That's right, the more, the merrier.
That's why you should build relationships with other businesses.
It would help if you were spending your time talking to event planners, venue owners, website owners, radio stations, DJs, TV Channels, and the like.
If you can make a connection with just one of these businesses, your music is likely to get put in front of hundreds, if not thousands of people at once.
That's much better than passing out your demo CD in the Walmart parking lot.
If you're too young to remember those days, it's much better than commenting on Facebook or Tweeting your lyrics hoping something will catch.
5. Create Your Personal Brand
This is an absolute must in 2020.
If you talk to anyone about your music, and you don't have a website to send them to, they're less likely to take you seriously.
You need to do more than upload your music to the streaming sites. You need to have your spot on the internet that you call home.
Buy your domain, get hosting, and make your website.
It's easier now than it's ever been to get a website up and running, so there is no excuse not to do this.
You'll also want to do more than post your music to your webpage. Start a blog. Write about relevant topics that relate to your music. Get creative.
If you make music that is good to work out to, then make a blog post about exercises you can do while listening to your new CD.
Post behind the scenes videos of you and your band.
If you can make people take a genuine interest in YOU, then they are much more likely to take a genuine interest in your MUSIC.
Use social media to your advantage. Check out this great article discussing how musicians should be using Facebook to their advantage.
Be careful though, you don't want to annoy people or come across as spammy. You should pick at least one platform and post to it daily.
Again, don't only post about your music. It should be clear that you're a musician, but that's not all you should talk about.
Tell them about your life, the ups and downs of being a musician, and tell them stories.
You definitely want to utilize Youtube as a musician. So many listeners find new music and check out music videos and live concerts on YouTube. Not to mention the fact it's the second largest search engine behind Google!
If you're not sure where to start, check out our article discussing how to create a Youtube channel as a musician.

6. Build An Email List
This goes hand in hand with building your personal brand.
A lot of people aren't doing this.
If you do this, you are already putting yourself ahead of the competition.
There's an art and a science to it though.
You'll need to give something away for free - something like an exclusive track they can't get anywhere else - in exchange for their email address.
Then once you have their email address, you need to email them. Create a newsletter. Send bi-weekly, weekly, or daily emails. Tell them stories about what's going on with your music.
Make them feel like they are getting insider access to your career.
And with every email, make sure you give them the chance to buy or at least listen to your music.
Building an email list that you write to on a regular basis is a complete game-changer.
Now Get Started
These are six fantastic ways to get your music heard when the clock shifts to 2021.
It's both easier and harder to get discovered today. There's so much competition out there right now.
However, the people that are succeeding are succeeding because they are taking ACTION.
One way to network and get ahead of the competition is by attending a Music College. Music schools put you in a fast-paced, immersive music atmosphere where your existing skills are sure to blossom.
Click the link below to learn more information about the Atlanta Institute of Music and Media.