When making the decision to choose a music career, many people think either musician or teacher. However, there are many careers within the music industry and the potential to find one that pays six figures and offers excellent job security.
Some great careers that can come from a Music School degree in Atlanta GA include:
Music Producer: Music producers supervise the entire recording process of songs and albums, from start to finish. They are responsible for the audio mixing and the post-production arrangements. To create the best sounds and arrangements, music producers will also help coach the musicians.
Professor of Music: The salary of a music school professor can often time reach six figures, depending on the school. Teachers of music can specialize in some disciplines, such as Music Technology, Keyboard, Guitar, Bass, or Drums to name a few. Every area of study requires a professor.
Composer: Composers write and arrange music for arti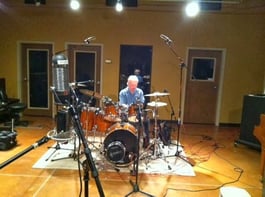 sts, orchestras, or other music groups. They can also write music for movies, TV, or theatrical productions.
Music Director: A musical director is the primary artistic leader of a musical project. Music Directors are needed for many different types of music projects, such as:
Symphony Orchestras
Coordinator of Ensembles
Head of Music Department
Director of Broadway Shows
Booking Agent: A booking agent is someone who finds jobs or gigs for performers, artists, composers, or producers. When hey book shows or tours for their artists they take a percentage of whatever the performer gets paid to that particular performance. A booking agent can represent multiple artists; this gives them the ability to make six figures.
At The Atlanta Institute of Music and Media, we provide our students with the instructional environment necessary to develop both their technical and musical talents. It is our goal to help each student acquire the skills to advance their musical aptitude and gain knowledge in the field of recording an engineering to help prepare them for their future careers.
Our program's objective is to provide the skills and assistance in producing a recorded portfolio needed to obtain employment or self-employment once your degree program is completed.
For additional information, please click on the link below.