How to Get a Music Certificate Online
Are you looking to earn a music certificate to boost your skills, music knowledge, or overall resume?
Whether you are a DIY Music Producer who wants to know the ins and outs entirely and have an educational advantage or an instrumentalist wishing to beef up on your techniques, an online certificate program could certainly be beneficial.
The question is: can you earn a music certificate online and is it worth it?
In this article, we will discuss how to get a music certificate online, where to look, and whether or not it is worth your time and money.
Let's dive in!
Table of contents:
What is a Music Certificate?
First things first, what exactly is a music certificate and what makes it different than a music degree or lesson?
Let's knock lessons out first. If you have searched for a music certificate, chances are you have seen ads or pages directing you toward lessons.
While there is nothing wrong with lessons (and it is actually a great way to make some side-cash as a professional musician), it isn't quite as credible as a certificate or degree.
Lessons are more tutorial, one-on-one type learning situations. You will undoubtedly learn a great deal, depending on the teacher, but you will not receive a Certificate, Degree, or Diploma that holds credibility.
Also, think about the free music exposure. You will be meeting valuable members of the music industry and you never know if your music college will highlight your work on their social media platforms.
Music Certificate vs. Music Degree
While a specific certificate or degree can hold weight, the more critical factor is what you've learned and what you have done with that information.
If you take your craft seriously and properly apply the techniques you learn, one program type doesn't necessarily overpower the other. Having a formal education already helps you stand out in the saturated music producer and professional musician market.
Depending on how you look at it, one benefit of a music degree over a music certificate is the program will typically last longer. That would naturally mean more classes, coursework, and information. Therefore, this could be equated to overall learning extra valuable material.
However, while this may be the case, you also have to watch out for fluff classes. These are courses that are thrown in to make the program last longer (2-4 years) but are not quite beneficial to your growth as a musician or music producer.
This can lead to more time focused on your coursework when you could have enrolled in a more intensive, shorter certificate program.
Why Choose an Online Music Certificate?
What are the benefits of attending an online music school? You likely already know the answer to this since you are here reading this, but we can open the topic up a little further.
Increased Flexibility
A musician and music producer lifestyle can be hectic. From taking on projects to hitting up gigs, let alone typical factors such as family, friends, potential other work, your time is likely to be limited.
Flexibility is one of the highlights of an online music certificate program. You can schedule and learn on your time. Plan your courses around your schedule and learn from the comfort of your own home.
One common misconception is that online certificate programs are limited, which is not the case. You still receive an excellent education, have increased flexibility, and can utilize recorded video classes to help you learn at your own pace.
What it comes down to is your expectations. What makes a Ford Truck better than a Honda Accord? Bigger hauling size, right? But what if you care about saving money on gas prices? The Honda Accord looks more appealing now.
If you want to be with your professors in person and need structured, tangible coursework to succeed, that is great self-awareness and should be taken into consideration when choosing which program style is best for you.

Time Management
Where flexibility speaks to the benefit of an online music certificate on the day-to-day level, let's take a step back and look at the big picture and ask the following question...
How Long is an Online Certificate Program Typically?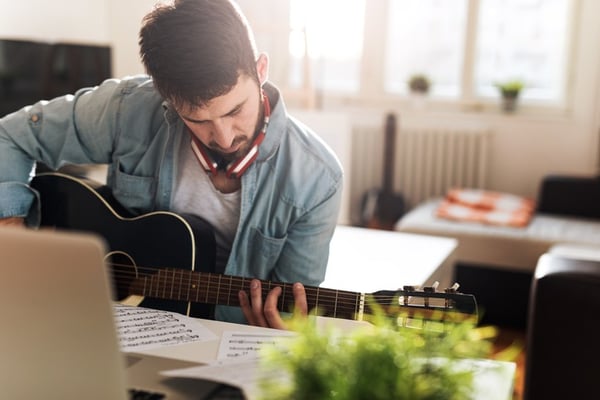 If you have the proper mindset and take your music education seriously, it will likely consume the majority of your free time. This is especially true if you are working at a day job to support yourself throughout the program.
So, what does that mean?
That is time you likely don't have to be spending on your own craft, booking shows, booking gigs, and taking on projects.
The question is, would you rather focus exclusively on your music education for a single year (typical timeframe of an online music certificate) or 2-4 years (a music associate or bachelor's degree)?
Even if you have the multi-tasking skills of a juggling clown singing on a unicycle, you can clearly see the benefit of condensing your online music education to a single year.
Overall Cost
The goal is to make money from your music skills, right?
Taking into consideration what we previously mentioned regarding the length of an associate or bachelor's degree vs. a certificate, it would make sense that you would be spending significantly less money on your music education if you opted for a music certificate.
But wait, there's more! Let's take it a step further. An online music certificate is even more cost-effective than an on-site music certificate.
Consider that an online music certificate requires none of the following:
Commuting costs
Room/Board costs
Materials
Therefore, in addition to saving on overall tuition costs, you'll also spend less money on factors surrounding the online music certificate. That's a pretty great deal.
Where Can You Earn an Online Music Certificate?
Now that you understand what a music certificate is and understand the benefits, the next course of action should be to pinpoint which music institute you'd like to attend.
When it comes to choosing the perfect music college for you, it is important to consider the following:
The faculty and instructors
Certificate Options
Alumni Success
Have you considered the Atlanta Institute of Music and Media?
AIMM offers an Online Certificate in Music and Technology. This online music certificate is designed to develop well-rounded musicians that are prepared to make an impact in the music industry.
How does AIMM accomplish this?
AIMM's online music certificate combines organic instrumentation (currently either guitar or bass), with technical music production components. Musicians truly get the opportunity to learn from both sides of the studio.
From mastering an instrument to learning the nuances of recording, production, and engineering, AIMM's online Certificate in Music and Technology is beneficial to the present-day musician.
If you want to discover how AIMM's online music certificate program can benefit your career and fast-track you within the saturated music industry, click the link below today.
After reading this article, do you still find that an on-site music certificate or music degree program might be best for you?
AIMM still has you covered.
Check out AIMM's following on-campus music programs: