4 Essential Tips for Becoming a Successful Music Producer
Do you love creating music? Does working with various artists and constructing amazing tracks peak your interest?
Becoming a music producer (especially a renowned music producer) doesn't happen overnight, but it can make for a great career if it's your passion and you master it.
We are here to provide you with four critical steps that can put you on the right path to becoming a successful music producer.
Basics of Becoming a Music Producer
What Does it Take to Become a Music Producer?
1. Learn an Instrument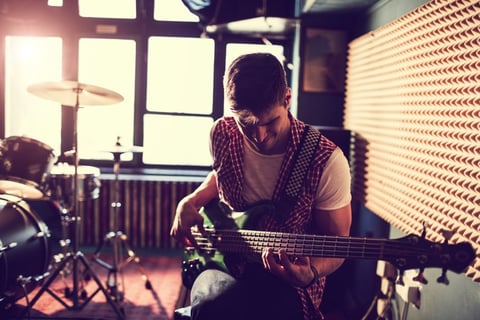 Artists aren't the only ones in the studio that should be able to play an instrument.
However, learning an instrument doesn't mean that you have to be an expert and know how to play every chord possible. If that were the case, you'd be spending all of your time mastering instruments rather than producing music.
Instead, learning an instrument will benefit your career as you'll be able to strike inspiration when it's hot, instrumentally be able to relate to your artists, and have a better idea of what is going on musically as a whole.
So where do you begin? Should you just walk into a music store and start checking off each instrument one by one?
Let's start with the basics. Some instruments that we recommend choosing from would be:
Many people claim that if you can play and understand the piano, then pretty much every instrument after that will make sense. The piano will give you a great visual of chords, as well as really being able to hear each note clearly.
That doesn't mean we are trying to kill the significance of other instruments. They can all play essential parts in creating music.
Feeling comfortable playing an instrument will also help you record an idea when inspiration hits you. There are few things worse than having a great idea but not being able to record it because of a lack of knowledge in a particular area.
This can also assist you directly when working with musicians. There are circumstances, based on trust and reputation, that an artist may seek your creative guidance on a track, too.
You can learn more about the role of a music producer and what would be expected of you by clicking here.
2. Familiarize Yourself with the Technology
A Digital Audio Workstation or DAW is what you will be working in when recording or producing music. Some of the most popular DAWs include Pro Tools, Ableton Live, and Logic Pro X.
Learning the ins and outs of your preferred DAW and what each button does is only going to help you in the long run when producing.
You will likely find yourself collaborating with someone and they may ask you to pull up a new MIDI track for them, but if you don't know how to do that task it will halt your workflow.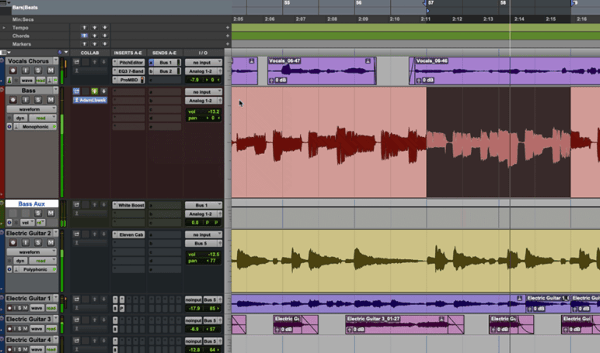 Once you have a solid grasp on your software, you'll be able to focus 100% of your attention and effort on producing, recording, or mixing rather than trying to understand the DAW.
Knowing the DAW is one thing and as you get deeper into your skillset you will find yourself learning more about plugins and third-party VST's that you come to enjoy using.
Check out our list of the top 3 best DAW software for beginners.
Pro Tip: Take some time to play around with the DAW before taking on any serious projects or artists. Have fun with it, but also pay close attention to how everything functions.
3. Train Your Ears
Training your ears can be something that you "work on" for years. We put "work on" in quotes because it is something that you acquire over time from listening and being fully immersed in music.
Become a student of music and listen to different styles of music every day.
See what makes different genres unique and what qualities they possess. Listen for unique details in songs that the normal, everyday listener may not notice in the production.
Think about how a film reviewer or a food critic must conduct themselves professionally. There is significantly more grey area than, "good" vs. "bad."
Even if you simply enjoy something, you have to go the extra mile and understand what music production decisions are being made, why they have been made, and if those stylistic choices work.
These components can include low-level background noises or small percussion fills. Most people are attached to the vocals and melody, so learning what is behind that lead vocal and driving the song will be critical.
Even knowing how certain keys sound relative to pitch can prove to be beneficial. This will be a great way to grow your workflow and know what key someone is playing in whether you are just jamming for fun or if you end up being in a recording session.
Don't be discouraged if you don't currently notice details that some other producers hear.
Training your ears may take time, but is a huge help when producing as you will begin to hear parts that can perfectly fit into a song before they even exist.
4. Fearlessly Create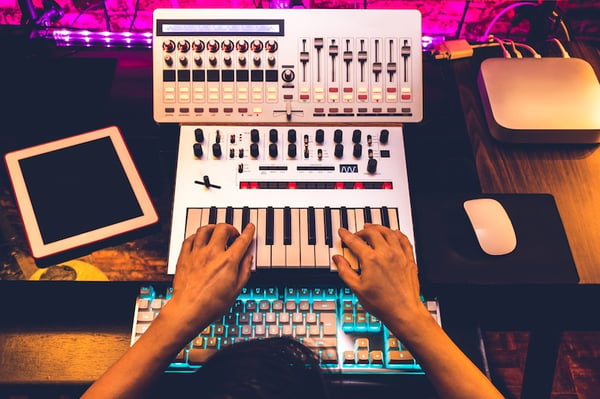 The next greatest step in producing is to practice creating. Remember when we told you to play around with your DAW?
If you haven't already tooled with creating some music, now is the time. You have gotten familiar with your technology and learned an instrument, so now its time to put that creativity to use.
You can watch all the tutorials and videos you want, but producing music yourself is the best way to improve your skill.
Find out what you like and don't like about producing, along with revealing your strengths and weaknesses. Leverage the aspects you enjoy and work on the areas you currently struggle at.
Creating is the most fun part of music production and if you do it well you'll never have to "work" another day in your life, as you'll make a living off of producing and absolutely love it!
Separate From the Crowd
All of these steps are a basic way to begin your journey in becoming a music producer.
As you work on these steps, stay patient as it can become slightly difficult at times. Learn to love the process and everything that comes along with it.
Want to jump-start your music production career?
If you want to separate from the DIY crowd and develop life-long music industry connections, you should consider enrolling in a music production program.
The Atlanta Institute of Music and Media can assist in your journey to becoming a music producer.
We offer a Music Production and Audio for Media Associate Degree that will provide a hands-on music production environment with industry-standard equipment and exclusive studios. Don't pass up the opportunity to fast-track your success and turn your passion into a successful career.
Put yourself in the best situation to become a music producer and click the link below to learn more about AIMM today.