If you are a guitar fan, then you probably know the name Tosin Abasi. He has already accomplished a lot during his time in the spotlight, and it looks as if there is plenty more to come. The innovative prodigy is a self-taught guitar player who learned to enhance his guitar skills at Georgia's best music school, the Atlanta Institute of Music and Media.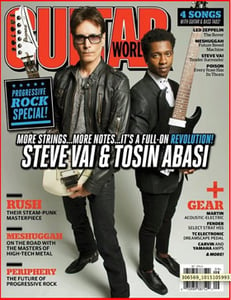 Tosin Abasi, leader of the instrumental band Animals as Leaders, has been climbing his way up the musical ladder while simultaneously making a name for himself among other guitar greats, like Steve Vai.
Earlier this spring, Abasi, and a group of four other hardcore and metal guitar legends came together and created a tour like nothing guitar fans have ever seen before. The other four talented guitarists included,
Steve Vai
Zakk Wylde
Yngwie Malmsteen
Nuno Bettencourt
In addition to sets by each guitarist, all five players came together on stage to perform together, presenting a what could potentially be a once in a lifetime experience to spectators.
A few of these players, including Abasi himself, are well known for playing not just a traditional six string guitar, but a seven and even eight-string guitar!
Abasi's trademark is actually for playing an eight-string guitar. He believes it is essential for the direction he is trying to take his music. It gives him more artistic freedom and affords him the opportunity to create new sounds using techniques a basic six-string guitar would never be capable of.
Having moved from the co
ld atmosphere of Washington, D.C., to studying guitar at AIMM's accredited music school, and now loving his life in California, where the weather is always beautiful, and the vibe is always artistically welcoming, Abasi is planning some exciting things for the future.
Could AIMM Be Right For You Too?
If you're as aspiring musician and wish someday to be a great success story like Tosin Abasi, then Atlanta's Institute of Music and Media could be right for you too! Our condensed degree programs allow you to focus specifically on your instrument, musical abilities, and technical skills.
Our state of the art facilities allows our students to learn on the best equipment in the industry, preparing them for the career they wish to pursue.
An education from our Atlanta, Georgia Music College is priceless. Most of our alumni go on to become huge successes, and Tosin Abasi is just one prime example.
Call the Atlanta Institute of Music and Media today or click on the link below for more information!