For the very first time, the Nobel Prize in Literature has been awarded to a songwriter, Bob Dylan. Mr. Dylan was the recipient of the Award for his entire body of work, which spans over 50 years. Bob Dylan, who is now 75, is the first musician in history to be awarded the Nobel Prize.
Many believe that choosing Mr. Dylan as the recipient is the most radical choice the Swedish Academy has ever made, but there is no doubt that Mr. Dylan's lyrics redefined the boundaries of literature, proving that they have the same artistic value as poetry.
Bob Dylan, the writer of classic folk and protest songs like "Blowin' in the Wind," shocked the world half a century ago when he plugged in an electric guitar and alienated folk purists. For decades he continued to bewilder audiences and exceed fans expectations, selling millions of records.
From the beginning of his music career, Mr. Dylan stood out for his enigmatic lyrics and an obscure songwriting style that made him a source of fascination for artists and critics alike. He often sprinkled literary allusions into his music and cited the influence of poetry on his lyrics.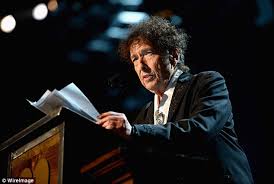 Now, Mr. Dylan has 38 studio albums and has sold over 125 million copies around the world.
In addition to his songwriting career, Mr. Dylan has also published both poetry and prose. He published his 1971 collection, "Tarantula," and in 2004 a memoir, "Chronicles: Volume One." A compilation of all of his lyrics from 1961-2012 is due to be published by Simon & Schuster at the beginning of November.
When the Academy chose the rock and roll poet, they said, "Dylan has the status of an icon. His influence on contemporary music is profound, and he is the object of a steady stream of secondary literature."
As with anything, there were many supporters of this choice and also many writers who strongly disagreed with it. Regardless, as unconventional a choice Bob Dylan seemed to be, his lack of acknowledgment of his award was even more surprising.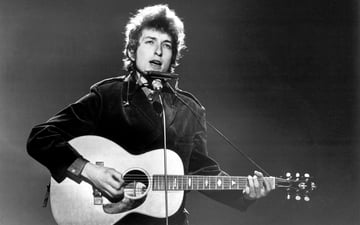 Rather than appearing at a standard news conference to say a few words of appreciation, Mr. Dylan was performing in Las Vegas. At this particular show, he decided to pick up a guitar and play once again.
Mr. Dylan is known for no longer playing the guitar on stage, due to arthritis, but it seems that on Thursday, he made an exception.
Beyond that, Mr. Dylan has still not publicly commented on his receipt of the prestigious award.
If you are an aspiring musician that wants to write your own music, sing and perform, or play guitar with the greats, our music school can help you achieve your dreams!
Click on the link below for more information!